The sustainability concept is not new to India. Our culture and traditions are based on the core belief of growing with nature. India has strived hard to create a balance between its socioeconomic responsibilities and sustainable investing.
Currently, India is leading the world in Green Energy capacity. Its policies to encourage Solar installations, use of alternate resources, and research and develop new technology; to support the Renewable Energy transition speaks volumes about its commitment to sustainable development.
India's RE sector bagged $12.5 billion from Foreign Direct Investments (FDI) in 2022. With the ambitious target of becoming energy independent by 2047, India is attracting investors through its Make in India scheme.
Today investors are interested in battery technology, Electrical Vehicles, Green Hydrogen, and Solar projects. With all that traction, it is expected to receive approx. $20 bn in the renewable sector alone this year.
Our focus is to understand the future of sustainable investing in India. Moreover, we will also look into the effects of sustainable investment on the Indian economy and increasing investment opportunities.
Later, we will also touch on the E-Mobility sector that has caught the eyes of sustainable investors.
Let's start with the most basic question first.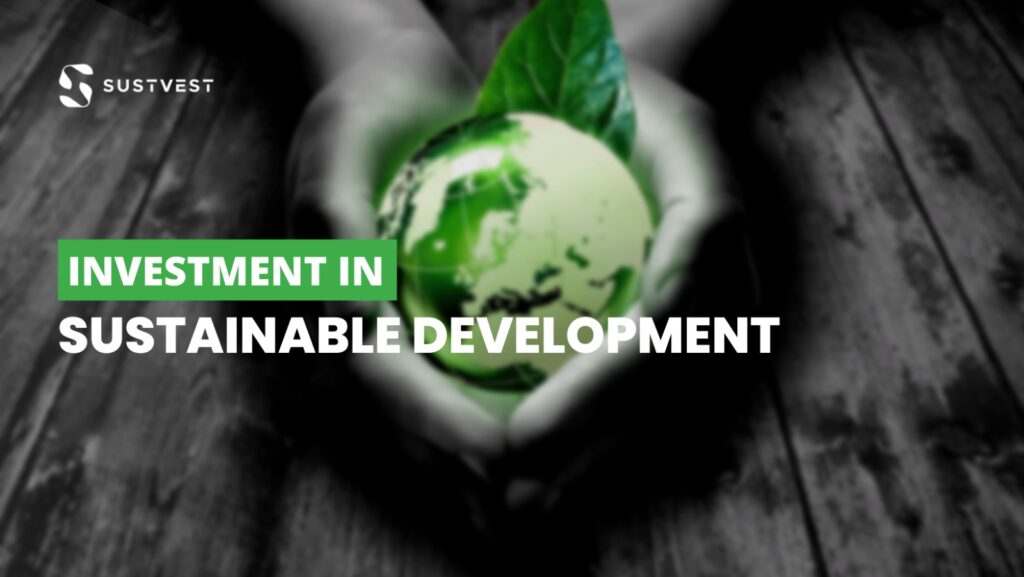 What is Sustainable Investment?
It's important to understand that sustainable investment is not just about being environmentally friendly. But, it is more about finding a balance between investors' ideology, business profitability, sustaining the business and not harming the environment, while doing so.
Therefore, an investment that sustains long enough to do good for all i.e. the environment, the investors, the society, and the economy, can be termed a sustainable investment.
As per a report of the World Economic Forum titled "Sustainable Investment in India", a sustainable investment framework consists of 5 factors. They are sustainable investment policies, sustainable finance mobilization, sustainable investment promotion, sustainable investment facilitation; and sustainable development impact.
The objective is to encourage investment in the 13 Sustainable Investment Goals (SDGs) laid out by the United Nations Conference on Trade and Development (UNCTAD).
To know more about India's SDGs read this article Is it worth investing in environmental sustainability?
Is Sustainability the Future?
India has always been inclined towards self-sufficiency. Be it the pre-independence era's Swadeshi Movement or the initiatives like Make in India, Skill India, and Startup India to promote the nation's self-growth.
We are moving towards attaining energy security and economic development along with reducing carbon emissions to net zero by 2070. Sustainability has become the core value of India's investment strategy.
1. Sustainability Indian Market
The Indian market is thriving with possibilities in the renewable sector. While India just became the world's largest populated country, investors and businesses are looking at it as an opportunity to tap the market demand.
India is not only rich in natural resources, but it houses the world's largest IT workers. The big giants of technology, pharma, and real estate industry see India as a one-place stop to develop and grow.
The government policies like 100% FDI in the renewable energy sector have motivated investors to trust India and build a sustainable future. There's ample support provided to the native retail investors like tax benefits, subsidies to establish SEZs, solar plants, conducting research, and so on.
2. Role of Sustainability Investing in the Indian Economy
The Indian economy has greatly benefited from the ESG approach. India is looking forward to achieving 50% of the power generation through renewable energy by 2030. This means the solar, wind, and hydro sectors will grow exponentially.
More start-ups supporting green energy technology like manufacturing PV cells, batteries, EVs, support equipment, etc will be established in the coming years, creating more employment scope and helping India with its Green India Mission (GIM).
With the rise of new industries and employment, the cash inflow will improve in the economy encouraging people to invest, to spend, and to live a better life.
3. Impact of Sustainable Investing on Society Development
The impact of sustainable investing on society is undeniable. The concept of sustainable investing emerges from the environment, sustainability, and governance goals. The entire focus of investment is to support and encourage impactful investing.
Impact investing helps to bring forward industries that stand for more than material and financial goals. They are more inclined to socio-economic balance. Thus, creating harmony in the environment, society, and economy.
The ESG and SRI guidelines by the UN make sure that the companies adhere to their Sustainable Development Goals. The Business Responsibility and Sustainability Reporting (BRSR) has been devised to impose the SDGs on all companies.
If a company isn't performing as per the SDGs guidelines, there's less chance for them to get more investors. With the world riding the tide of sustainable investing, companies are now more motivated to adopt a sustainable approach.
4. Investor's Experience
India is a hub of opportunities for investors as of now. There's a balance of both consumers and producers in the Indian market, which are the key to any business growth.
The demand for eco-friendly products, the government policies supporting sustainable investing, and the increase in green initiatives and green technology have encouraged sustainable ventures in the country.
The government policies like FDI 100% in the renewable sector, the Make in India initiative, Digital India, and other PLI schemes have opened many doors for investors to indulge.
In COP 27 held last year, India stated that it's open to contributions from the world nations in mitigating the challenges of Climate Change and achieving zero carbon emission by 2070.
The Green Term Ahead Market (GTAM) and Green Day Ahead Market (GDAM) are now used to sell off power in the open market. GDAM exclusively deals in the electricity generated from renewables.
Investors can invest in the Green Hydrogen sector through Foreign Venture Capital Investor (FVCI). The Indian Energy Exchange (IEX) traded 341 million units of RE in Feb 2023.
Private sector companies like Sustvest are also helping investors to contribute to sustainable development by providing projects in the RE sector for investments. These projects give Solar energy solutions to the residential, corporate, and public sectors. As a retail investor, one can earn an interest of up to 10 to 15% annually. That's a pretty solid ROI.
To learn more about sustainable investing, check out our blog on Sustainable Investing 101.
Which Sector Attracts Most Sustainable Investments?
After covid 19, investors are more motivated to invest in ventures that are sustainable and planet friendly. Renewable energy's Solar sector, E-mobility, agricultural technology, and waste management sectors have seen increased investments in the past few years.
Among all, the E-mobility sector has grabbed the most attention. Let's see why?
E-Mobility
Electric Mobility is the talk of the Automobile industry. In the pledge to reduce carbon emissions by net zero, electric vehicles are going to play a major role. India's transport has already started shifting to electric vehicles.
As of March 23, 6,586 operational Public EV charging stations and more than 2.5 lakh electric vehicles have been registered in India. Also, FAME II will support 7,000 e-buses, 5 lakh e-3 wheelers, 55,000 e-4 wheelers cars, and 10 lakh e-2 wheelers.
As per the Benoir reports, the investment in this sector is expected to grow to $125 billion within 3 years. Later, the investments by Indian (Private Equity) PE and Venture Capital (VC) firms are expected to be 40% of the AUM.
What's the reason for the sudden surge of investment in the E-mobility sector?
E-mobility stands as the most sustainable alternative to conventional automobile options. The millennials are showing a keen interest in sustainable electric vehicles.
The lithium-ion battery production plan will reduce the EV's cost and will become cheaper than petrol and diesel-based vehicles. It means more demand for EVs.
Other than that, the government has taken some solid steps to quantify the demand and supply of this sector.
The FDI allowed is 100% and the government is supporting the investors to lay down charging stations, demand creation, and charging service points, thereby promoting sustainable investing in EVs.
Reliance New Energy Solar Limited, Ola Electric Mobility Private Limited, Hyundai Global Motors Company Limited, and Rajesh Exports Limited were the four companies benefiting from the PLI scheme on Advance Chemistry Cell. 
FAQs: Future of Sustainable Investing in India
What is a green investment?
A green investment refers to sustainable investing in companies and projects that are focused on commitment toward the preservation of natural resources. Examples of green investment are investing in solar, water, or hydra energy projects or companies.
What are the initiatives taken by the government to make India green?
India, in its quest to promote sustainable investing, has come up with multiple initiatives, such as:
Swachh Bhaarat Abhiyan
National Hydrogen Mission
Namami Gange Programme
The government has also come up with many schemes to promote green investment in solar, wind, and hydro power plants.
Conclusion
Sustainable investing might be a new term for the world. But, for India, it has always been about more than the financial gains. India's eyes have always been on the common good of all. The SDGs of India say all about it. We as a nation are progressing towards becoming completely independent. Moreover, we have the resources to help other countries as well.
By sustainable investing, we can tackle the issues of low economic growth, long-term asset generation, climate change, carbon emission, employment, and more. India has set its path to sustainable development and has come a long way.
So, what do you think? What is the future of sustainable investing in India?

Join Sustvest to start your journey of sustainable investment and contribute to India's green energy revolution.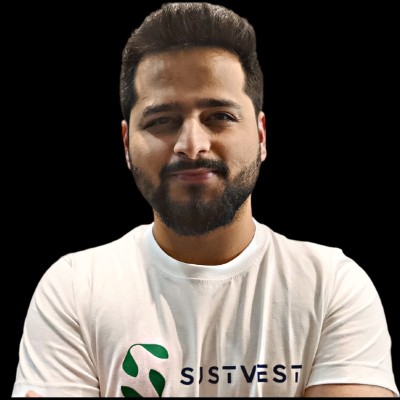 Founder of Sustvest
Hardik completed his B.Tech from BITS Pilani. Keeping the current global scenario, the growth of renewable energy in mind, and people looking for investment opportunities in mind he founded SustVest ( formerly, Solar Grid X ) in 2018. This venture led him to achieve the 'Emerging Fintech Talent of the Year in MENA region ' in October 2019.