In February 2023, the renewable energy sector reached 174.53 GW installation capacity, with 63.3 GW attributable to Solar Power.
As time goes on, we will see more installations in the renewable energy industry, particularly in the solar sector. The National Institute of Solar Energy (NISE) has found that India has the potential to increase its solar energy capacity to a whopping 748 GW!
The focus of this article is to shed light on what are the different solar energy financing options in India and why you should seriously consider them.
Switching to solar energy is highly encouraged in all types of infrastructure, including residential, commercial, and agricultural properties, etc. In other words, if your property relies on electricity, it is high time to make the transition to renewable energy.
Perhaps you are wondering what's causing this sudden shift. Well, several factors have contributed to this change, including climate change, the Covid pandemic, the recent war between Ukraine and Russia, and China's policies.
These factors have led to an abrupt decline in the oil and gas supply, forcing the cost of electricity to skyrocket. And unfortunately, these costs are expected to rise even further, advancing solar energy's appeal and making it more economical.
Many alternative energy resources are available, out of which solar power is one of the most promising ones – especially in India – which receives abundant sunlight throughout the year!
On average, the monthly electricity cost for running a small Indian home is close to INR 1800 in summer.
With the rising temperature and the threat of heat waves, investing in solar energy can not only significantly lower monthly electricity bills but also contribute to mitigating the effects of climate change. So, now is the ideal time to resort to alternative energy resources to generate electricity and reap the benefits of clean, renewable energy.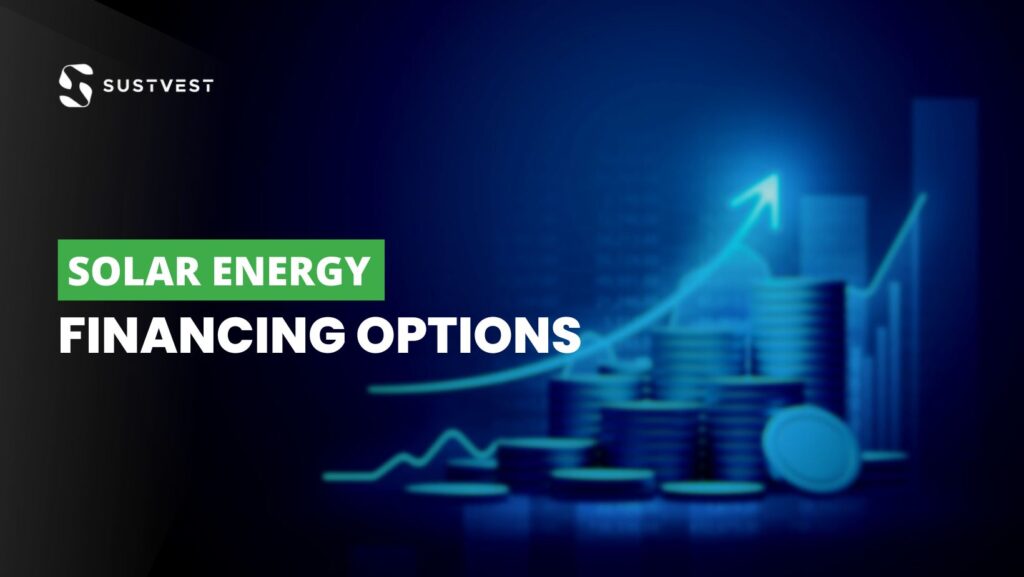 Pros of Investing in Solar Energy
How can solar energy benefit you? Let's dive into the advantages and discover why solar power is the right choice for you.
Solar Energy – Leading the Green Energy Sector
Did you know that solar energy, at present, is the shining star in green energy? It has passed the initial phases and withstood the challenges in its application, making it a reliable and sustainable energy source. Solar energy has come a long way – from being used solely for solar cells to powering entire organizations!
Investment in this sector will continue to increase, especially with the rising demand for electricity due to summer, an increasing population, and companies returning to full functionality.
Whether you decide to install solar panels, opt for a lease, or invest in solar projects, you stand to benefit. By investing in solar energy, you'll be at the forefront of this movement and help create a cleaner, more sustainable future for generations to come.
Excellent Returns on Investments
The solar sector is hot right now and for a good reason! With a 3 kW solar rooftop system, for a 1 BHK house you get around 1300 to 1500 kW of electricity. That's massive! Assuming your monthly electricity bill is INR 1500, you could save INR 1800 annually. As the cost of electricity increases due to consumption, your savings will only increase over time.
The cost of installing solar panels is a one-time investment that will pay off for you for 25 to 30 years! Over time, the savings you realize from using solar energy to power your home or business can be substantial. Also, when compared with other sectors, investing in solar energy assets or projects on a lease can yield greater returns.
Ready to learn more about investing in solar projects? Click more for our websites on sustvest.
Tax Benefits
When you invest in green energy, you not only help save the planet, but you also qualify for some tax exemptions. The Indian government exempts project developers from income tax on project earnings during the first ten years of construction, function, and accelerated depreciation, allowing solar energy producers to claim 40% in the first year alone. Isn't it a win-win situation for you and the environment?
Government Subsidies
The government of India is committed to promoting solar energy and has introduced various subsidies to incentivize individuals to install solar panels. There are subsidies available for establishing solar farms on land, rooftop solar installations, and hybrid solar-wind systems.
SRISTI, SAUBHAGYA, and PLI schemes, for example, offer solar rooftop subsidies in urban and rural areas.
Cheaper Electricity
With solar panels, you can ditch sky-high electricity bills! As we continue to shift away from traditional energy sources like oil and gas, the cost of producing electricity will decrease, leading to cheaper electricity for all.
Zero Carbon Footprint
Unlike traditional energy sources, solar energy produces zero carbon emissions, making it the greenest energy form available today. If you invest in solar, you will invest in a cleaner, more sustainable future since solar energy production doesn't require mining or burning fossil fuels. Only low-carbon technologies like solar can help nations fulfill their SDGs in time. India aims to achieve net-zero carbon emissions by 2070.
Reduces Business Operation Cost
Solar energy can drastically reduce your monthly maintenance costs. While the initial investment may seem daunting, there are multiple ways to finance solar projects, making it an affordable and cost-effective solution in the long run.
Increase the Property Value
The resale value of properties with extra features is always higher than those without. There is a price trend for projects that offer solar water heaters, solar electricity, solar fencing, rainwater harvesting, waste treatment plants, and aquaponic gardens. After all, these projects offer more than just bricks and walls.
To outline, green energy options in your homes and buildings will cut your monthly maintenance cost enormously. They will only add value to your property and increase its financial and ecological value.
5 Different Solar Energy Financing Options in India 
The most common solar energy financing options in India are cash, loans, government schemes and subsidies, solar leasing, and PPAs. Continue reading to understand them better:
1. Cash
Cash or liquid money is the quickest way to invest. If you have saved enough, you can easily invest in solar energy projects and reap the returns. If not, you can always borrow it from trusted sources.
At SustVest, we offer a minimum investment amount of INR 5000 to INR 15,000 for solar projects, making it easy for you to start your investment journey with us!
2. Loans From Financial Institutions
Don't want to pay for your solar project out of pocket? No problem – you can take loans and finance your solar project instead. You can pay off your loan in EMIs without worrying about paying your electricity bills.
There are two ways to get solar loans from banks in India – for home improvement and the other is as per government schemes.
You can expect a loan of up to INR 10 lacs for rooftop solar installations. Interest rates vary between 8 and 10%.
Depending on bank policies, the bank will usually sanction around 75% to 90% of the total loan amount. However, remember that each bank has its interest rate and estimations for calculating EMIs, so we suggest you compare multiple loan types before deciding.
The ICICI Bank Ltd. offers unsecured personal and business loans to salaried individuals, proprietorships, partnerships, LLPs, and Pvt. Ltd. companies. Also, it offers a business card loan type for funding solar project materials and installations. These loans are collateral-free and come with an interest-free period.
Other financial institutions like Delhi Cooperative Housing Finance Corporation Ltd., IDBI, Yes Bank, Metafin Cleantech Finance Pvt. Ltd., Canara Bank, Union Bank of India, MySun, EcoSoft, and Tarn Taran Central Cooperative Bank Ltd. also provide loans for rooftop solar installations.
3. Government Schemes and Subsidies
The Indian government has introduced various schemes to promote the public and private use of solar rooftop panels. sustvest solar projects can qualify for these schemes and subsidies based on their type.
For instance, the government offers an industrial subsidy for grid-connected PV plants on canals. The scheme covers 30% of the cost for canal top projects and 15% for canal bank projects.
Moreover, for 100 MW, a total CFA of up to INR 2.25 billion will be paid out over two years, with a 1% service charge given to SECI. Also, there's a CFA of INR 40.5 per watt for a 10 kW battery capacity for solar power plants with batteries.
All these incentives are under schemes such as the PM Kusum Yojana, the PLI scheme for solar rooftop installations, etc.
These schemes help to reduce the cost of solar panel installations by INR 30,000 from INR 70,000 for a 1 to 2-kW solar panel system. The consumers or the investors can also avail of incentives of up to INR 2000 annually for generating electricity around 1100 kWh and above.
4. Solar Leasing
Solar leasing is like leasing a car or a house. Various platforms or business developers provide solar products on lease suitable for residential and commercial projects, like schools, offices, and colleges.
You can enter a lease agreement with the service provider and start using solar energy. It will cost you a fixed monthly payment for the service, regardless of how much energy you consume each month. The coverage includes the cost of all solar instruments, installations, and services.
Your EMI will depend on the lease period, which can vary from 5 to 15+ years, depending on your service provider.
5. Power Purchase Agreements (PPAs)
PPA is like a lease, where you pay a monthly payment to the service provider. But with a PPA, you start benefiting from the solar asset instantly, with no electricity bills to pay.
You pay an EMI based on the amount of energy you consume. The cost of solar-generated power is considerably lower than that of local electricity providers. You can save a large sum of money over time.
PPA agreements happen between a consumer and a sustvest solar service provider. Our goal at SustVest is to help consumers complete solar projects at a low cost. The PPA lasts 10 to 15 years, after which you get to keep the solar instruments, essentially buying an asset instead of a liability. Don't worry about maintenance and performance issues, either – SustVest's solar projects are insured by top-tier companies like ICICI Lombard, so you don't need to worry about equipment upkeep.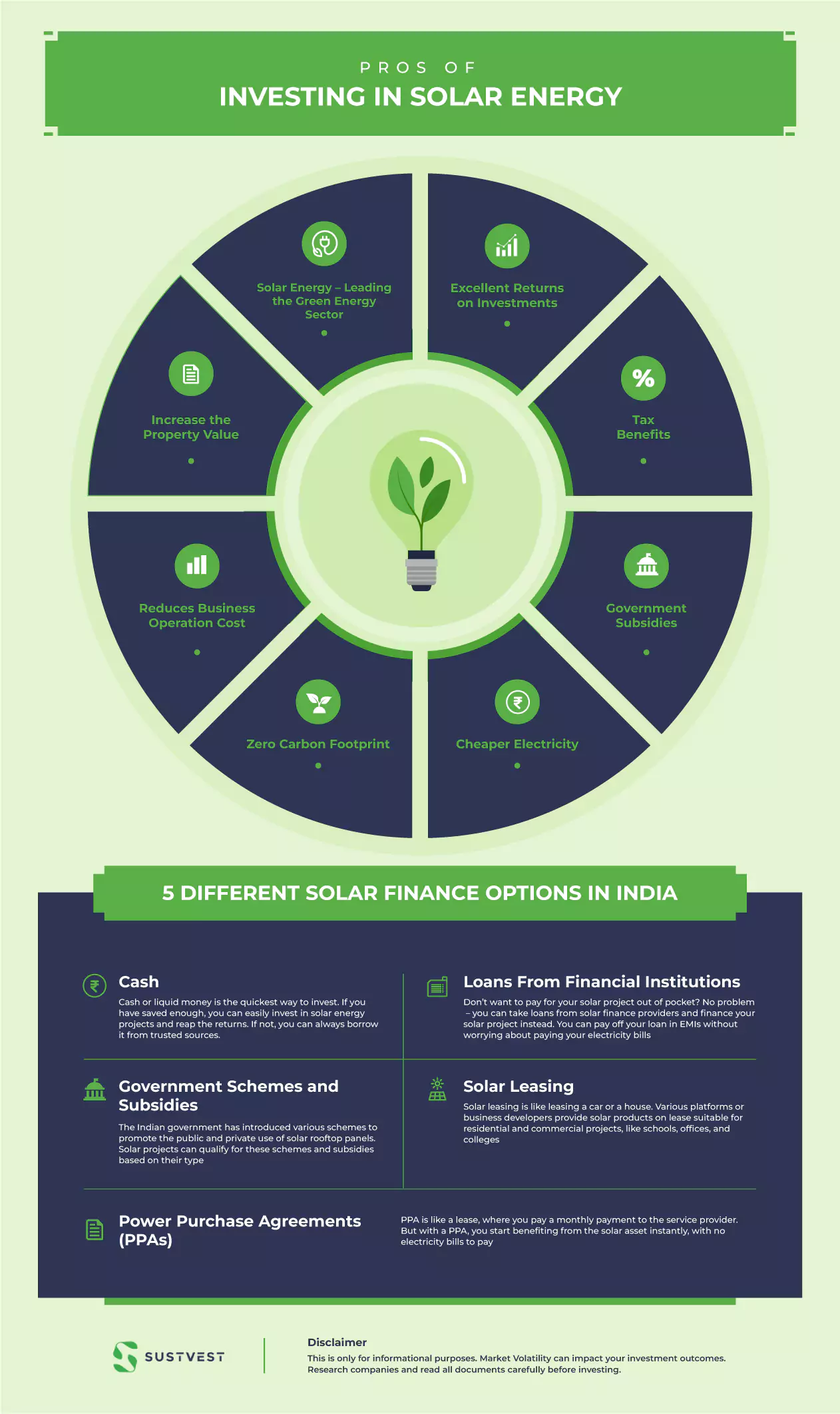 Conclusion
Now that we've explored different solar energy financing options in India, it's time to choose the right one that suits your needs. If you want to pay upfront, cash is the way to go. Or, you can consider solar leasing or signing a PPA, which both have minimal risks. 
Alternatively, you can opt for loans from financial institutions, which offer up to 70-90% of the total project cost. However, you need to cover the remaining amount out of your pocket. Also, don't forget about government subsidies! Several incentives are available for solar rooftop panel installations that you can benefit from.
Still not sure which option to choose? Don't worry. Let SustVest guide you through the process. Contact us at info@sustvest.com, we'll help you find the ideal solar financing solution.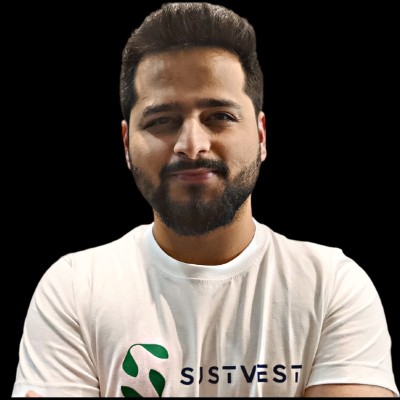 Founder of Sustvest
Hardik completed his B.Tech from BITS Pilani. Keeping the current global scenario, the growth of renewable energy in mind, and people looking for investment opportunities in mind he founded SustVest ( formerly, Solar Grid X ) in 2018. This venture led him to achieve the 'Emerging Fintech Talent of the Year in MENA region ' in October 2019.