Remember when India underwent demonetization? It was a wild ride! We know the days of stashing cash under your mattress are long gone. But if demonetization has taught us anything, it's that keeping our hard-earned money locked away in our homes isn't the way to go. Instead, the money would have been better invested or placed in a bank account.
After demonetisation, digitalization, online banking, and UPI payments made us more comfortable spending our money online.
We all know that money makes the world go-'round, but how can we ensure we're getting the most out of our hard-earned cash? That's where passive income comes in. Sure credit cards can be helpful in a pinch, but relying on them for a lifetime? No, thank you!
Are you looking for the best investment options in India to boost your income? Then, "What is the Best Investment Plan In India In 2023?" is the question you should be asking.
We have focused on long-term investment schemes. No doubt short-term investments give good returns. However, they are dependent upon the volatility of the market. So, don't worry – we're not talking about get-rich-quick schemes or short-term investments that can leave you high and dry when the market turns. We've researched the top long-term investment options that will prove to be your best investment plan in the future.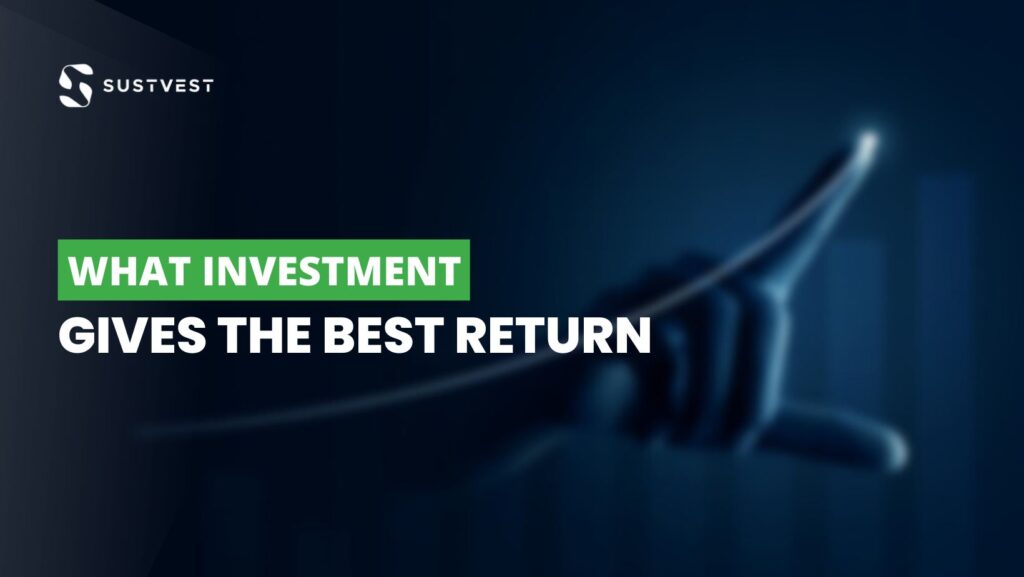 Best Investment Plan to Invest in India (Potential Long Term)
The investment options we have selected are in the low-risk category. Their ROI is more than FDs and the average maturity or lock-in period varies between 3 to 15 years. So, without further ado, let's dive in and choose your best investment plan together!
1. Public Provident Fund (PPF)
PPF is a government scheme offering fixed returns at an interest rate of 7.1% as of 2023.
That makes it the safest bet on ROI, considering the depreciation in the world economy. Moreover, you can take a loan of up to 25% on your PPF balance and can even withdraw half of your money saved after completing 5 years.
Even though you have invested in this scheme for fifteen years, you can still use the money for in-between needs. And let's not forget about the tax savings benefits. With PPF, you can enjoy tax deductions on your Sustvest investments and returns which makes it one of the best investment plan to invest in.
2. National Savings Certificate (NSC)
NSC is a government-backed scheme offering a low-risk investment option with a fixed interest rate of 7% for a tenure of 5 to 10 years and with the added flexibility to take out a loan and interest rates revised quarterly by the government, it's easy to see why the NSC is such a popular choice. 
But that's not all – NSC also offers attractive tax deductions on both your investment and returns. So not only can you enjoy a reliable source of income, but you can also minimize your tax liability and maximize your returns. It's a win-win situation that's hard to beat!
3. Renewable Energy Assets
Renewable energy assets are the most looked upon sectors for investments. In the current times, investment in renewable energy assets may prove to be the best investment plan for you. Now, you have three options to invest and earn from this sector.
The first option is to take the traditional route and invest in the equity stocks of green energy companies for the long term, only if you have a high-risk appetite.
The second option is to invest in a green energy mutual fund. Here, you can select the portfolio as per your preference in ROI, CRISIL ratings, term of investment, amount of investment etc., or leave the decision-making to a professional fund manager.
The third option is to become an investor in a green energy company. SustVest is a great platform that allows you to invest in green energy projects, providing solar energy solutions to corporate, residential, and commercial projects.
Partnering with SustVest through a lease or Power Purchase Agreement (PPA) guarantees you a fixed investment amount and a share of the earnings made on the projects. With no market risk, fixed quick returns, and a small investment amount, it's the perfect choice for your long-term sustainable investment that generates consistent returns.
Don't miss out on the opportunity to contribute to a sustainable future while securing your financial stability. Start your investment journey with SustVest now!
To know more about lease financing, check out, 'Lease Financing (Everything You Need To Know)'.
4. Government Bonds
Government bonds can be the best investment plan for risk-averse investors looking for assured returns. These are debt instruments issued by the RBI or state governments that offer short-term or long-term bond agreements under which your money is returned with interest. It means you can choose a tenure that suits your investment goals. The benefits of zero risk, a maturity period, assured returns, and tax-saving benefits make government bonds an attractive choice for many investors.
Municipal bonds, RBI bonds, RBI floating bonds, etc., are a few examples of government bonds.
5. Sovereign Gold Bonds (SGBs)
Investing in Sovereign Gold Bonds (SGBs) is a no-brainer! Buying SGBs is much more fruitful than buying physical gold. It keeps your money safe for 5 to 8 years, offers fixed interest rates, involves low risk, can be resold, and gives tax benefits. And the best part? You can start with an investment as low as 5000 INR, which is why it is an up-and-coming best investment plan in India!
You won't find so many benefits with physical gold, digital gold, or ETFs.
6. Equity Mutual Funds
If you're looking for a long-term best investment plan and want higher returns, equity mutual funds are the way to go! With these funds, you'll invest in a portfolio of equity and equity-linked securities that offer higher long-term returns. Whether you prefer large-cap, mid-cap, small-cap, multi-cap, or flexi-cap equity funds, there's an option for everyone, depending on the amount, market trends, volatility, etc.
Plus, with regulation from the Securities and Exchange Board of India (SEBI), you can be confident that your investments are secure.
7. REITs
If you're looking to invest in real estate without the hassle of owning property, then Real Estate Investment Trusts (REITs) are the best investment plan for you! REITs own and invest money in various real estate projects and companies, generating income through asset mortgaging, which is shared with the investors as dividends or gains. You can invest in REIT mutual funds or buy stocks of REIT companies, making it easier to get started. And the best part? The ROI is typically higher than in other forms of investments.
But as with any investment, there are some downsides to consider. They are not open to small investments. The income is taxable and prone to market risk. Also, there may be hidden charges that could affect your overall investment returns in SustVest.
Check out our blog, 'What Are the Different Investment Alternatives Available to an Investor?'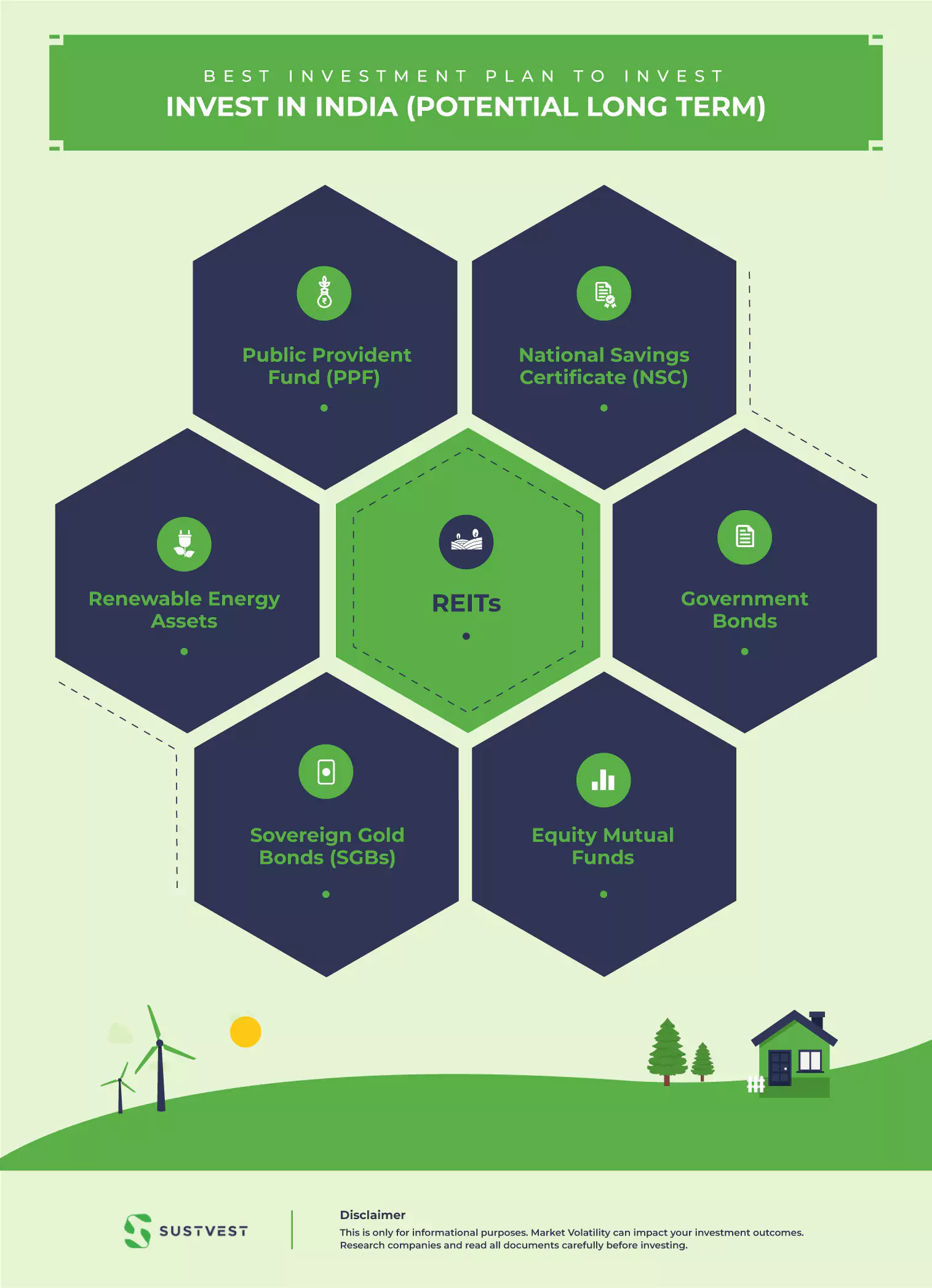 FAQs: Best Investment Plans in India in 2023
Where to invest money for short-term goals?
The best  investment plan for short-term goals are:
Mutual funds
Gold ETFs
Company FDs
Term deposits at the post office
Listed shares
Which investment gives highest return?
More often than not the best investment plan for high returns is a little riskier in nature.
Some of the less risky options that yield maximum returns are:
PPFs
Fixed Deposits
SIPs
Equity funds
Conclusion
In today's day and age, having multiple sources of income is more important than ever to support your financial goals, retirement plans, and overall lifestyle. That's where multiple investments come into play! You may have a hard time choosing where to invest your money with so many options available. Therefore, it is essential to carefully invest your money and look for reliable alternatives that provide long-term returns, like PPFs, NSCs, and green energy assets.
So if you're looking to secure your financial future and build a robust investment portfolio, consider these options and take the first step toward financial freedom today!
We hope our article, 'What is the best investment plans in India in 2023?' helped you navigate through multiple long-term investment plans and make the best choice for your needs.
At SustVest, we believe in more than just financial growth – we're committed to promoting sustainable development and protecting our environment. So why wait? Join us on this mission to create a brighter, more sustainable future. Invest with us!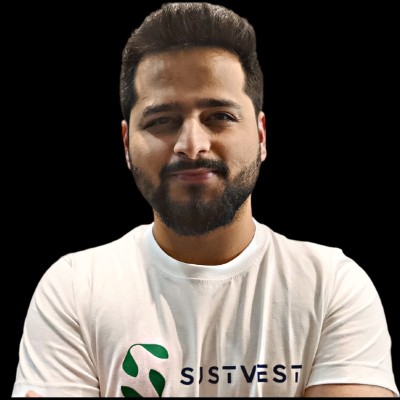 Founder of Sustvest
Hardik completed his B.Tech from BITS Pilani. Keeping the current global scenario, the growth of renewable energy in mind, and people looking for investment opportunities in mind he founded SustVest ( formerly, Solar Grid X ) in 2018. This venture led him to achieve the 'Emerging Fintech Talent of the Year in MENA region ' in October 2019.