India is getting traction globally in its Renewable Energy projects. Investors from all over the world are looking for opportunities for investing in renewable energy in India. India has set a massive target of harbouring 450GW of installed RE capacity by 2030. Out of which about 280 GW is expected from Solar alone.
It's fair to say that, currently the best opportunity for investing in renewable energy lies in Solar. This article dives deep into understanding what makes the Solar sector more efficient than others, and how the government is promoting it.
We will also discuss the new solar-wind hybrid policy and how you can benefit by investing in renewable energy like solar with the help of SustVest.
Let's get started!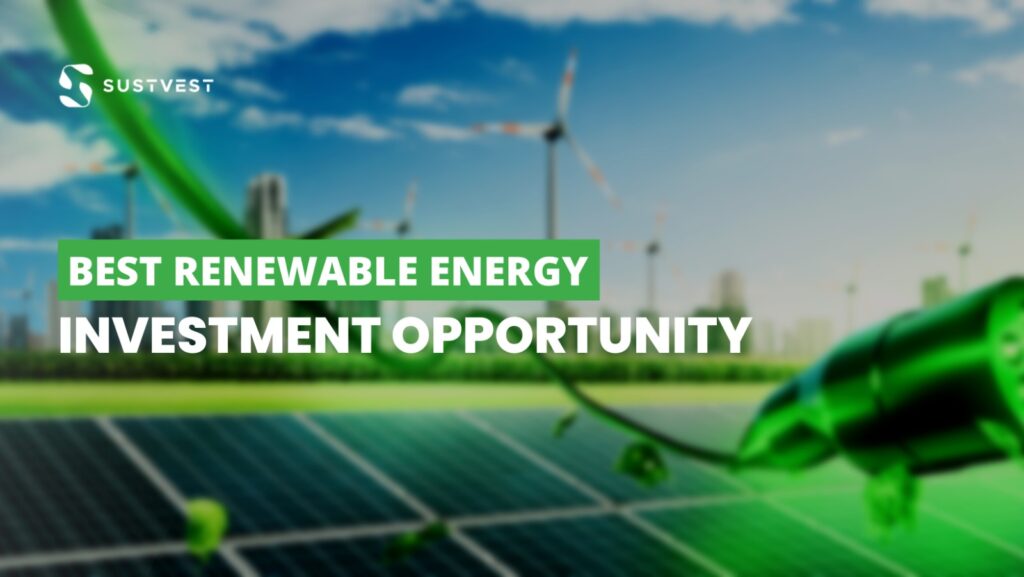 What Are the Different Types of Renewable Energy Available in India?
India is a land inhabiting all kinds of natural resources. The 7515 km long coastline, sky-high mountains in the northern region, river connectivity, and plain regions all make it a geographically rich country.
India has the advantage of having all six types of renewable energy resources Solar, Wind, Small-hydro, Large-hydro, Biopower, and Nuclear energy. Which makes India a hub for investors looking for investing in renewable energy.
Solar Energy is the most dependable of all. It has become part of the Indian household and industry sector to reduce the consumption of electricity and carbon- emissions. It is also considered a promising investment sector with the increase in solar projects throughout the country.
Wind Energy is abundant in India because of the long coastline in the southern parts of the country. The Wind power capacity is at the 4th position globally and is expected to step up in the coming years.
Nuclear Energy is primarily used for electricity generation. India is the only country to develop, demonstrate and deploy nuclear reactors for power generation without any foreign stake.
Hydro Power is the second most efficient electricity producer after Solar in India.
Currently, India stands in 5th position globally for usable hydropower potential. Maharashtra's Koyna hydroelectricity power plant has the largest hydroelectricity-producing capacity of 1960 MW. Other states rich in hydropower are Madhya Pradesh, Manipur, Odisha, Gujrat, Andhra Pradesh, Himachal Pradesh, and Karnataka.
Biomass or Biopower is abundant in India, thanks to rich vegetation. Biomass production creates employment, is carbon neutral, and is more economical than other renewable energy operations. India promotes biomass power or co-generation programmes, under which over 800 biomass power projects have been installed and connected to the grid.
The data showing the installed capacity of all types of renewable sources of energy in India is shared below. Take a look!
| | | | | | |
| --- | --- | --- | --- | --- | --- |
| Solar | Wind | Small hydro | Large hydro | Biopower | Nuclear |
| 63.3 GW | 41.9 GW | 4.93 GW | 46.85 GW | 10.62 GW | 6.78 GW |
The above data also showcases that 40% of India's total installed capacity is produced from renewable energy sources and not fossil fuels.
Check out our article on Green Finance and Investment in India here.
Solar-Wind Hybrid Projects- Government's Push to Promote Investing in Renewable Energy
Solar and wind energy go hand in hand together. After research, it was found that there are areas where wind and solar energy resources can benefit from co-existence. Hybridization of the two will help in the optimal utilization of the infrastructure, land, and transmission systems. The wind farms have the scope to add solar PV capacity and vice versa.
To encourage the hybridization of wind-solar energy the government has introduced the National Wind-Solar Hybrid Policy. Under this policy, the implementation of Wind-Solar Hybrid Systems is promoted to create a large grid-connected network. Doing so will reduce the variability in RE Power generation capacity and increase grid stability.
As a first step, a 2500 MW Inter-State Transmission System (ISTS) connecting wind-solar hybrid projects was sanctioned in 2018. Also, tenders for 10,100 MW of hybrid/ RTC/ Peak power capacity have been issued by the Solar Energy Corporation of India Ltd. to increase hybrid projects.
Moreover, the Inter-State Transmission System (ISTS) charges for the inter-state sale of solar and wind power for projects starting before 30th June 2025 have been removed as well.
The Ministry of Renewable Energy is encouraging research in developing hybrid solar-wind technology by bearing 100% financial cost of the projects for government and non-profit organizations and around 50% cost of the project for private sector research, industry, and start-ups.
Another noteworthy initiative is the "Integrated Wind and Solar Resource Assessment through Mapping and Measurements" project given to the National Institute of Wind Energy, Chennai with a total cost of Rs 17.99 crore. This project has mapped 23 locations for solar-wind hybrid energy projects.
Why Should You Invest in Solar Energy?
In simple words, you must be investing in renewable energy projects like solar energy as it is witnessing major developmental growth and is the future of renewable energy power in India.
Do you know that the RE sector alone received a cash inflow of $12.7 billion in the last decade? India's solar power capacity has multiplied 18 folds in just the last 7 years and it is expected to rise up to 280 GW by 2030.
India has also given the green flag to 100% FDI through an automated route, without any approval. This has attracted a swarm of foreign citizens and entities investing in renewable energy in India.
In 2022, the Renewable Energy sector saw a record investment of $14.5 billion. India's growth in generating green energy has brought her 3rd position on the EY Renewable Energy Country Attractive Index 2021. And by 2040, it is expected that India's 50% electricity will be produced from solar.
The use of solar energy has expanded to solar pumps, lights, street lights, home electricity, stand-alone power plants, etc. The demand for solar products is increasing day by day.
At present, the major investors in the sector are Tata Power, Reliance New Energy Solar Ltd. (RNESL), National Thermal Power Corporation Renewable Energy Ltd., and Norfund.
Overall, the Indian power market is transforming and has become a hub of opportunities for new technology, investments, and green and clean energy projects to build a self-sustainable network.
To understand more about making investments in solar energy, check out our blog on How Can I Invest In Solar Energy?
How Can You Earn Monthly Income By Investing In Renewable Energy?
Anyone can invest in Solar and other energy sources and get good returns. Let's look at the few options you have to do so.
Investing in Mutual Funds:
So, you can start by investing in renewable energy mutual funds to invest in the equity or debt of the green sector companies. This MF investment can be started with low cost and small tenure. Your money will be invested across various companies stakes by the fund manager to create a stable return affinity. You can reinvest or withdraw the interest as per your choice.
Partnering with Solar Investment Companies:
The other option is to become a fractional owner in any Solar Powered projects by partnering with the third-party company implementing those projects. Companies like SustVest take up solar projects from big and small consumers like residential projects, office or school, or township projects for solar installations.
They sell out a set percentage of the project's total cost in exchange for funds. Making you a shareholder and in return, you will earn a monthly income from them. It is safe to invest and has become a common way of investing in the Solar Sector.
Selling Electricity to the Power Companies
Suppose you have a big roof or land that is barren and not in use, you can install solar panels and connect them to the grid. You can use the electricity for your consumption and sell the remaining. The government will pay you for the electricity sold. You will save big time on electricity bills and for once, you'll be paid for the same!
To put this plan in motion, you can take the help of Sustvest and government schemes to raise funds or to get subsidies. Thus you can make a living out of your investment in solar energy.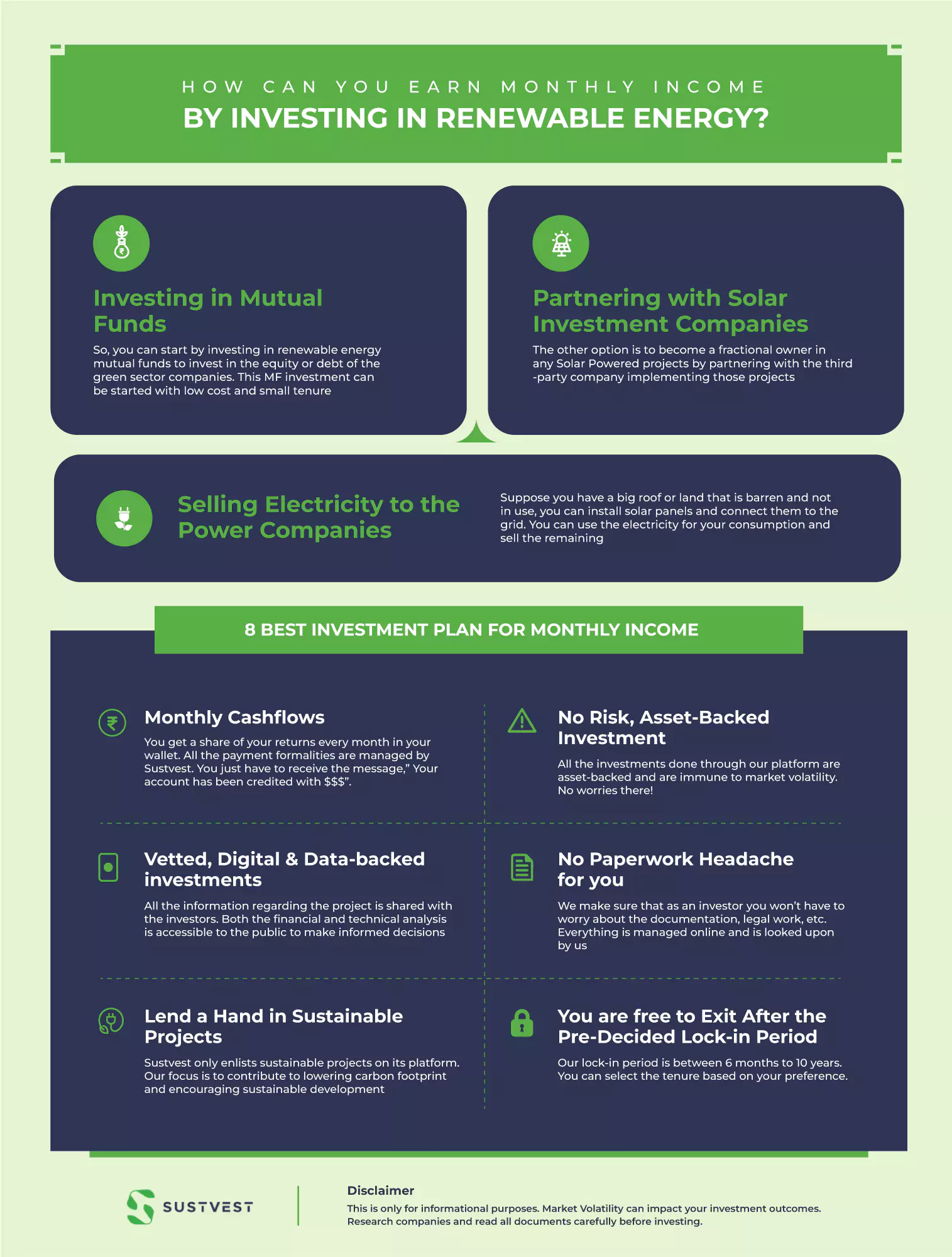 Which Is the Number One Platform to Invest in Solar Panels and Earn Monthly Income?
Sustvest is an excellent investment platform to start investing in renewable energy and take one step towards clean and green energy. It opens the door to sustainable investment which is the current trend of the market. Sustvest supports sustainability and it helps in providing green energy solutions to its clients.
Here's how you can benefit by investing in Sustvest projects.
Monthly Cashflows
You get a share of your returns every month in your wallet. All the payment formalities are managed by Sustvest. You just have to receive the message," Your account has been credited with $$$".
No Risk, Asset-Backed Investment
All the investments done through our platform are asset-backed and are immune to market volatility. No worries there!
Vetted, Digital & Data-backed investments
All the information regarding the project is shared with the investors. Both the financial and technical analysis is accessible to the public to make informed decisions. The projects are taken care of by professionals.
No Paperwork Headache for you
We make sure that as an investor you won't have to worry about the documentation, legal work, etc. Everything is managed online and is looked upon by us.
Lend a Hand in Sustainable Projects
Sustvest only enlists sustainable projects on its platform. Our focus is to contribute to lowering carbon footprint and encouraging sustainable development.
You are free to Exit After the Pre-Decided Lock-in Period
Our lock-in period is between 6 months to 10 years. You can select the tenure based on your preference.
Must Know Facts About Sustvest
You can become a co-owner of a rooftop solar project or EV charging point by investing in our projects.
Investment starts at just INR 5,000.
The interest rate varies between 10 to 15% annually.
Solar project investments are used to power residential societies, industries, schools, corporate offices, etc.
FAQs: Investing in Renewable Energy in India
Which sectors should one consider while investing in renewable energy in India?
Before investing in renewable energy in India it is imperative that you know the available sectors. Some of the many renewable energy sectors in India are:
Solar power
Wind power
Hydropower
Geothermal power
Biomass energy
Why are we looking at alternate source of energy?
Fossil fuels, a non-renewable source of energy, are used in abundance and hence shall replenish soon. The usage of fossil fuels as a source of energy also has a lot of environmental repercussions. These are a few of the main reasons why the world is on the lookout for other renewable sources of energy.
Conclusion
Without a doubt, the best opportunity lies in investing in renewable energy such as Solar Energy. The growth in solar power is leading the world towards self-sustainability and India is majoring in that space. Solar and wind projects are the future and there is no better time than now to invest in them.
Don't fall behind, contact us at info@sustvest.com to start your investment journey now!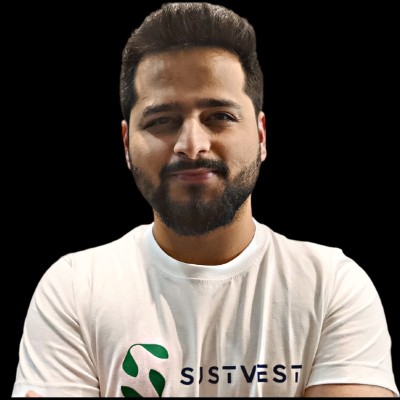 Founder of Sustvest
Hardik completed his B.Tech from BITS Pilani. Keeping the current global scenario, the growth of renewable energy in mind, and people looking for investment opportunities in mind he founded SustVest ( formerly, Solar Grid X ) in 2018. This venture led him to achieve the 'Emerging Fintech Talent of the Year in MENA region ' in October 2019.