Green Finance is the new buzzword in the sustainability world of investment. With its recent foray into green financing, India is now unlocking exciting opportunities for numerous green investment options like Green Bonds, Green Energy Funds, and so much more!
In this article, we will delve into the multifaceted aspects of Green Finance and Investment in India, examining the pivotal roles played by the Indian government, as well as the public and private sectors.
Green energy projects have taken centre stage in India's 2023 budget, fueled by the Prime Minister's declaration at COP 26 of achieving the environmental, social, and governance (ESG) goals. The policies and initiatives taken by the government have led to an increase in funding. India has had an FDI inflow of 12.57 billion US dollars in the last two years. As the momentum continues to build, analysts project that sustainable investments in India will soar to a staggering 10 trillion dollars by 2035.
So let's embark on this enlightening journey, starting with a brief introduction to the dynamic world of Green Financing and exploring the extraordinary potential and transformative impact of this emerging landscape!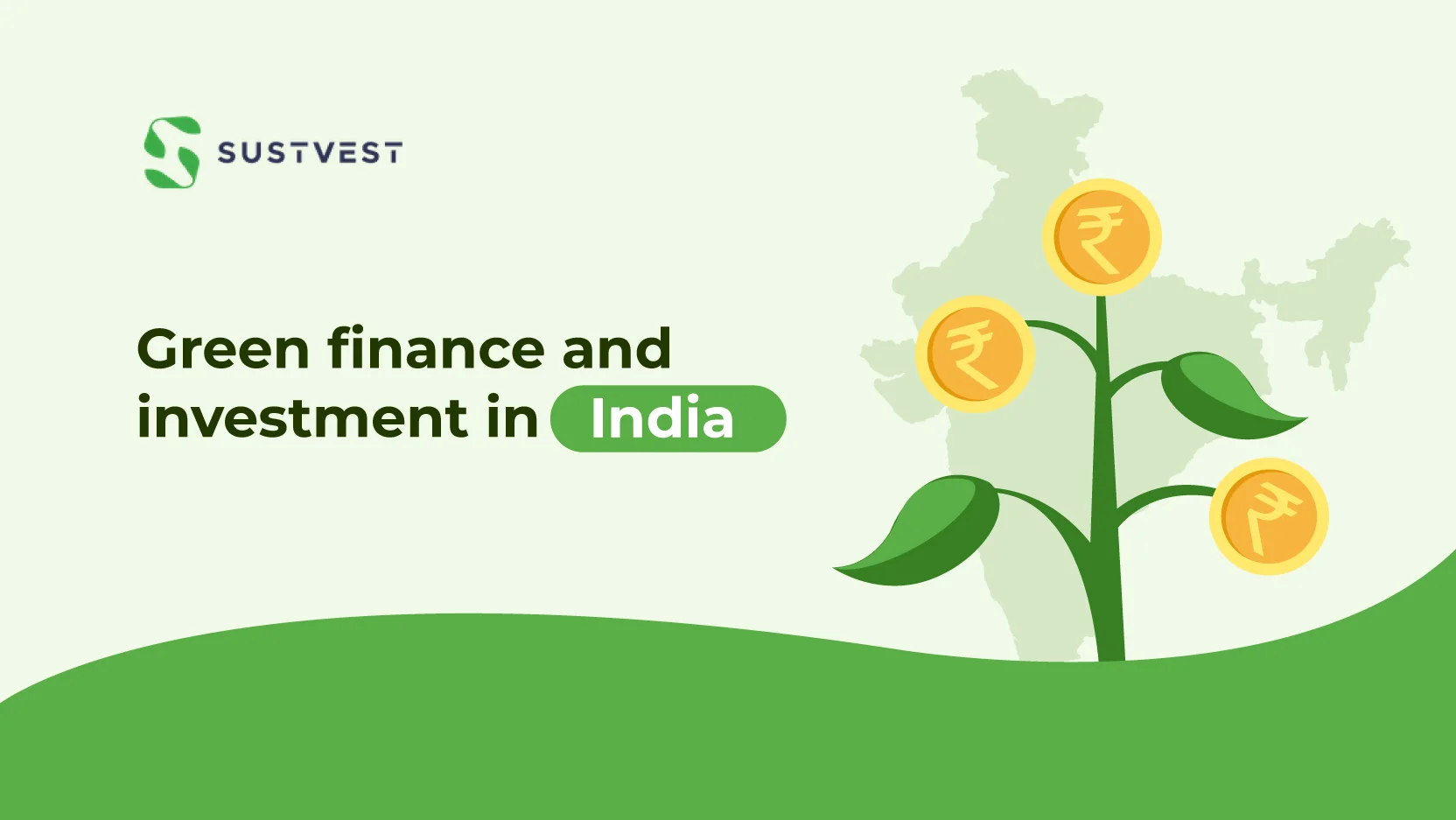 What is Green Finance?
As defined by the United Nations Environmental Program (UNEP), green finance is the process of increasing the flow of financial resources from the public, private, and non-profit sectors towards environmentally friendly development priorities.
In simpler terms, any investment activity that supports the growth and advancement of sustainable projects, businesses, lifestyles, and ethical practices falls under the umbrella of green finance.
It's a fascinating domain where finance intersects with sustainability, paving the way for a greener future.
The Goal of Green Finance
Green Finance's objective can be classified briefly as an effort:
To counter the environmental issues of climate change, pollution, waste management, loss of biodiversity, etc.,
To push forward the economic activities that encourage sustainable development;
To generate financial returns from such sustainable activities.
With the above factors in mind, one can say that investment in green projects is the way to create a stable ecosystem. Since 2008, countries like China, the United States, and France have shown significant interest in green finance. The European Central Bank has also funded several green energy projects across the European continent.
Overall, green finance is regarded as a measure of beating adverse climatic challenges and is, thus, welcomed globally! Let's see India's foothold in green financing:
India's Efforts in the Growth of Green Finance
India's efforts in the growth of green finance have garnered global recognition, thanks to the government's steadfast commitment. The ambitious targets set by India to achieve 500 GW of green energy production by 2030 and become a carbon-neutral country by 2070 have drawn praise from the world.
India requires close to 1 trillion dollars to fulfil its green energy goals. Consequently, this has caught the attention of global economies. They perceive India as an ideal combination of demand, owing to its vast population and of supply, due to its abundant renewables.
As a result, India's green energy projects attracted 14.5 billion dollars of investment in 2022. Not just that, it is expected that green finance and investment in India will receive an investment of over 20 million dollars this year alone.
Let's see what the government has been doing to amass green investment in India from all across the globe:
Initiative's Supporting Green Finance and Investment in India
India has devised a framework to utilise its renewable energy resources to its advantage and achieve energy independence by 2047. The focus lies in promoting green technologies, supporting small-scale industries, and fostering projects that leverage renewable resources or repurpose waste to generate energy or energy-efficient products.
Take a look at a few schemes and programmes launched by the Indian government to encourage the growth in Green Finance and Investment in India:
Make in India Scheme
The Make in India initiative that exclusively includes the renewable energy sector for the production of batteries, electric vehicles, charging points, and Green Hydrogen has attracted the majority of investors.
Production Linked Schemes (PLI Schemes)
The Production Linked Schemes (PLI Schemes) offer enticing incentives to encourage the adoption of sustainable technology. These schemes have yielded an impressive INR 2.34 lakhs crores across 14 sectors in just two years.
Energy Trading Platforms for Renewable Energy
The Green Term Ahead Market (GTAM) and Green Day Ahead Market (GDAM) are one of their kind energy trading platforms used to sell power units generated by renewable developers. As per the reports, in February 2023, Indian Energy Exchange (IEX) traded 341 million units (MU) of renewable energy.
Green Energy Corridor (GEC)
Phase two of GEC covers 10750 circuit kilometres (ckm) of intra-state transmission lines and 27500 MVA substations, spreading across 7 states of Gujarat, Himachal Pradesh, Karnataka, Kerala, Rajasthan, Tamil Nadu, and Uttar Pradesh. MNRE funded the 33% project cost, i.e., INR 3970 crores and recently, Sterlite Power invested INR 2,024 crores in it as well.
National Green Hydrogen Mission
The Green Hydrogen Mission was launched in 2022 to make India the leading producer and supplier of green hydrogen globally. Over INR 19,000 crores have been allocated for this mission. The primary goals of this mission include developing a production capacity of 5 MMT per annum of green hydrogen that will create over 6 lakh jobs and reduce 50 MMT of greenhouse gas emissions annually. Analysts suggest this could attract an investment of INR 8 trillion by the end of this decade.
International Solar Alliance (ISA)
In November 2015, France and India joined forces to establish the International Solar Alliance (ISA). Today, this alliance comprises 110 countries collaborating to mobilise a staggering investment of over 1000 billion dollars towards harnessing solar energy. The ISA has introduced various programmes to reduce solar production costs, including funding for small-scale solar projects and industries.
These are just a few of the many schemes and programmes launched by the Indian government to create a financially stable and sustainable country. However, a lot has to be done by the private and banking sectors to execute the goals stated in COP 26.
For more information on How To Invest In Solar Renewable Energy In India And Make A Profit, check out our blog.
Role of the Banking Sector and Private Companies in Green Financing India
Raising green finance requires an assessment of the present capacities and resources like capital, participation of public and private sectors, and perspective of the financial institutions and banks. Let's see the role of the banking and private sector in developing the scope of green financing one by one:
Banking Sector
Just like the US and China, the RBI has issued Green Bonds to boost green finance in India. SEBI regulates and issues these bonds exclusively for sustainable assets and projects. Between 2015 to 2020, Green Bonds raised an impressive sum of around 16.3 billion US dollars.
The banking sectors of India have proactively positioned themselves to capitalise on the flourishing green energy sector. They have introduced various schemes under the umbrella of "green financing" to attract investors, including green loans, mortgages, credit cards, and savings accounts.
As a result, there has been a notable increase in loans and credits to facilitate the purchase of green energy products such as solar panel installations and electric vehicles.
The banking sectors play a pivotal role in establishing a financial flow between green energy companies, investors, and consumers. Without the involvement of banking institutions, a thriving market for green energy consumption would be difficult to sustain. They serve as the vital bridge connecting all stakeholders in the green energy ecosystem.
Private Sector Companies
The private sector holds the key to unlocking a sustainable economy, igniting a wave of excitement that's hard to resist. Yet, despite the boundless potential of renewable energy resources, their efficient utilisation often wrestles with infrastructure and technological limitations that hinder extraction, storage, and widespread transmission.
Now, the investors have acknowledged the potential of the green energy sector and are investing in the green industries.
ACME struck a $7 billion deal with the Karnataka government to develop an integrated solar-to-green hydrogen-to-green ammonia facility.
TotalEnergie has partnered with Adani New Industries, pledging a staggering $50 billion investment for the next decade to produce green hydrogen.
ReNew Power also made headlines by announcing a joint venture between Indian Oil Corporation and Larson & Toubro to produce green hydrogen.
2022 witnessed an explosion of over 4,600 startups, including 2212 focused on renewable energy, 1903 on green energy, and 504 in waste management. These startups cover various areas such as nuclear energy, clean technology, solar energy, electric vehicles, and more. Investors from all walks of life are eager to invest in these promising sectors.
For more information on Future of Sustainable Investing in India, check here!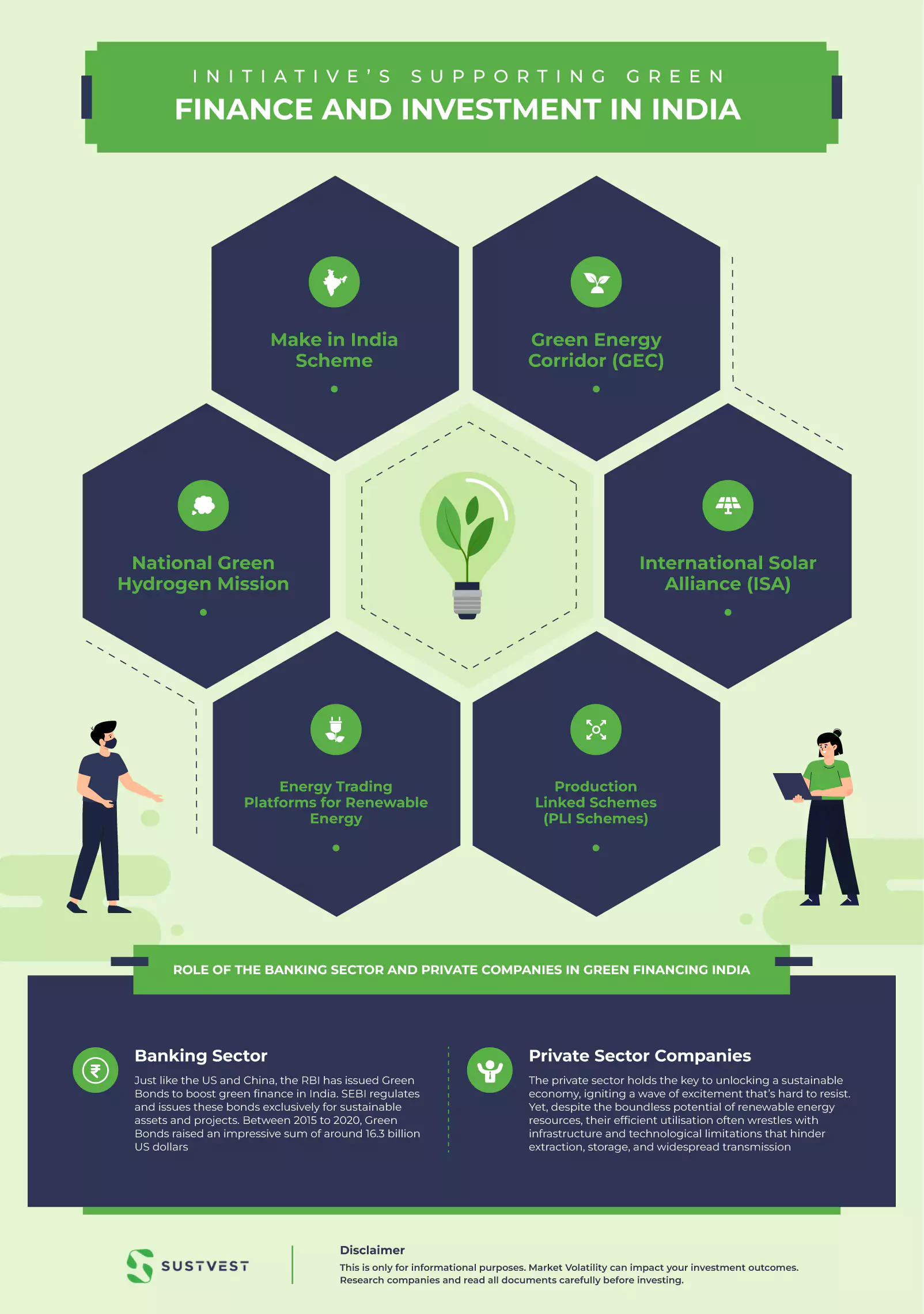 FAQ: Green Finance and Investment in India
Who provides green finance in India?
Green finance and investment in India encompass various sources. RBI issues green bonds, and the government offers funds and schemes to support the installation of solar, wind, and EVs at both domestic and commercial levels. Banks also play a role by providing loans for green projects. Additionally, online investment platforms like SustVest, contribute to green financing in India.
What is the aim of green finance?
Green finance and investment in India aim to establish an economic framework that generates positive financial returns and addresses environmental concerns, mitigating climate change's adverse effects, such as global warming. It seeks to channel financial resources towards sustainable and environmentally friendly projects, promoting a greener and more resilient future.
Conclusion
In conclusion, the growth of Green Finance and Investment in India has witnessed remarkable progress in recent years. However, there is still a long road ahead. India's ambitious goal of achieving energy independence by 2047 requires concerted efforts from the government and the active participation of domestic and foreign investors.
Experience the pride of contributing to India's journey towards energy independence at SustVest. We support sustainable projects with solar energy and electric vehicles, fulfilling their energy needs. With investment plans from just INR 5000 and a monthly interest rate of 10 to 15%, SustVest opens doors for your investment journey.
Join us and be part of the sustainable investment revolution that aligns with India's environmental, social, and governance goals. Together, let's shape a greener and more prosperous future for India. Check out our website today to begin your investment journey.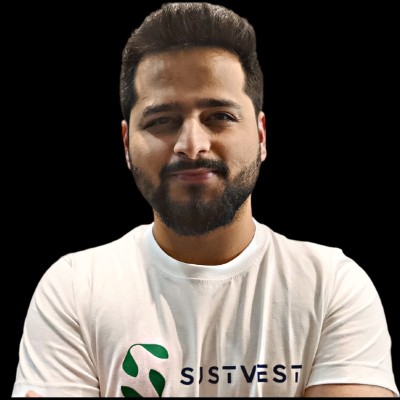 Founder of Sustvest
Hardik completed his B.Tech from BITS Pilani. Keeping the current global scenario, the growth of renewable energy in mind, and people looking for investment opportunities in mind he founded SustVest ( formerly, Solar Grid X ) in 2018. This venture led him to achieve the 'Emerging Fintech Talent of the Year in MENA region ' in October 2019.