Investing is a powerful tool that can help you achieve your wildest dreams, whether they are as thrilling as exploring the world or as monumental as owning your dream home. By choosing the right investment, you unlock the compounding power that turns your aspirations into reality, igniting a sense of awe and wonder along the way.
Investing in renewable energy offers growth potential as India aims to replace coal with green alternatives by 2070. With a 15-fold growth in the past six years, it's a chance to benefit financially and make a positive environmental impact.
Considering India's exponential growth as the world's most populous country, the demand for energy is surging. Moreover, the cost of solar energy has witnessed a significant 90% reduction over the last twenty years. Additionally, India's emergence as a competitive exporter of solar components is challenging China's dominance. These compelling factors highlight the urgency and benefits of investing in solar energy why we must invest in solar energy now.
Thus, This article explores how to invest in renewable energy through three methods: stocks, smallcases, and sustainable investment platforms. We'll take a detailed look at each approach and examine the kind of returns they offer, both in the short and long term.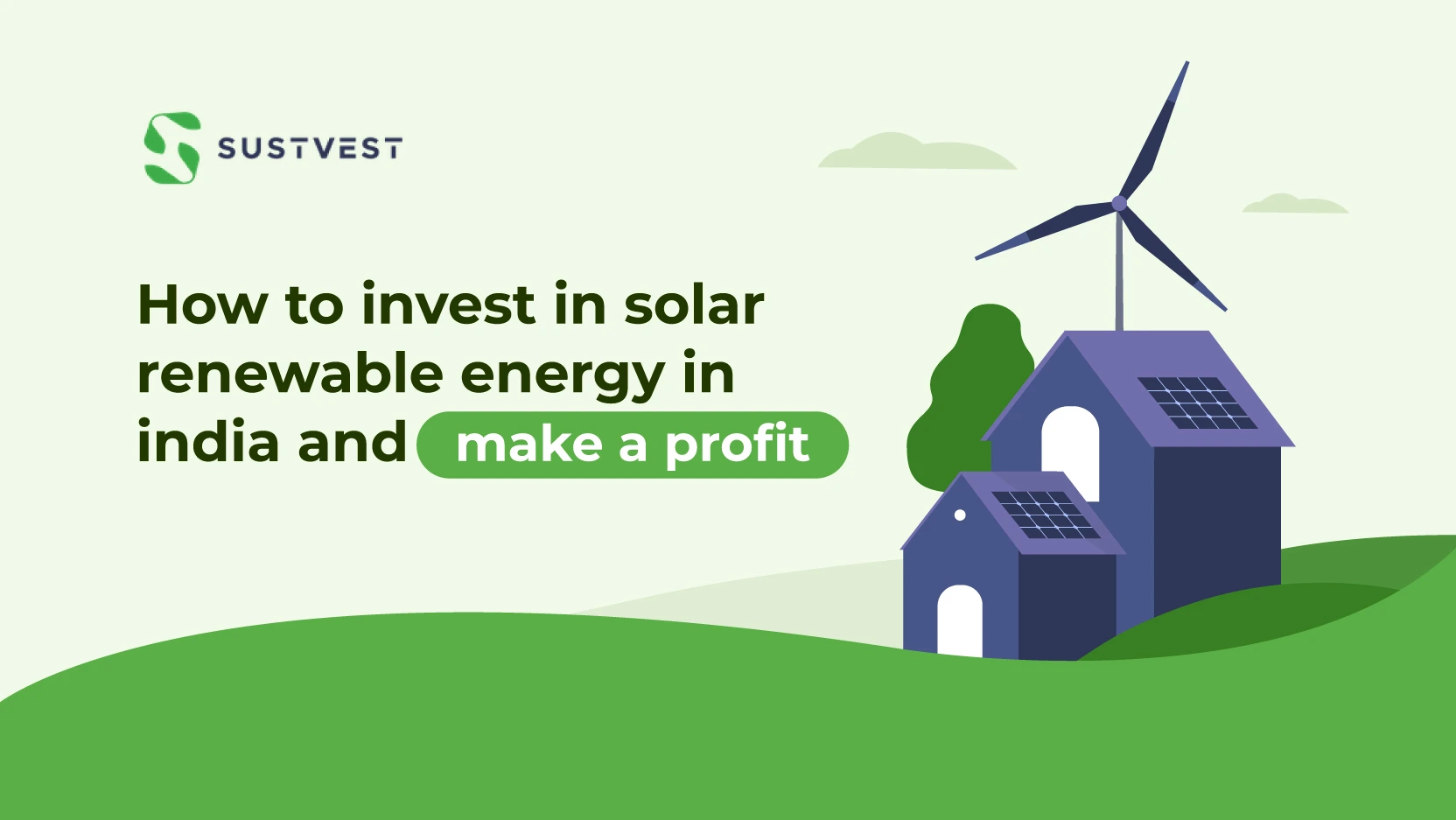 How To Invest In Renewable Energy: Investing in Solar Energy with Stocks
Why invest in solar energy stocks in India
Although there are several ways for how to invest in renewable energy, solar energy is regarded as a fantastic substitute for fossil fuels. First, it is abundant and has zero carbon emission. Secondly, out of India's 500 GW target for renewable energy capacity by 2030, the government has allocated over half, which is 280 GW, to solar energy.
How To Invest In Renewable Energy: 8 Solar Energy Stocks In India With Returns
India's expanding solar energy sector presents a great investment opportunity. With government subsidies and schemes promoting growth, companies involved in manufacturing solar components and managing projects are poised to benefit. Investing in solar energy start ups with these stocks aligns with the growing trend towards renewable energy and India's commitment to a greener future.
This table highlights how to Invest in renewable energy with 8 solar energy stocks in India. it may show negative returns in one to three years. So, Holding onto these stocks for a more extended period is recommended to maximise returns.
| | | | | | | |
| --- | --- | --- | --- | --- | --- | --- |
| Name of the Company | Today's Price | 52-week low in INR | 52 weeks high in INR | 1-year returns | 5 year | what does it do |
| Tata Power Company | 206 | 182 | 251.15 | -19% | 153% | it has a subsidiary named tata power solar which is India's largest integrated solar company |
| Ujaas Energy Limited | 2 | 1.70 | 4.50 | -45% | -87% | is involved in the design, engineering, procurement, construction, and maintenance of solar power projects in India. produce and sell solar photovoltaic (PV) modules. |
| Surana Solar Limited | 20.30 | 14.70 | 31.65 | -9% | 68% | manufactures solar photovoltaic (PV) modules. also design, procure, and maintain grid-connected and off-grid solar power systems projects. |
| INDOSOLAR LTD | 3.21 | 3.21 | 4.70 | -15% | -50% | is a manufacturer of photovoltaic cells and modules. also is a turnkey solution provider for solar power projects |
| Gita Renewable Energy Ltd | 80.79 | 184.20 | 184.2 | -51% | 1246% | is involved in electricity generation through various renewable resources such as solar, wind, and hydropower. |
| Urja Global Ltd | 7.80 | 6 | 15.65 | -43% | 98% | offers a range of products and services related to renewable energy, including solar panels, solar inverters, solar street lights, solar water heaters, and other solar-powered products. also a turnkey solar solution provider |
| Web sol energy system | 88.85 | 62.75 | 129.95 | -10% | 47.71% | manufactures solar photovoltaic cells and modules in India |
| Borosil Renewables | 504 | 380 | 710 | -14% | 145% | specialize in the manufacturing and sale of solar glass used in solar photovoltaic (PV) modules |
(Share prices and profits reflect the values as of May 12, 2023)
How To Invest In Renewable Energy With Smallcase
Smallcase is an investment instrument where a bunch of stock represents an idea. It follows a definite theme and strategy. For instance, the Green energy portfolio leverages the global shift towards renewable energy sources from fossil fuels. Let's understand briefly how to invest in renewable energy especially solar energy with smallcase
The theme invests in Renewable energy, electric mobility, and recycling.
Under how to invest in renewable energy, the company invests in solar energy PV module manufacturing companies, solar glass manufacturing companies, and solar module manufacturing companies.
The focus of this portfolio has been finding companies that have zero debt yet a strong cash flow. The strategy helped green energy gain a staggering 3x return since its inception in 2021.
The starting amount of investment as of 12 May 2023 is 78,000 INR and gradually you start SIP. It is also important to know, the portfolio manager also charges subscription fees and rebalancing charges.
How to Invest In Renewable Energy With SustVest
Investing in renewable energy, particularly through platforms like Sustvest, can offer both attractive returns and lower volatility compared to other investment options.
SustVest offers an innovative sustainable investment platform to its investors by inviting them to own a part of the projects they invest in and in return allow them to earn a steady monthly income.
SustVest focuses on solar rooftop installation in a variety of properties including colleges, housing societies, and manufacturing companies. They partner with India's reputable real estate developers, private companies, and even listed companies on the Japanese stock exchange to execute these projects.
As an investor, you have the option to participate in these projects by signing a lease agreement or power purchase agreement (PPA), which can provide steady monthly installments based on their ownership share.
If we talk about returns, Sustvest's solar rooftop projects offer the potential to earn anywhere between 10-15% annually, surpassing traditional investment options such as fixed deposits and even some mutual funds.
We've saved the best for last: you can start with as low as 5000 INR, making it accessible to a wide range of investors.
This investment strategy is sustainable, offers higher returns, and carries minimal risk, making it an all-in-one deal for many investors.
FAQs: How to Invest in Renewable Energy
How Do I Invest With Sustvest?
You can invest with SustVest in four easy step:
Step-1 = Register and sign in to the SustVest Website
Step-2= Explore the ongoing projects and calculate returns
Step-3= Fill in the KYC details, and PAN card. Also, you need to have an NRO account
Step-4 = Once getting approval for the documents, fund your wallet using NEFT, UPI, and other easy payment options.
Step-5= choose your investment and enjoy monthly passive income
How Much Total Investment Does Green Energy Small Case Require?
It entirely depends on you how much to invest in total. However, for starters, the investment amount is 78000 as of May 2023. Gradually you can start SIP. Since the shares can't be purchased in fractions, the investment amount is as high as this.
How to Invest in Renewable Energy Via Stock Market?
Investing in renewable energy stocks can be done in two ways. While the first method of investing in renewable energy stocks involves hiring a financial advisor who can guide a higher cost. The second method, which uses discount brokers like Angel Broking, Upstox, Grow, or Zerodha to open a demat account, carries a negligible fee but requires discipline, knowledge, and research. While the second method allows for more control over your investments, it also carries a higher risk.
It's Time To Put Your Knowledge Into Action
Now that we have addressed your doubts about investing in solar energy and where to invest, it's time to take action. Armed with the knowledge of how to invest in renewable energy, you can confidently move forward and seize the opportunities that lie ahead. Don't hesitate any longer – the time to invest in the future is now.
Start small and gradually build your portfolio over time, considering your financial goals, risk appetite, and return expectations. If you prefer steady returns, invest in Sustvest.
If you have a higher risk appetite and a larger investment, you can also consider stocks or smallcases. Alternatively, balance your investments between the three. Remember, it's not just about financial returns; investing in renewable energy can also provide a feel-good, contribution-to-a-better-future return.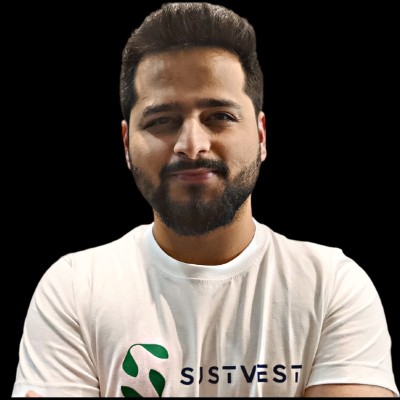 Founder of Sustvest
Hardik completed his B.Tech from BITS Pilani. Keeping the current global scenario, the growth of renewable energy in mind, and people looking for investment opportunities in mind he founded SustVest ( formerly, Solar Grid X ) in 2018. This venture led him to achieve the 'Emerging Fintech Talent of the Year in MENA region ' in October 2019.