Green investment, clean investment and climate change investment. There are so many terms and names thrown around in the investment arena for investment that gives returns, is sustainable for future generation and heal the earth.
Shouldn't it be the basic philosophy of investment? Well, we are not here to change the definition of investment however here in this article we will learn what actually drives this value-based investing.
Climate change investment is not yet widely accessible to retail investors as a mainstream investment option for making profits. But institutional investors are finally realizing its worth be it peer pressure or personal or a firm's philosophy but its first step is to make sure we are leaving a breathable planet for future generations.
In this blog, we will explore the key factors that influence climate change investment at the grassroots level. By examining relevant data and presenting facts, we aim to shed light on the urgency and importance of investing in renewable energy solutions in today's world.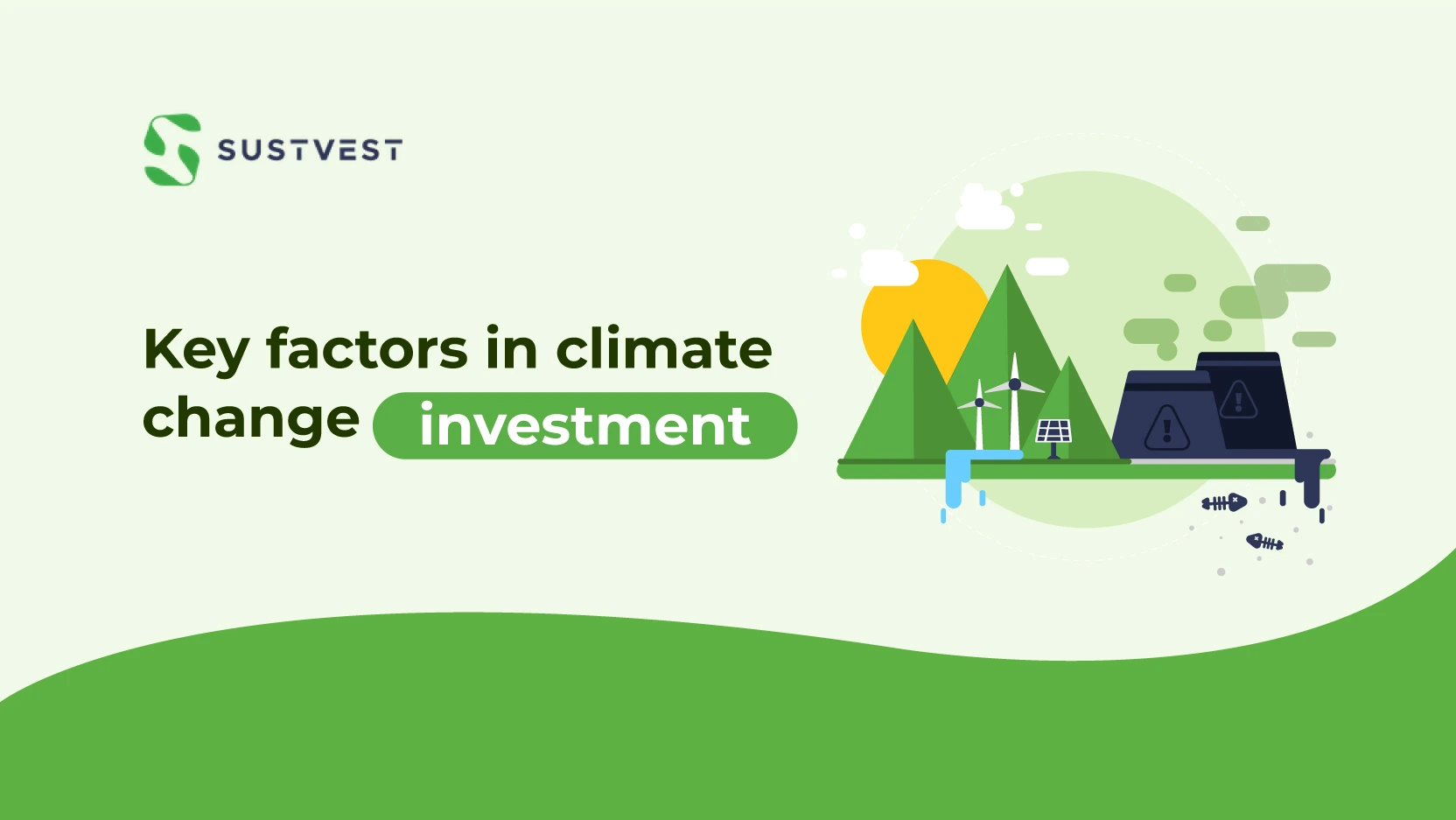 7 Key Factors in Climate Change Investment in India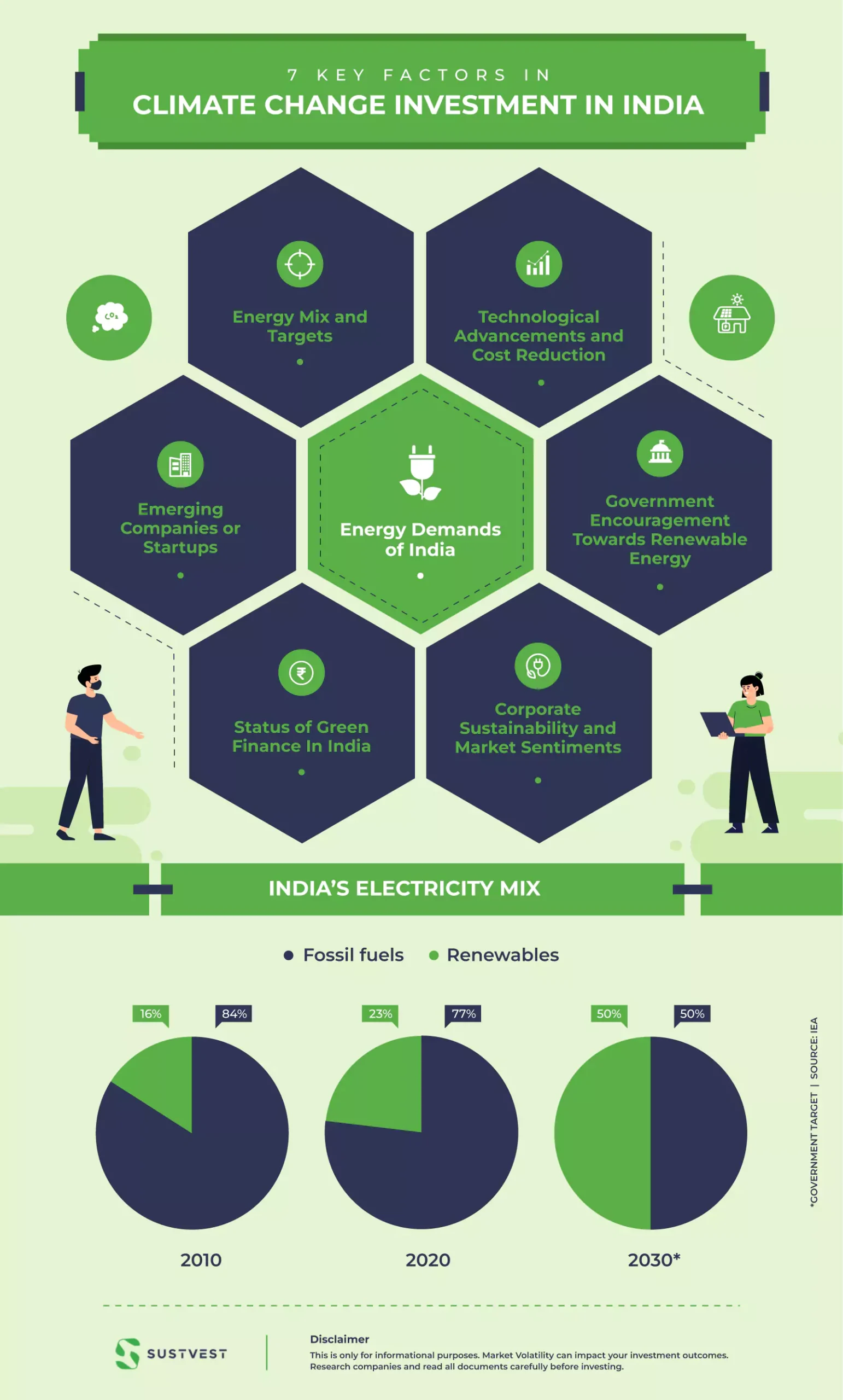 Energy Mix and Targets
Technological Advancements and Cost Reduction
Energy Demands of India
Emerging Companies or Startups
Government Encouragement Towards Renewable Energy
Status of Green Finance In India
Corporate Sustainability and Market Sentiments
Energy Mix and Targets
The energy mix and climate change mitigation are the pillars of climate change investment. Indian Government is prioritizing clean energy sources and has set ambitious renewable energy targets of 500 GW by 2030.
To put things in perspective consider this chart spread across two decades.
Source: Statista
This chart shows the remarkable progress India has made between 2010 to 2020. The increase in renewable energy share by 7% as well as the fall of fossil fuel by 7% clearly indicates the room for climate change investment. It is striking to see the anticipated equal distribution of renewable and fossil fuels by 2030.
This trend suggests three key implications:
Government support in the form of financial rebates and subsidies will be extended to industries offering and producing renewable energy solutions. Including products like photovoltaic (PV) modules, cells, wind turbines and so on.
The renewable industry is likely to attract increased investments from foreign direct investment (FDI) and foreign institutional investment (FII).
Private equity firms and venture capitalists are expected to join the movement by investing in renewable energy alongside foreign institutions.
These pointers collectively indicate a positive outlook for the growth and investment potential of the renewable energy sector in India.
Technological Advancements and Cost Reduction
When considering key factors in climate investment, Technological Advancement emerges as a crucial element. Along with energy efficiency, energy storage, and other climate-friendly solutions, disruptive new technologies in renewable energy sectors pave the way for climate change investment.
For instance, a few years ago we used to heavily rely on China for PV cells for solar power but now in 2022, we have cut down solar product import by 20% thanks to the cutting-edge technology we are developing at a reasonable cost.
According to Mercom, India's solar imports went down which eventually caused a sharp surge of exports by 645%.
The costs for setting up PV projects in India also have significantly dropped by 80 percent between 2010 and 2019, according to an analysis report shared by IRENA in 2019.
Considering these facts it's imminent that breakthrough innovations and cost reductions in this renewable energy sector make clean technologies more attractive and commercially viable for investors.
Energy Demands of India
The energy requirements of the country are instrumental in shaping energy targets and determining the proportion of renewable energy. They serve as a driving force in promoting the inclusion of clean energy within the energy mix.
India has emerged as a robust economy with a GDP of 3.75 trillion dollars, making it the world's 5th largest economy. Additionally, it stands as the 3rd largest consumer of energy globally. As we are also one of the most populated countries in the world, our energy demands could rise too by 3% annually by 2030 due to urbanization and globalization said IEA
Rising energy demands in contrast to declining coal dependence point fingers towards the beginning of the era of climate.
Emerging Companies or Startups
Private equities and venture capitalists around the world are optimistic about the bright future of the renewable energy sector. Therefore, they are placing their bets on its climate change investments.
With an 11% increase in funding in the global solar sector in the first quarter of 2023, totalling $8.4 billion USD, this optimism is clearly reflected.
Reliance Industries, the petroleum giant, plans to invest $10 billion in the value chain, partnerships, and future technologies in clean energy, including upstream and downstream industries, encapsulating the gradual transition from fossil fuels to clean energy.
Similarly, Adani Enterprises will invest more than $100 billion in establishing solar modules, wind turbines, and hydrogen electrolyzers in the coming years.
Furthermore, Adani's trust and faith in Indian clean energy startups are evident through their $3.5 billion deal to acquire SB Energy, a renewable energy startup producing solar power with a capacity of 5 GW in 2021.
These innovative ventures often bring fresh ideas, disruptive technologies, and scalable business models to address climate challenges, presenting significant investment opportunities.
Government Encouragement Towards Renewable Energy
When assessing climate change investment, the government's encouragement towards renewable energy ranks high on the list of key factors in climate change investment
From setting fathomable targets at COP 27 to announcing subsidies at the consumer level and increasing import duties by 40%, and supporting indigenous clean tech industries to allowing 100% FDI in the renewable energy sector. The Indian government is pulling out all the stops to achieve carbon neutrality by 2070.
Yet the other notable steps include the following.
The subsidies and schemes launched like Startup India, Seed Fund, Startup India Initiative, Startup Leadership Program, and ASPIRE have helped clean energy startups acquire funding from VCs and private investors.
The government has also mandated utilities and large consumers to procure a certain percentage of their energy from renewable sources. This policy creates a demand for renewable energy and encourages investment in the sector.
The increasing number of solar parks built indirectly boosts solar energy-related raw materials and service providers which will boost the industry and invite investments.
The government's efforts to install solar rooftops on public buildings, airports, railways networks, educational institutions, residential sectors, and commercial complexes further contribute to the growth of the renewable energy sector.
Indian government plays a crucial role in mobilizing resources towards climate change investment. When foreign investors see such an overwhelming response any sector is receiving coupled with financial and tax benefits they are likely to invest.
Status of Green Finance In India
The availability of financing options like private investment capital, venture capital, green bonds, and climate funds is a game changer for climate change investments in India.
Under the climate finance programme, banks and NBFCs in India have geared towards providing rooftop solar panel financing, e-vehicle financing, and Green Finance where Banks and NBFCs lent money to businesses and startups that are associated with clean energy.
In recent developments, SBI and European Investment Bank tied up to launch an allocation of 100 million euro funds to finance sustainable businesses and also to reduce their carbon footprint by planning a high-impact climate action.
In an encouraging move, the RBI is suggesting banks to voluntarily set targets for financing green and clean projects.
This proactive approach by the RBI, along with government initiatives, fosters a friendly ecosystem that encourages more innovative startups to create clean energy products and services.
With easy financing pipelines provided by private banks, the stage is set for disruptive solutions that reduce reliance on fossil fuels. Together, these efforts create a positive environment for sustainable growth and a greener future.
Corporate Sustainability and Market Sentiments
Investors are increasingly incorporating environmental, social, and governance (ESG) factors into their investment decisions. This shift in approach can be attributed to two key factors.
Firstly, Investors recognise the long-term potential of investing in ESG companies. The growing market sentiments favouring ESG companies reflect investors' understanding of the rising demand for renewable energy products and sustainable solutions. By aligning their investments with ESG factors, investors anticipate both financial returns and positive environmental and social impacts.
Secondly, Companies neglecting sustainability and ESG Investing face criticism from stakeholders. Investors, consumers, and communities demand responsible business practices. Ignoring sustainability, risks, reputational damage, and missed growth opportunities. Thus Embracing climate change investment is vital for long-term success.
Summing Up
Now that you have gone through the factors affecting climate change investment, you might be keen to learn how you, as an individual, can make efforts to increase the use of climate change investment. The answer is that you can do it in three ways.
Firstly, you can directly invest in solar energy or other forms of renewable energy by purchasing shares or investing in renewable energy companies.
Secondly, you can incorporate renewable energy products into your daily life. This includes installing solar rooftops, using solar cookers, and using solar-powered lights. By adopting these products, you contribute to reducing your carbon footprint and promoting the use of clean energy.
Lastly, you can invest in sustainable investments platform like Sustvest on your own without requiring professional help. This can involve investing in projects that prioritize environmental and social sustainability. Which will align with your values and contribute to a greener future.
By taking these three approaches, you can actively participate in increasing the use of climate change investment and play a role in addressing the challenges of climate change.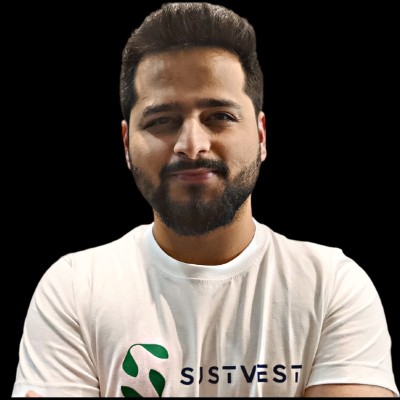 Founder of Sustvest
Hardik completed his B.Tech from BITS Pilani. Keeping the current global scenario, the growth of renewable energy in mind, and people looking for investment opportunities in mind he founded SustVest ( formerly, Solar Grid X ) in 2018. This venture led him to achieve the 'Emerging Fintech Talent of the Year in MENA region ' in October 2019.