Are you planning to start your investment journey? If Yes, then you should be aware of the path to success in the investment field.
Because investing is all about making informed investment decisions, it can break or make your wealth as per your investment option.
To start your investment journey, we have covered the 7 golden rule of investment that every investor should know and implement to make informed investment decisions and get higher-returns, long-term profitability, and stable income.
Let's dive in!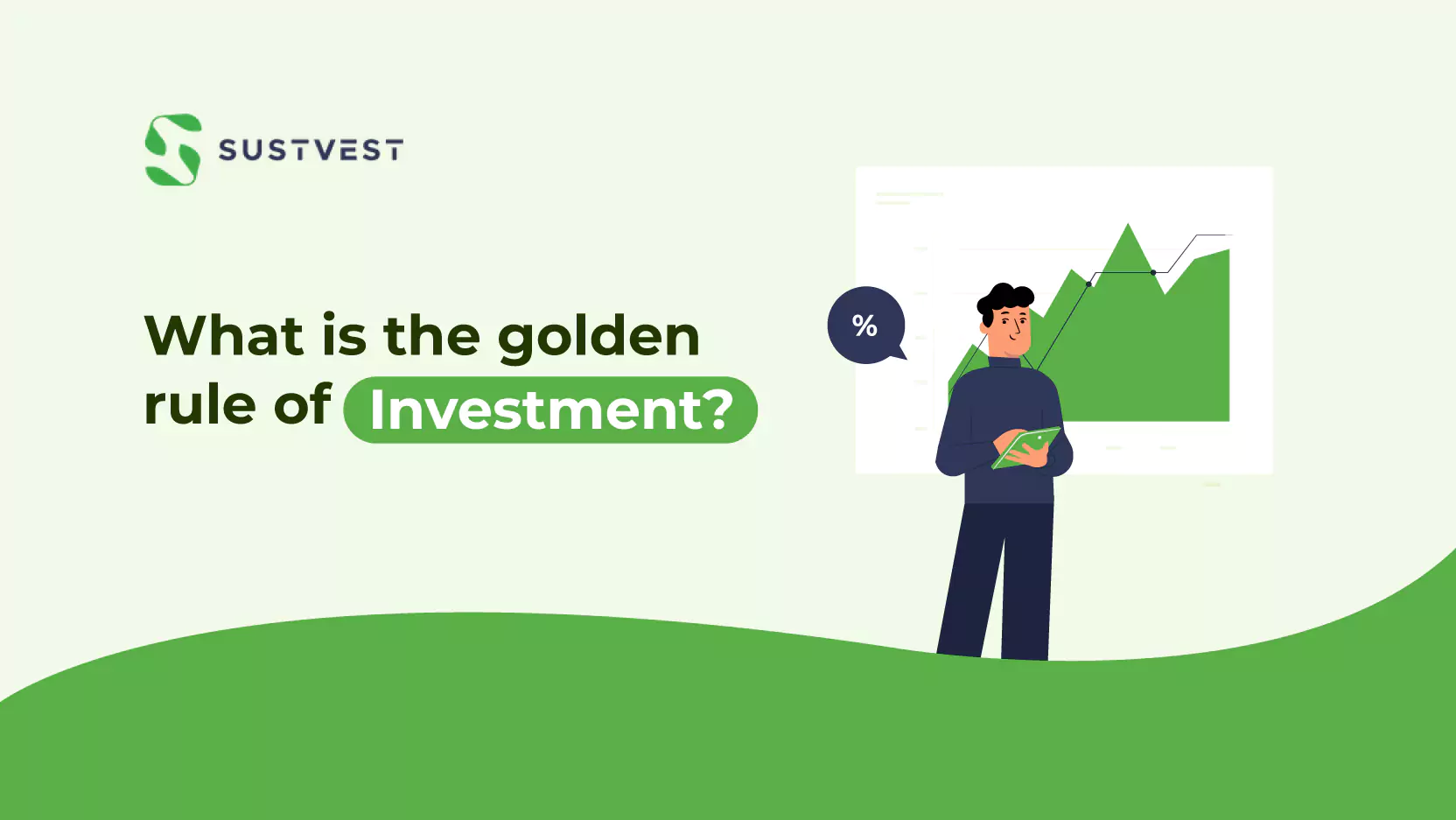 Top 7 Golden Rules of Investing In 2023
Here's the list of top seven golden rule of investment that you should learn and implement while investing:
1. Diversification Is The Key
Diversification is the number one rule of investing and it refers to the risk management strategy, where you allocate your money to various investment options to reduce the risk associated with the investments. The diversification concept works upon the simple principle that all don't react similarly. Therefore, it is not a good idea to invest all your capital into one place; instead, bring some variations. For instance, you can allocate your investments to different options, including stocks, real estate, commodities, etc. Though this technique doesn't claim to provide returns, it undoubtedly increases your profit margins with a great sense of relaxation.
2. Start Your Investing From Today
Many investors ask, "What's the right time to start investing?" The simple answer is to start investing today. Investment is a long-term game that utilizes the compounding effect to increase your money over some time. Thus, it is essential to start investing today to get more time to invest in multiple places. It will also allow the compounding to show its power and increase your money effectively with time.
Find Out: How to Choose the Best Investment Plan for Monthly Income in India?
3. Stick To Your Process
All the prominent investors advise creating a well-researched strategy initially and then sticking to it. However, you will have to make various improvements with time in your process. Your core or fundamentals should stay the same if you want successful investments. For instance, if you want to invest longer, you should stick to your process, considering that goal.
4. Consistently Review Your Investing Plans
Many leading investors suggest creating a foolproof plan before starting the investment. However, the catch is that you must make various improvements to your plan. Simply put, the first investment plan can not be the last, no matter how solid your plan is. It would help if you made specific changes in the plan and your lifestyle. It might include your family responsibility, marital status, kids' plans, etc.
5. Regularly Reviewing Your Portfolio Is Essential
Investment portfolios get broad changes daily as your investment options change or go up and down. Thus, you need to review your portfolio and show up required changes regularly. For regularly reviewing your portfolio, you have to hire a financial advisor. Affording a financial advisor in the early stage might not be relevant for everyone, we suggest you to review your portfolio and make the necessary changes at least once a year.You will have to face various challenges while reviewing and managing your portfolio.
6. Never Follow The Crowd
In investment, 80% of the investors lose their money, 10% hardly reach break-even, and only 10% are successful. You might think many people fail in investing because investments are challenging, but this is different. Most people only follow the crowd and invest where everyone is investing. Therefore, only 10% of people thoroughly studying and understanding the market are booming. They succeeded due to their research and experience, not because of any tips.
Check Out: 16 Best Low Risk Investments With High Returns In India 2023
7. Invest What You Understand Properly
Many people start their investments with tips from their business friends and family. It is one of the worst ways to make investments based upon these general tips, as it will mostly lead you to lose your money. Investment is a game of strategies and research where you thoroughly understand all your investment options and then invest your money considering the data and your gut feeling. Therefore, you should only invest in the investment options you understand correctly.
These are the investment rules of thumb that you should implement in your investment journey.
Top 3 Investment Options You Should Consider In 2023
After knowing the golden rule of investment then it's time to implement these rules in some best investment options:
1. Renewable Energy
Investors are mainly looking for an investment option with lower risk, higher returns and stable income. This is where renewable energy comes as a great investment option. It's the fastest-growing market where investors can make good returns with stable cash flows and capital growth. Plus, the government also promotes renewable energy to make the world run over never-ending and eco-friendly energies. It includes the production of energy from natural sources like sun, water, wind etc.
Some of the best investment options in renewable energy are – solar projects, wind turbines, electric vehicles (EVs) to get higher returns.
If you're also interested in investing in renewable energy, contact SustVest and get complete guidance from their experts so that you can make informed investment decisions and achieve higher returns and long-term profit margins.
Read More: What Is the Future of Renewable Energy? Exploring Trends, Growth, and India's Impressive Strides
2. REITs
Real Estate Investment Trusts is one of the famous investment options that allows you to invest in different real estate properties like shopping malls, office spaces, warehouses and earn a rental income with percentage income. It's a genuinely safe investment option with lower risk and capital appreciation.
3. Gold
Gold is one of this planet's most worthy metals and its value is increasing with time. Undoubtedly, it would be the safest and stable investment option for you to get secured and fine returns with time. If you're planning to invest some of your investment portion in a stable option, Gold is 100% worth considering for long-term capital gains.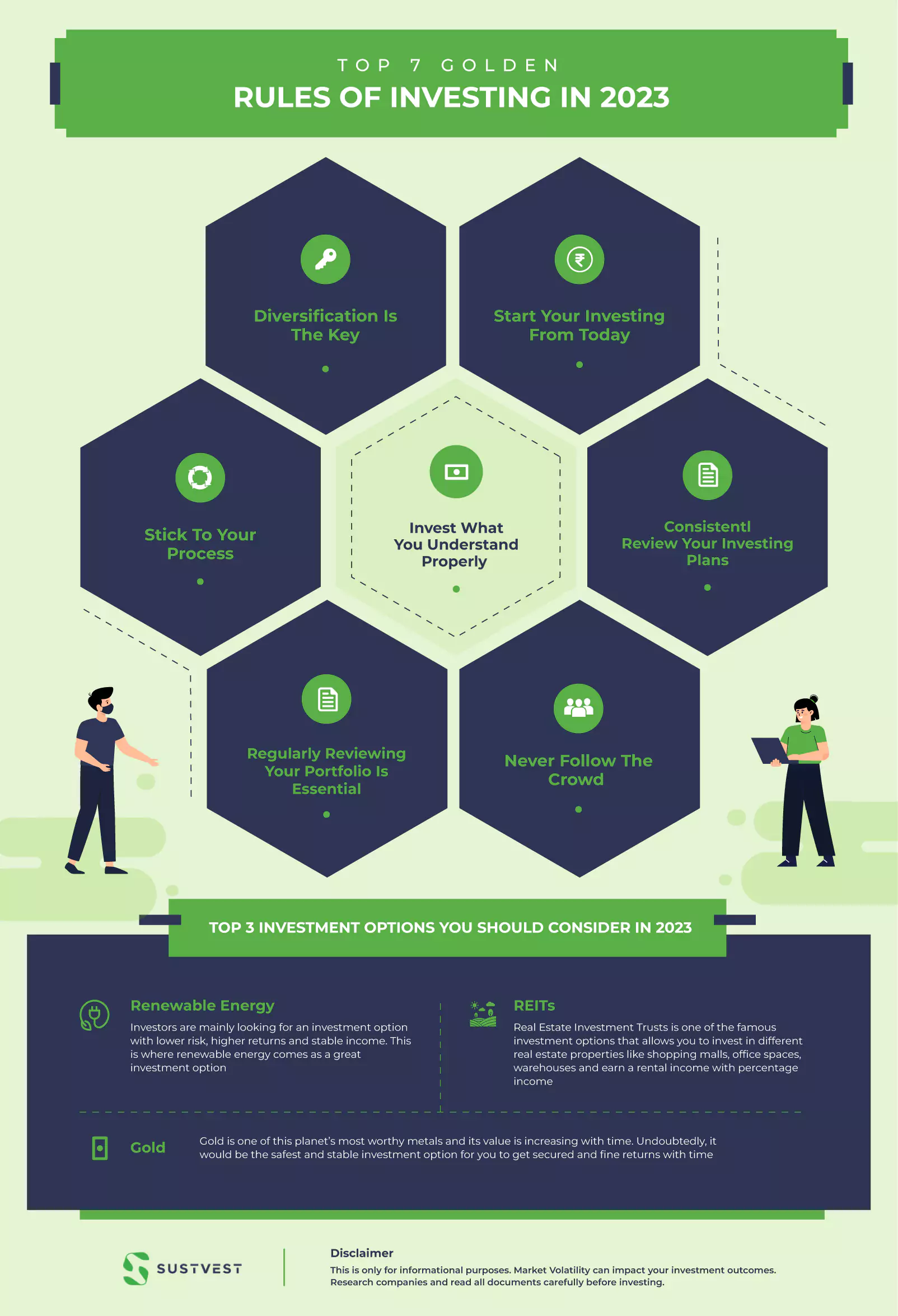 FAQs
What can be the best investment option in 2023?
Renewable is amongst the best Investment options that has lower risk, higher returns, and long-term profitability. Renewable energies are the future of this world and their market is also rapidly growing with time. Thus, this investment option has a scope of higher returns, long-term profitability and sustainable future.
Is it a smart move to invest in Gold?
Investing some of your capital portion in Gold is the most safe and secure move to attain long-term returns with lower risk.
Wrap Up!
These are the seven golden rule of investment that every investor should know and implement while making any investments. It helps them to make informed investment decisions and get higher returns, long-term profitability and stable income.
Now, you understand these golden rule of investment correctly and are looking for the best investment option that matches these golden rule of investment. In that case, renewable energy is undoubtedly the top consideration to get high returns, lower risk, and contribute to economic growth and long-term profitability.
Get in touch with SustVest to start your investment journey and make informed investment decisions.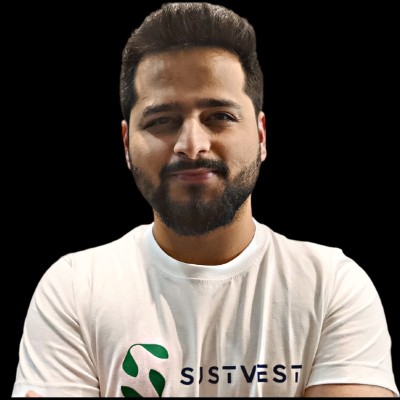 Founder of Sustvest
Hardik completed his B.Tech from BITS Pilani. Keeping the current global scenario, the growth of renewable energy in mind, and people looking for investment opportunities in mind he founded SustVest ( formerly, Solar Grid X ) in 2018. This venture led him to achieve the 'Emerging Fintech Talent of the Year in MENA region ' in October 2019.