India is taking remarkable initiatives for social sustainable development. Whether it's uplifting rural areas, empowering people, making education accessible, providing healthcare support, ensuring safety, or building cohesive societies without impacting the environment.
In fact, the government has already launched several welfare schemes, such as – Mahatma Gandhi National Rural Employment Guarantee Act, PM Jan Dyan Yojana, Beti Bachao-Beti Padhao, PM Ujjwala Yojana, PM Kaushal Vikasy Yojana, and many more. These initiatives ensure that India is shaping a brighter future and doing social sustainable impact investing.
Nowadays, investors are making investments based on their values and sustainable impact investing is the best investment option for them. At SustVest, we provide you complete guidance to make informed investment decisions that align with your values.
In this article, we will dive deep into socially sustainable impact investing in India and find some recent facts, stats and real-world examples to showcase India's commitment to a sustainable future.
Let's dive in!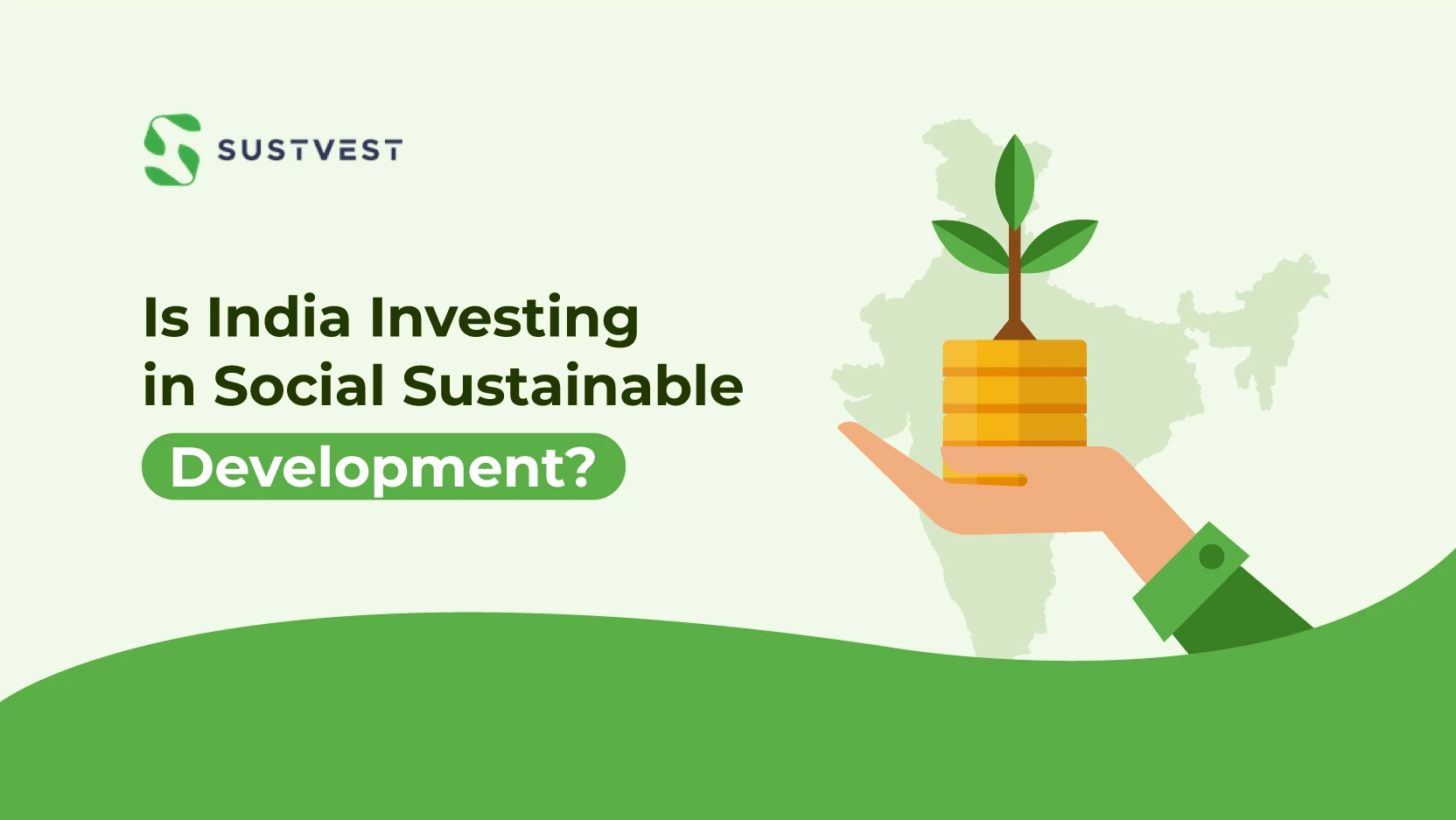 What is Social Sustainable Development?
Social sustainability means the government's main focus is "putting people first" in development processes. In simple words, providing all the needs that humans have now and in the future, along with a better environment.
The main purpose of social sustainable development is to provide with people equal opportunities, fundamental rights, and basic life needs and ensure that well-being is passed down from one generation to the next.
However, there are various challenges that governments need to handle in socially sustainable development, such as population growth, poverty, food, health, safety, gender equality, education, etc.
When there's a safe, healthy, and comfortable environment for people and access to opportunities, it could be considered social sustainability.
That's why the Indian Government developed various schemes, initiatives, and best practices for social sustainable investment in healthcare, education, transportation, housing, and social infrastructure to allow investors to make sustainable impact investing for higher returns.
Read here to know: Future of Sustainable Investing in India
India's Role in Social Sustainable Development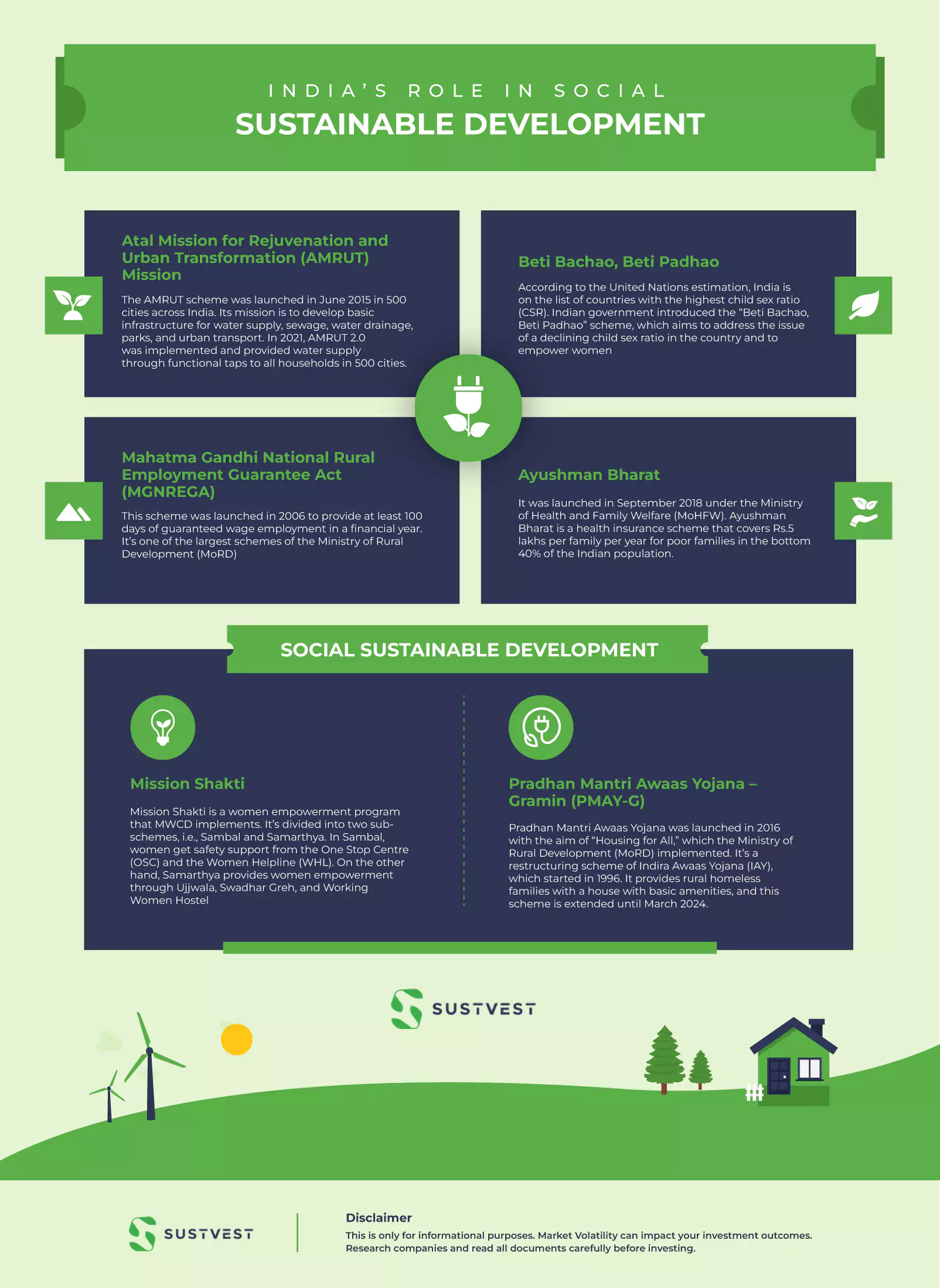 India is the fifth largest economy in the world, and its gross domestic product (GDP) reached the $3.75 trillion mark in 2023. They're committed to delivering social sustainability along with economic growth.
According to the United Nations Commission for Social Development (UNCSD), they've decided to prioritize social sustainability and address social challenges such as social protection, labor market efficiency, etc.
India has implemented various social sustainable development schemes to address social challenges and uplift communities.
Here are some of India's major social development programs that build a sustainable future:
1. Atal Mission for Rejuvenation and Urban Transformation (AMRUT) Mission
The AMRUT scheme was launched in June 2015 in 500 cities across India. Its mission is to develop basic infrastructure for water supply, sewage, water drainage, parks, and urban transport. In 2021, AMRUT 2.0 was implemented and provided water supply through functional taps to all households in 500 cities.
2. Mahatma Gandhi National Rural Employment Guarantee Act (MGNREGA)
This scheme was launched in 2006 to provide at least 100 days of guaranteed wage employment in a financial year. It's one of the largest schemes of the Ministry of Rural Development (MoRD).
3. Beti Bachao, Beti Padhao
According to the United Nations estimation, India is on the list of countries with the highest child sex ratio (CSR). Indian government introduced the "Beti Bachao, Beti Padhao" scheme, which aims to address the issue of a declining child sex ratio in the country and to empower women
4. Ayushman Bharat
It was launched in September 2018 under the Ministry of Health and Family Welfare (MoHFW). Ayushman Bharat is a health insurance scheme that covers Rs.5 lakhs per family per year for poor families in the bottom 40% of the Indian population.
5. Mission Shakti
Mission Shakti is a women empowerment program that MWCD implements. It's divided into two sub-schemes, i.e., Sambal and Samarthya. In Sambal, women get safety support from the One Stop Centre (OSC) and the Women Helpline (WHL). On the other hand, Samarthya provides women empowerment through Ujjwala, Swadhar Greh, and Working Women Hostel. This scheme empowers women and ensures their safety.
6. Pradhan Mantri Awaas Yojana – Gramin (PMAY-G)
Pradhan Mantri Awaas Yojana was launched in 2016 with the aim of "Housing for All," which the Ministry of Rural Development (MoRD) implemented. It's a restructuring scheme of Indira Awaas Yojana (IAY), which started in 1996. It provides rural homeless families with a house with basic amenities, and this scheme is extended until March 2024.
The Indian government launches various schemes to address social challenges in different areas, such as health, education, income, safety, etc., to build a socially sustainable future.
Find: Hedge funds vs mutual funds vs sustainable investing
For investors, India is a most promising market for sustainable impact investing and driving financial and social returns along with values.
Why is Sustainable Impact Investing important in India?
According to the Global Impact Investing Network (GIIN), sustainable impact investing is the best option where investors can invest their money in companies making a social impact or addressing bigger social challenges along with financial returns.
By engaging in sustainable impact investing in these companies can lower the risks, generate long-term profits, and contribute to a sustainable future. India, in particular, offers substantial market opportunities in sustainable development.
According to UNGC, India has a potential of $1 trillion in market opportunities in sustainable development spaces, with employment generation for around 72 million people by 2030.
Sustainable impact investing in India is important as it aligns financial goals with social and environmental objectives. It enables investors to support companies that make a positive impact while potentially earning financial returns, thereby contributing to a more sustainable and inclusive future for India
There are various fastest-growing sectors that come under sustainable investing vs ESG in which companies are addressing social challenges along with financial returns, such as sustainable agriculture, renewable energy, housing, healthcare, education and microfinance areas.
.
Check Out: Key Differences Between Impact Investing, ESG, and SRI
FAQ: Social Sustainable Development
What is an example of Sustainable Impact Investing?
Some of the fatest-growing areas for sustainable investing include renewable energy, EVs, microfinance, and sustainable agriculture.
What are the Social Factors of Sustainable Impact Investing?
Some major social sustainable development factors include human rights, diversity, equality, women empowerment, safety, wellness, and much more.
Conclusion
India is taking various initiatives and programs to address social challenges and create a socially sustainable future. By prioritizing social development, India is building a strong foundation where people come first in development.
India emerges as one of the most promising markets for environmental impact investing and sustainable impact investing. By investing in India's sustainable development, individuals have the opportunity to achieve both financial and social returns, aligning their investments with their values and contributing to a more inclusive and sustainable society.
So if you plan to start your investment journey, get in touch with SustVest and invest for your bright future by getting higher returns and long-term profitability.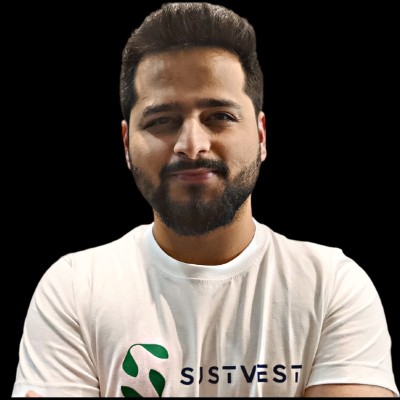 Founder of Sustvest
Hardik completed his B.Tech from BITS Pilani. Keeping the current global scenario, the growth of renewable energy in mind, and people looking for investment opportunities in mind he founded SustVest ( formerly, Solar Grid X ) in 2018. This venture led him to achieve the 'Emerging Fintech Talent of the Year in MENA region ' in October 2019.