We live in a country where a person earning 7 lakhs per annum is considered economically weak. Where, the tuition fee for kindergarten is more than the college fee, 10 years back! No one can predict how much money is enough money.
Well, enough worry! This article isn't about calculating your expenses, but to help you grow your finances. To do that, you can start by investing in a one time investment plan that gives you fixed monthly returns.
In this blog, we will highlight what a one time investment plan is and 7 of the best one time investment plan with high returns.

What is a One Time Investment Plan with Fixed Monthly Income?
In a Monthly Income Plan, the money is deposited in an account for a set term and interest as pre-decided by the bank and account owner. A part of the fund is invested in low-risk equity funds to generate interest. The interest earned or dividend is paid either monthly, quarterly, or annually.
Monthly Income generated with a fixed one time investment plan is also known as Monthly Income Scheme (MIS). The MIS plans offered by banks to get fixed monthly income are discussed here.
Benefits of Investing in One Time Investment Plan (MIS)
Investing in a one time investment plan can help you generate a passive stream of monthly income. Here are some benefits of investing in a one time investment plan for a fixed monthly income.
Fixed Returns:
The MIP is similar to fixed deposit schemes. The only difference is that you get a monthly return based on the interest earned.
Tenure:
The tenure is between 1 to 10 years, with an extension of 1 year.
Loan/ overdraft options:
You can get a loan on the deposit.
Extra Interest:
Senior citizens get an additional 0.5% interest on their deposits.
No TDS:
You can claim tax benefits on the MIP by filing form 15G/15H in ITR.
Risk factor:
This is a low-risk form of investment.
Deposit Amount:
The deposit can be started with just INR 1000, with no upper limit.
Nominee Facility:
You can nominate a family member in this scheme.
Premature closure:
Premature closure is allowed without any penalty if the amount is not more than INR 5 lakhs and has been with the bank for more than a year.
Penalty:
Other than the above condition, a 1% penalty is imposed on premature closure. A one-month prior notice is required from the account holder before the closure of an account having 1 Cr or more.
Pro Tip:
The market is filled with schemes that have similar names. Don't get confused between the MIPs that have an MIS scheme. MIP is the plan where a part of your deposit is invested in equity and debt mutual funds. They offer slightly higher returns than MIS with a higher volatility rate. The investor has to spend a fixed amount every month to buy stocks or debt instruments to create income. They are largely managed by a fund manager.
Therefore, it's important to read between the fine lines before investing in any plans.
7 Best Fixed Monthly Income With One Time Investment Plan in India 2023
Here are the 7 best one time investment plan with high returns yielding monthly fixed income in India in 2023.
1. Monthly Income Fixed Deposit or MIS
As discussed already, these are safe options to earn a steady income every month. All of the banks have an MIS in their bag. This scheme along with regular FDs helps the banks to maintain a cash flow in their system.
A few banks providing MIS are SBI, ICICI, HDFC, Union Bank Of India, Bank of Baroda, and more.
2. Post Office Monthly Income Scheme
POMIS is considered one of the safest options to use as a one time investment plan and earn for a lifetime. The maturity period is 5 years with a fixed interest rate of 7.4%. You can invest up to 9 lakhs in this scheme in a year and receive a fixed income every month. No risk is involved.
3. Green Assets
Green assets like solar panels, PV cells, etc have seen a rise in investments in the past three years. They offer a better interest rate at low volatility. The good part is that anyone can invest in them and make a living.
Here's a quick route to do that, Sustvest caters to green energy projects like solar and EV infra installations in partnership with real estate companies. Currently, they are offering an interest rate of 10% to 15% on investment amount starting just at INR 5000. After the investment, you can earn a solid return every month.
Check out this video explaining all about their investment strategy and how you can benefit from investing in Sustvest. Click here.
4. Senior Citizen Savings Scheme
Senior Citizen Savings Scheme (SCSS) is for people of age above 60 years. This scheme's objective is to create a monthly income source for senior citizens. The deposit earns an interest of 7% presently and is expected to grow higher. The maturity period is 5 years. It has benefits like tax exemptions, premature closure, and period extension of up to 3 years.
To know more about Senior Citizen Savings Scheme and POMIS, do check out these articles! Top 9 Fixed Income Investing Strategies In India and 7 Best Investment Options – Get Guaranteed Return On Investment More Than Fixed Deposit
5. Systematic Withdrawal Plans
Systematic Withdrawal Plans or SWPs allow investors to invest in mutual funds. The investors can choose to withdraw a set amount every month as a regular income. The interest on your deposits depends on the market, which makes them low to moderate risk for low-capped companies.
6. Equity Share Dividend
It's a rare case scenario, but a few companies pay monthly dividends to their shareholders. Now, as you invest in the equity of a company, the company may decide to share dividends or profit with you for your contribution. If you invest in a company that pays dividends more frequently, there's a chance for you to make some extra money every month.
Here are a few highest monthly dividend-paying companies Dr. Lal Path Labs, Union Bank of India, PNB, Britannia Pvt. Ltd., Polycab India, etc.
Before investing in equity, research well about the market trend and risk involved.
7. Annuity Plans
Annuity plans are like receiving pocket money from your parents. Just in this case, the money is yours. Annuity deposits help to earn a regular fixed income every month without worrying about interest rates or market conditions.
In an annuity plan, you deposit a lump sum amount say 10 or 15 lakhs. Now, you get to choose to start receiving a monthly income right away or after a few years. Till then, a part of your deposit is invested in various sectors like mutual funds, and government securities to generate the promised returns.
In return, you will receive a fixed amount every month or quarterly as per your choice. Annuity plans may be the best example of a one time investment plan with a monthly fixed return. This plan is recommended for retirees or people with good liquidity.
A few annuity plans as listed on Policy Bazaar are HDFC Life Pension for Life, ICICI Prudential Life Pension for Life, SBI Life Insurance Life Pension for Life, etc.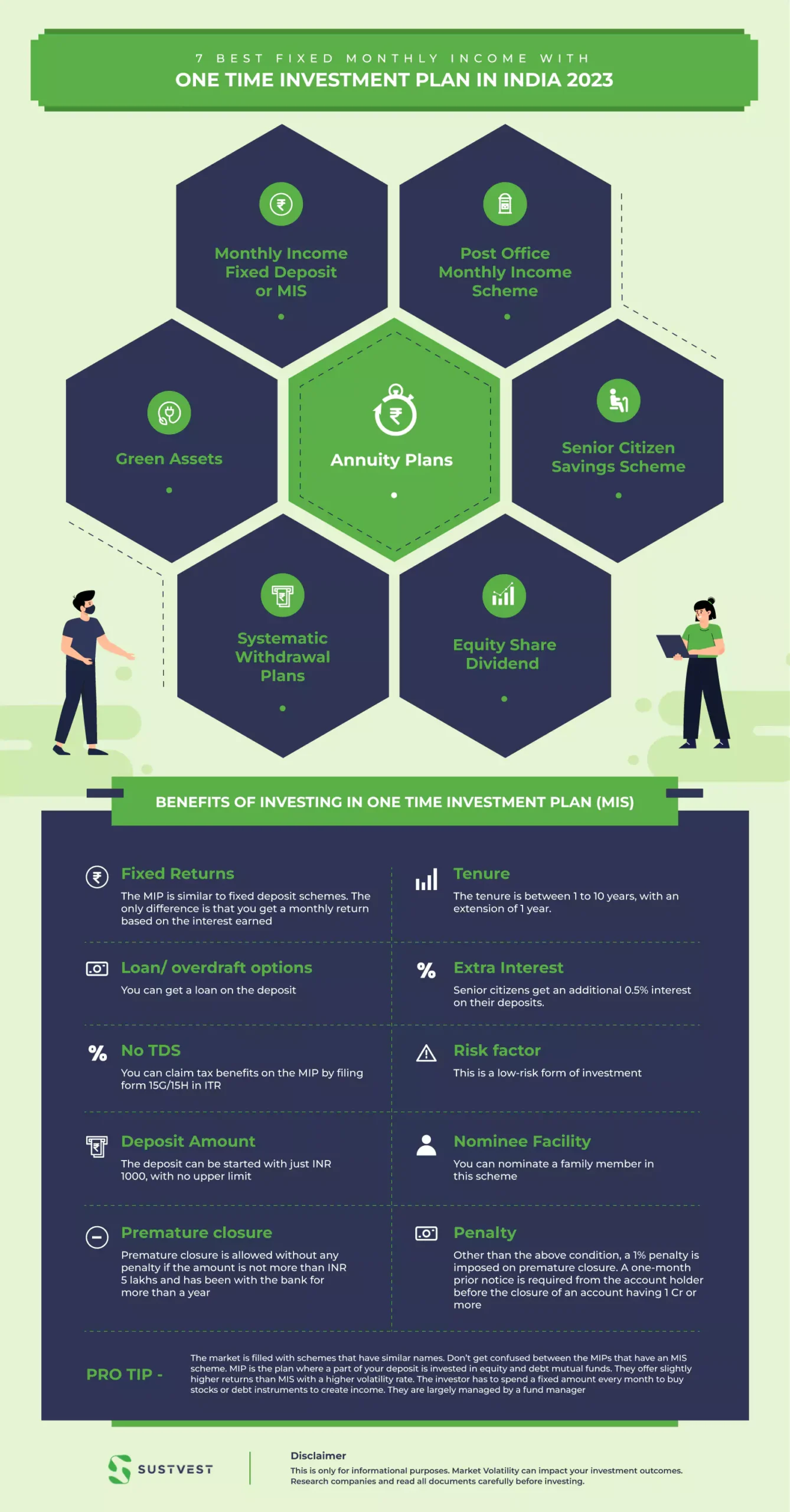 FAQs: Best One Time Investment Plan that Give you Fixed Monthly Income
What are the best investment plan with high returns?
These are the few investments that are considered to be the best investment in India for monthly fixed income with just a one time investment plan.
Green Assets
Annuity plan
Monthly income schemes
Equity share dividends
Systematic withdrawal plans
How can you use a one time investment plan to generate monthly income from renewable energy assets?
There are many means to generate monthly income by making a one time investment.
One of which is investing in renewable energy assets such as solar power plants.
SustVest provides investors with an opportunity to make investments in upcoming solar power projects and get a monthly fixed income based on their ownership share. You can start investing in a better future with an amount as low as INR 5000.
Click on the link to Learn how to Invest with SustVest.
Conclusion
The living cost has increased in all rural to urban areas due to the rise in inflation. Having a passive income source is a great deal of support one can have to achieve their goals. While investing in the share market might look more lucrative, it's not sustainable. It's important to have a few regular income schemes in your portfolio that are dependable and do not fall apart.
We hope that the above list of 7 Best One Time Investment Plan That Give You Fixed Monthly Income will help you invest rightly in green assets, POMIS, annuities, etc to create a stable portfolio.
If you are looking for a stable low-risk investment option, investing in Sustvest Solar and EV infra projects might be your thing. Sustvest helps in making meaningful contributions to India's Environment Sustainable Goals. You too can become a part of it. Check out Sustvest for more information here.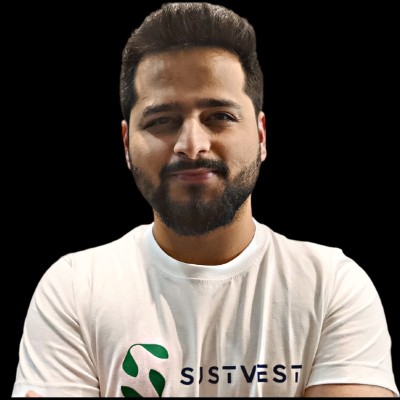 Founder of Sustvest
Hardik completed his B.Tech from BITS Pilani. Keeping the current global scenario, the growth of renewable energy in mind, and people looking for investment opportunities in mind he founded SustVest ( formerly, Solar Grid X ) in 2018. This venture led him to achieve the 'Emerging Fintech Talent of the Year in MENA region ' in October 2019.