In today's fast-paced, changing investing landscape, unpredictable market fluctuations and uncertainties will surely occur.
This is where dividend Investing allows Investors to build a stable income source with good returns. The beauty of dividend Investing is that investors will get extra cash payments regularly just for owning some company's stocks, no matter market fluctuations.
In order to build wealth in the investment field, dividend Investing is an essential part of Investing. However, there are 8 rules of dividend investing that every investor must know before starting to invest in dividend stocks.
So if you're planning to start dividend Investing, you must understand these 8 rules of dividend investing to get a stable passive income stream, diversified portfolio and overall wealth creation.
In this blog, we will understand the basics of dividend investing, explore the 8 rules of dividend investing and how they help you to build a stable passive income with long-term wealth creation.
Let's dive in!
Read here to know: How To Make Investments For High Returns And Monthly Income In India?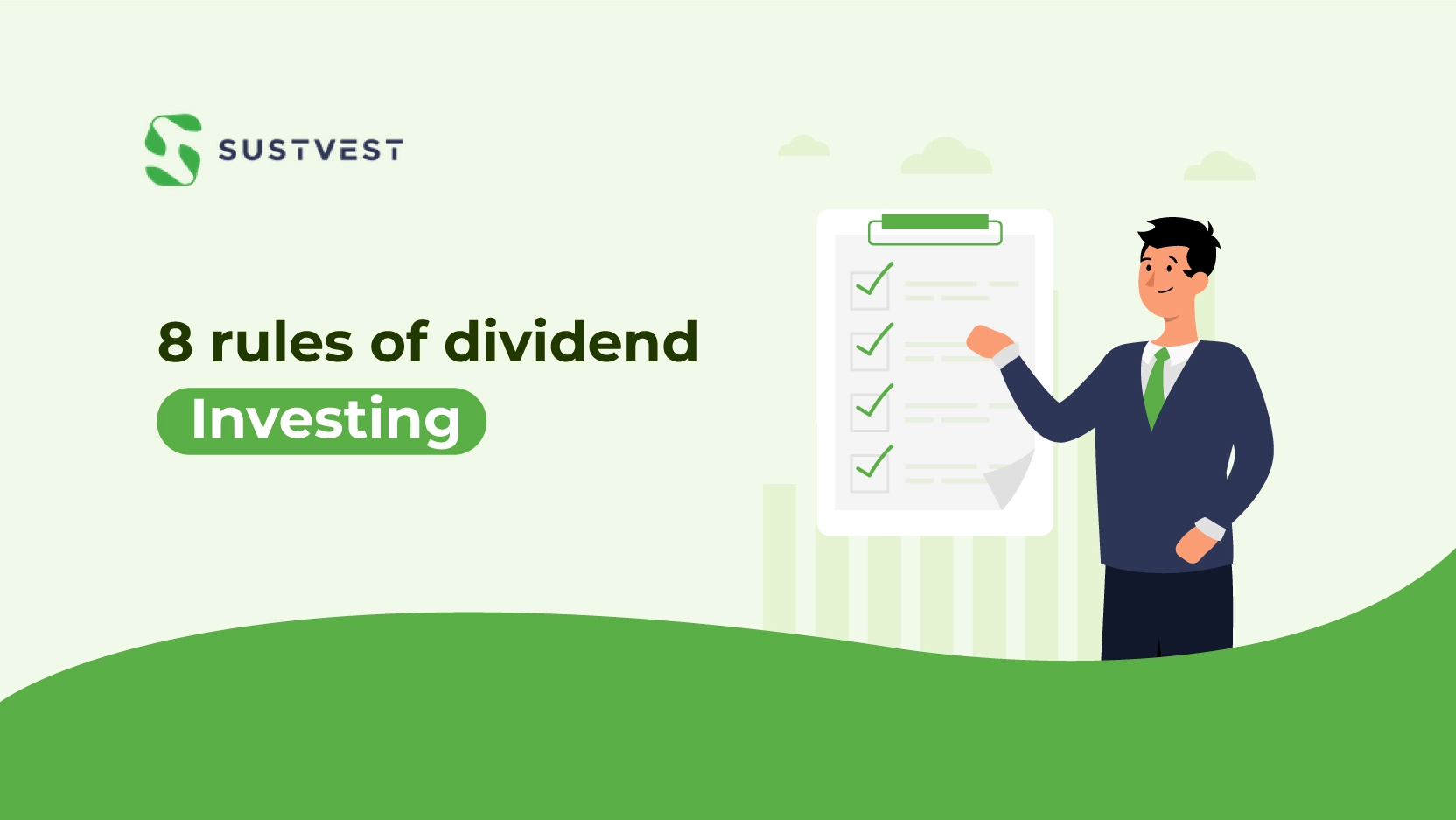 Top 8 Rules of Dividend Investing
Here's the list of the top 8 rules of dividend investing:
1. Choose Quality Over Quantity
2. Stick with Established Companies
3. Diversified Your Portfolio
4. The Bargain Rule
5. Think long-term
6. Invest regularly
7. Adopt an Investing Strategy
8. Know when to hold and when to fold
Let's describe these 8 rules of dividend investing in detail!
1. Choose Quality Over Quantity
When it comes to dividend Investing, the very first rule of best dividend investing strategies, i.e., to invest in quality stocks over quantity. It requires a lot of market research to understand the companies' future stability, consistent growth and profitability with large visions. As an investor, you need to find those companies which are doing great and offering the best dividends.
So the first rules for investing says the longer, the better; if you're Investing in stocks offering 25+ years of consecutive dividend increases, then it's a good option for investment. Try to invest in high-quality businesses to ensure a long-term return.
2. Stick with Established Companies
The stock market is a cycle that repeats itself. If you're planning to invest in dividend stocks, you should check the stock's past performance and how consistently they're giving returns and increasing dividend payouts. Find well-established companies that consistently give dividends yearly for more than 25 years. By investing in established companies, investors secure their investments and strong predictions to get a passive income stream with consistent growth.
3. Diversified Your Portfolio
Portfolio Diversification is the most basic and most essential part of investing. It allows investors to build multiple sources of income streams by investing in various dividend stocks. It lowers the risk, capital appreciation increases the chances of a stable income stream and works best against market fluctuations. Building a stable portfolio of dividend companies is key to a successful and long-term investment strategy.
4. The Bargain Rule
Warren Buffett said Price is what you pay; value is what you get. That's the summary of the bargain rule where investors should invest in those businesses where you get the most dividends from your investments. Also, it's necessary to check a company's historical background to avoid Investing in some overpriced or overvalued companies' stocks. So try to pick those company stocks offering consistently growing dividends and strong fundamentals that don't affect market fluctuations.
5. Think Long-term
When it comes to dividend Investing, it's important to understand for investors, i.e., It's a long-term game. It's not only a get-rich-quick scheme; it's a process of building multiple passive income streams that leads to wealth creation. So investors should invest with a long-term vision, build multiple streams and let growth over time.
Later, the power of compounding does the magic and allows investors to generate more returns, income streams and capital appreciation that investors can reinvest to grow their wealth.
6. Invest Regularly
If you plan to build wealth, you should understand that investing regularly is an essential rule in dividend Investing. It's not a one-time shot to invest and let the money grow; investors should keep Investing regularly, understand the market fluctuations and make investments to grow investments. To build a strong investment portfolio, investors can invest monthly or quarterly.
7. Adopt an Investing Strategy
Successful dividend Investing requires a well-planned strategy. It includes an investment goal, risk capacity, time horizon, and investment plans. So that investors can create a strategy to invest in the right companies and build a steady stream of income with consistent growth over time.
8. Know When to Hold and When to Fold
Warren Buffett believes that smart investors should know when to hold any stocks and when to lose. And if it's dividend Investing, then this rule is implied more specifically to understand which investment gets a consistent, stable income stream and where to lose and find other better companies. However, to make these decisions carefully, investors should read data and do market research to make informed investment decisions.
These are the 8 rules of dividend investing rules every investor should make while dividend Investing.
Check Out: Why Renewable Energy Is Important For Sustainable Development?
Who Should Consider Investing in Dividend Stocks?
Dividend Investing is a great option, but it's important to understand who should invest in dividends.
The decision to dividend Investing comes based on individual goals, risk tolerance, budget, deep market research and vision for the long-term.
Dividend Investing has lower risks than non-dividend stocks, but it's important to know the benefits and drawbacks before investing in dividends.
For investors planning to build multiple streams of passive income, dividend Investing is a great way to invest in well-established companies offering consistently increasing dividends to investors and growing exponentially.
By investing in dividend stocks, investors can build a strong and balanced portfolio by lowering the risk, building income streams and long-term capital gains.
Find Out: Best Alternative to Mutual Funds
FAQs
Are dividends a good investment option?
Buying well-established companies' stocks with good dividends is one of the best investment options. It gives investors a steady stream of income with good returns.
Is the dividend paid monthly?
It depends on company to company and the class of its shareholders. However, the date and amount are determined every quarter after reviewing the company's finances by the board of directors.
Are dividends taxable?
Dividends are classified as ordinary or qualified. It means ordinary dividends are taxable and qualified dividends come with certain requirements and are taxed.
Wrapping Up
Overall, Dividend Investing is one of the greatest investment options for investors to gain long-term capital gains, multiple passive income streams and lower risk. However, investors need to understand these 8 rules of dividend investing before jumping into dividend Investing.
We hope this article helps you to understand the 8 rules of dividend investing and how you can start your journey.
If you're planning to start your dividend Investing journey and looking for the best investment option, then renewable energy is a growing sector that gives higher return and stable income opportunities for investors like you.
Get in touch with SustVest to start your investment journey with the expert's guidance and get higher returns, steady income and long-term capital gains.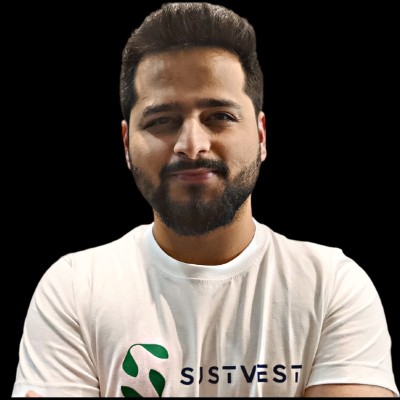 Founder of Sustvest
Hardik completed his B.Tech from BITS Pilani. Keeping the current global scenario, the growth of renewable energy in mind, and people looking for investment opportunities in mind he founded SustVest ( formerly, Solar Grid X ) in 2018. This venture led him to achieve the 'Emerging Fintech Talent of the Year in MENA region ' in October 2019.