Solar panels are becoming popular these days in the energy department. The use of solar panels is rising rapidly. But why is that?
Solar plants have the capacity to generate electricity for homes and businesses alike. Alternative energy sources have grabbed the consumers' attention in the past few years. The industry is booming thanks to proactive policies and a rising shift towards renewable energy.
There are many emerging brands and if you are confused over which solar panels to choose? No, worries, we have your back. We have carefully curated a list of the top 10 solar panel manufacturers in India. Several domestic brands are changing India's solar energy landscape with performance-focused solar products.
Let's begin with understanding how solar panels are manufactured.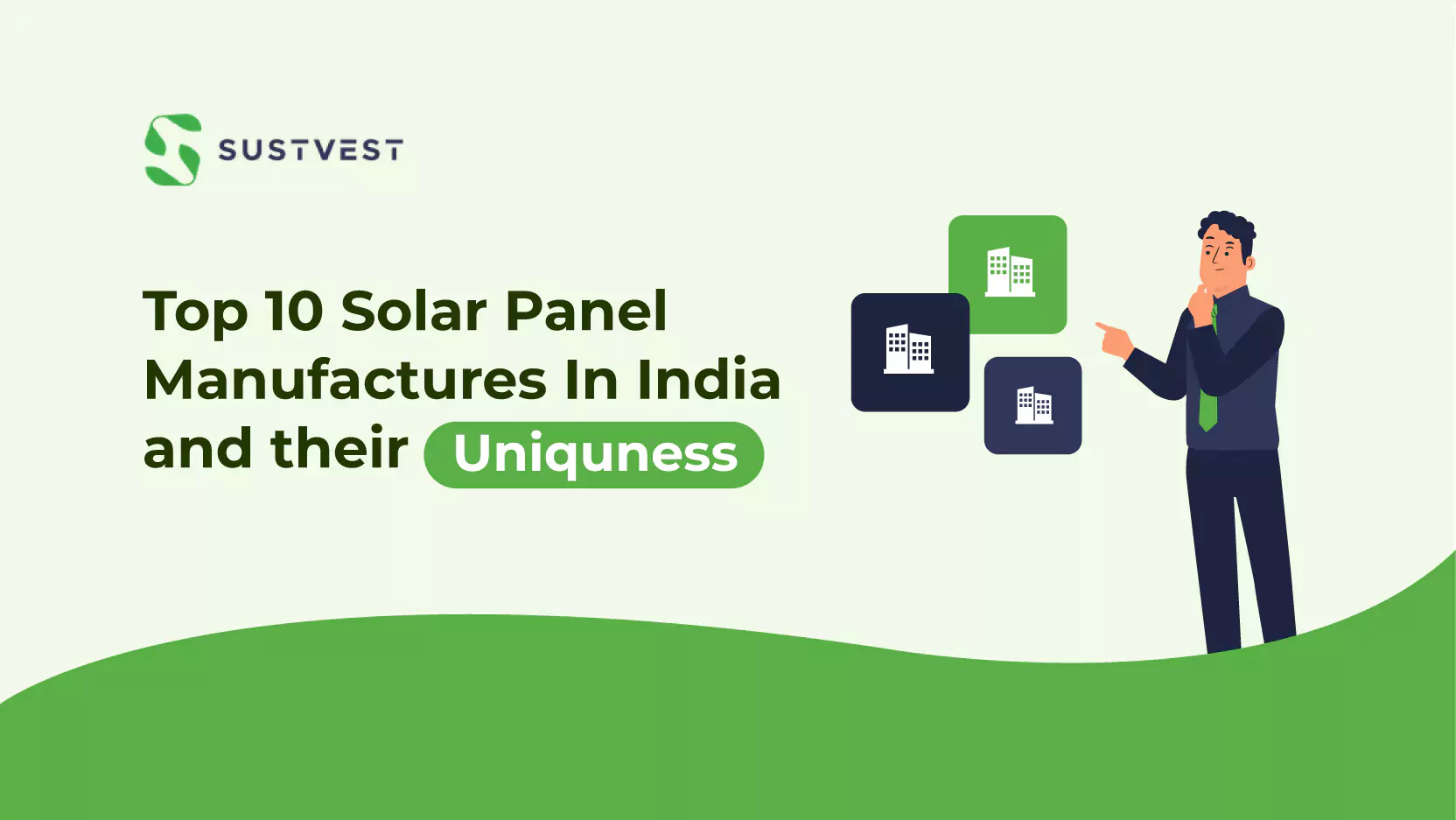 How Solar Panels are Manufactured in India?
How is a solar panel made? What are the steps involved in the entire process? Dive in to take a detailed look:
Procuring Raw Material
The first step involves procuring raw materials like solar cells, encapsulants, tempered glass, frames, and junction boxes.
Wafer Production
Many manufacturers produce wafers from crystalline silicon that come in various complementary shapes and sizes.
Fabrication
Solar cells are a crucial part of the manufacturing process. A laser machine cuts the cells. The size of the cells depends on the wattage of the panels. Photovoltaic cell fabrication involves doping silicon wafers, applying the anti-reflective coatings, and passivating the cell surface.
Solar Cell Assembly
Next, The cells are soldered and assembled together. It is an automatic process with minimal human intervention. All the cells are interconnected in a way to achieve the desired output and voltage. The blue or black hue is the negative part while the bottom white is the positive part.
Lamination
The assembled cells are placed in a laminator and sealed with a back sheet and a tempered glass cover. Additionally, heat and pressure are applied to create a secure and durable bond between the components.
Framing
The laminated module is then framed using a steel or aluminium frame for structural support and protection.
Electrical Wiring
Next, all the electrical cables and junction boxes are attached to the back of the solar panels with interconnected diodes to achieve the desired electrical output.
Quality Control and Testing
The manufactured product goes through rigorous quality control checks to meet the specified standards for long-lasting performance and durability. The various tests include visual inspection, testing for hidden defects, and wiring checks.
To sum it up, the product is packed with instruction manuals and shipped to the final destination. There are numerous other processes involved and not all steps are needed always to manufacture a solar panel. It depends on the product type and the technology. Additionally, the degree of automation and quality control procedures vary among the top 10 solar panel manufacturers in India.
Now, that we have gone through the manufacturing process, let's take a look at the top 10 solar panel manufacturers in India.
List of Top 10 Solar Panel Manufacturers in India
There are many domestic companies manufacturing the best solar panels in India. Here is a detailed list.
1. Tata Power Solar
A leading solar energy solutions provider, Tata Power Solar has a large presence in the solar energy landscape. The subsidiary of Tata Power offers a wide range of solar products like solar panels, inverters, pumps, solar streetlights, and rooftop solar projects. There are multiple utility-scale grid projects across the country.
They have a dedicated R&D team to improve the efficiency of solar products. The company has a diverse customer base including commercial, industrial, residential, and government projects.
2. Adani Solar
One of the top 10 solar panel manufacturers in India – Adani Solar is the only domestic player to have a significant presence in the international market. It features among the 15 largest solar power developers in the world. The company is developing the world's largest solar manufacturing facility with a total capacity of 1.2 GW at a single location. Likewise, it is India's largest solar module manufacturer. Some of its products include:
Solar inverters
Pumps
Photovoltaic panels for residences and commercial facilities
Solar components and accessories
3. Vikram Solar Ltd.
Vikram Solar is a leading manufacturing facility with headquarters located in Kolkata, West Bengal. Vikram Solar has offices across India, Europe, and Africa. They have experience building solar projects in high altitudes, coastal, urban, and rural areas.
The company has won numerous awards for innovations in solar energy and development. It was also named the Best Green Energy Initiative Company of the Year in 2022.
4. Waaree Energies Ltd.
Waree Energies Ltd was started in the year 1989 by Mr Kirit Doshi. The company specializes in manufacturing solar panels for roofs and solar water pumps. There are modern automated production facilities in Gujarat, Umbergaon, and Surat that make monocrystalline and polycrystalline solar panels.
Waree's solar panels are renowned for providing stable power and more energy output for a long time. The approximate price of a solar panel ranges between Rs 20 to 23 per watt.
5. Loom Solar Pvt. Ltd
Loom Solar Pvt. Ltd is one of the best solar panel manufacturers in India. Based in Faridabad, Haryana, it is a major manufacturing facility producing inverters, pumps, chargers, and lithium batteries.
The company has launched many innovative products in the market like mono-PERC solar cells, panels, and grid-connected AC modules. It is the only company offering a diverse range of products to its customers.
6. Saatvik Green Energy Pvt. Ltd
Saatvik Solar started with a small, production capacity of 300 MW in 2016. It has made it to the list of the best solar company in India. Saatvik makes high-quality solar panels, modules, and cells that use anti-reflective coated glass. The on and off-grid solar modules have power capacities that range from 40 WP to 380 WP.
Currently, the company is planning to build a 2.5 GW green field project in Gujarat. It is expected to be a state-of-the-art integrated cell and solar module manufacturing plant.
7. Servotec Power Systems Ltd.
Servotec is an award-winning solar manufacturing company that offers a wide range of products like inverters, mono and poly panels, batteries, and portable electric storage systems. It is the only company in the top 10 solar panel manufacturers in India that also has solar management units.
Furthermore, Servotech has manufactured India's first solar rooftop PV ports that have been installed in several public spaces across India. The company maintains a strong pan-India presence with over 1000 dealers and distribution networks.
8. Goldi Solar
Goldi Solar was founded in 2011 and caters to a wide international base in 20+ countries. It is a leading OEM supplier in countries like Turkey, Myanmar, Greece, Germany, France, the US, and the UK. The company has a total installed solar capacity of 2.5 GW and is planning to expand the production capacity to 6 GW by 2025.
9. Renewsys India
Renewsys India has a total module manufacturing capacity of 2.75 GW. It won the Best Innovation Product award for Transparent Backsheet at the Mercom India Clean Energy Awards 2023. It offers a price range of Rs 27-33 per watt.
10. Moser Baer Solar
Moser Baer Solar is committed to developing products like monocrystalline panels, multi-crystalline modules, solar PV modules, solar tiles, rooftops, etc. The company is a key player in the Indian photovoltaic industry.
There are other startups and emerging solar companies that will revolutionize India's green energy landscape.
Now, let's take a look at the frequently asked questions for the top 10 solar panel manufacturers in India.
FAQS- TOP 10 Solar Panel Manufacturers in India
Who is the largest solar panel manufacturer in India?
The most notable companies include Waree Energy Ltd, Adani Solar, and Tata Power Solar. They are the mega players in the solar energy landscape.
Which panel is best for Solar?
Monocrystalline solar panels are the best for solar as they have a high-efficiency rate of 15-25% than solar panels
Which type of solar panel is most costly?
Monocrystalline solar panels are more costly as the production process is expensive. A lot of silicon material is wasted during the manufacturing of the panels.
Which is India's only solar glass maker?
There are many glass manufacturers. However, Borosil Renewables Ltd. was the first solar glass maker in India.
Conclusion
In conclusion, the top 10 solar panel manufacturers in India offer innovative solar solutions that will change the renewable energy sector in the coming years. The active participation of private players will solve the problem of power shortage and keep the environment clean with sustainable energy production.
Do you want to know more about the solar industry and related investment opportunities? There are plenty of solar energy projects that are being installed in India. Get in touch with Sustvest for detailed information on the renewable energy sector. 
Also Read: Solar Financing – Everything You Need to Know.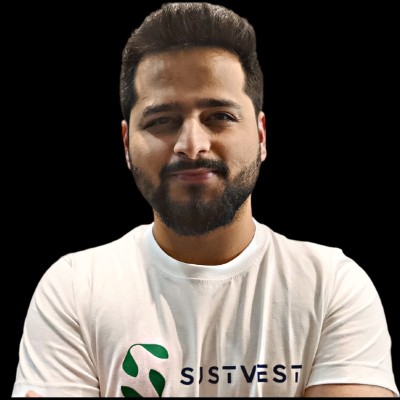 Founder of Sustvest
Hardik completed his B.Tech from BITS Pilani. Keeping the current global scenario, the growth of renewable energy in mind, and people looking for investment opportunities in mind he founded SustVest ( formerly, Solar Grid X ) in 2018. This venture led him to achieve the 'Emerging Fintech Talent of the Year in MENA region ' in October 2019.