As the world transforms rapidly, governments need to face various social and environmental challenges.
This is where a new concept arises 'Green Growth'; it's a government initiative towards making a sustainable future by switching to renewable energy, recycling, using organic products, and addressing social challenges.
The government has already taken various initiatives toward a sustainable future by building renewable energy projects such as solar panels, wind turbines, hydropower, EVs, etc.
At Present, India stands 4th in the renewable energy sector with the fastest-growing country in making the economy sustainable.
These initiatives towards the green economy and rapid growth in green technology are attracting various investors to attract in the future for higher returns and long-term profitability.
However, there's much more to know before investing in a green economy.
In this article, we will understand what is green growth, principles of green economy, and some best green investment opportunities for investors to get higher returns along with contributions for a sustainable future.
Let's dive in!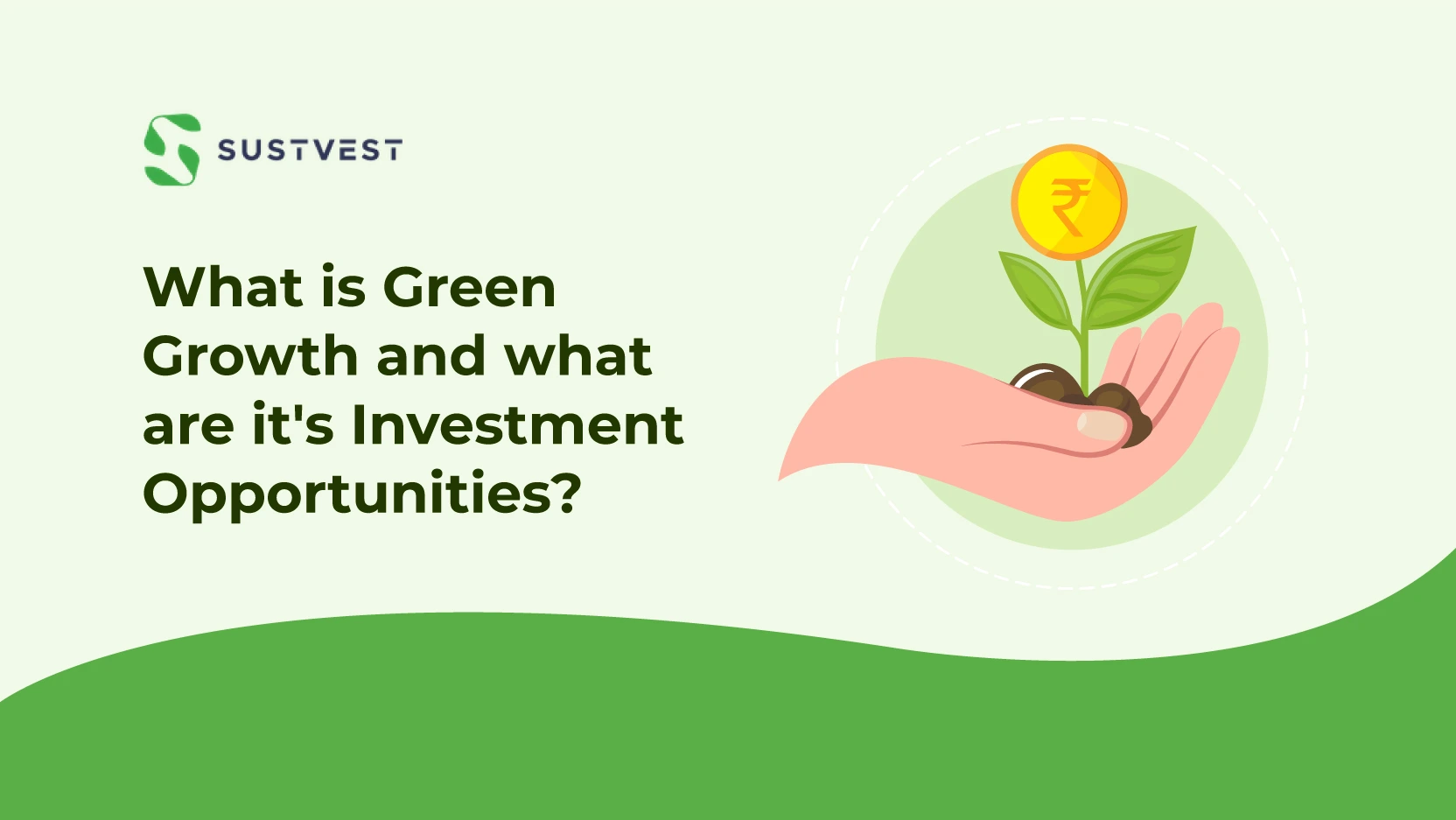 What is Green Growth?
Green Growth is a concept that the government launches to promote economic growth and a sustainable future. It aims to achieve a green economy by eliminating negative environmental impacts such as carbon emissions and fully using natural resources to promote sustainability.
The green growth concept depends on three major factors: Environment, Social, and Governance (ESG) sustainability. When an economy is ESG sustainable, it's considered a green economy.
Still in doubt – what is green growth? It's a practice for developing a sustainable economy with the support of public and private investments.
The government has taken various initiatives towards green growth and sustainable development by setting up various renewable energy projects, using natural resources, eliminating wastage, addressing social challenges such as low carbon emissions, and focusing on economic sustainability. After knowing what is green growth and how it's impacting the world, you should know the major principles of the green economy.
Read here to know: Is it worth investing in environmental sustainability? (2023)
Five Principles of the Green Economy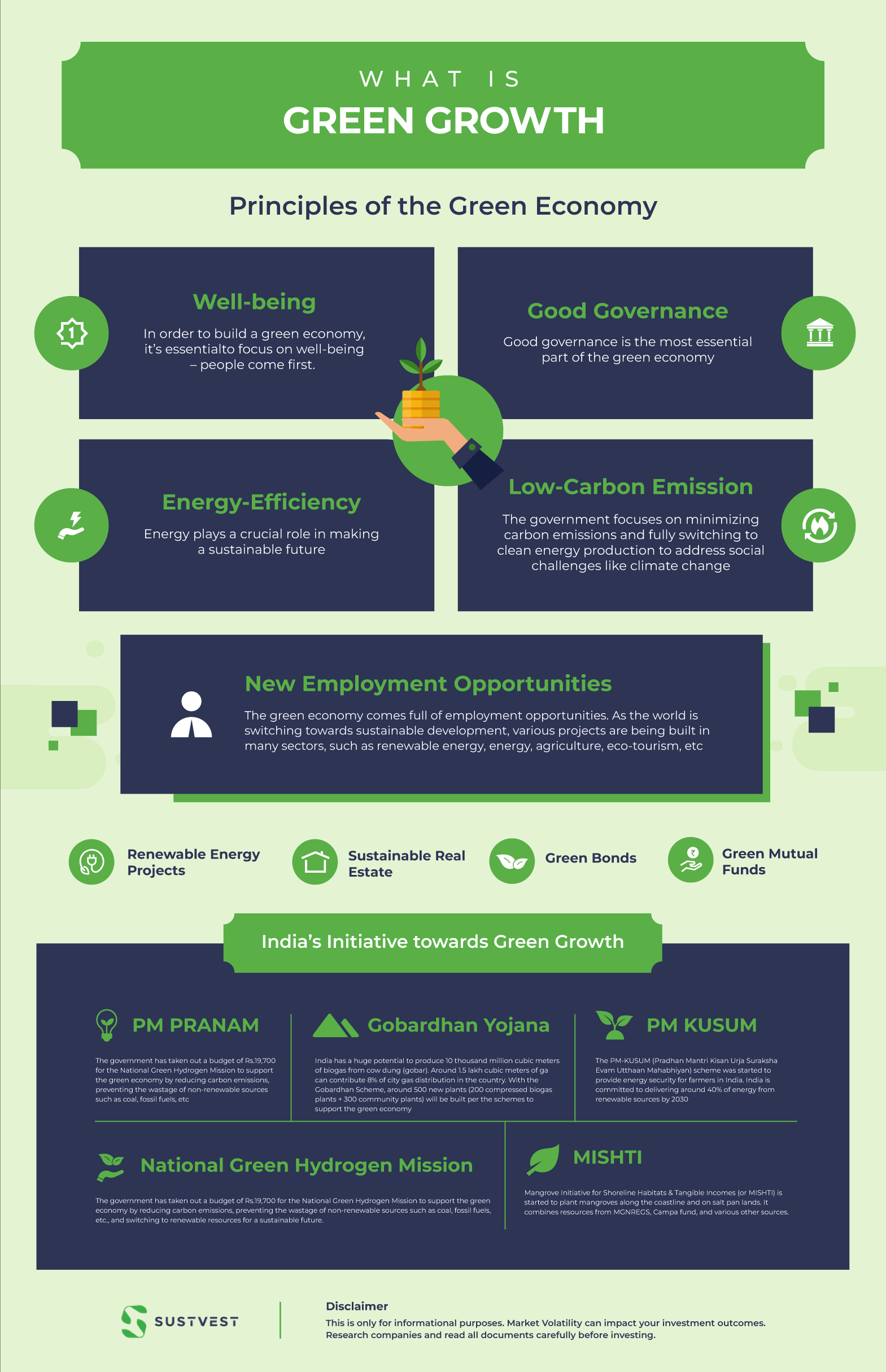 Here are five major principles of the Green Economy:
1. Well-being
In order to build a green economy, it's essential to focus on well-being – people come first. The main focus should be human well-being and physical and cultural sustainability. Education, easy access to knowledge, equal opportunities, a safe environment, and technical infrastructure allow people to grow with the country's growth and contribute to social development. A green economy ensures no one is left behind for a sustainable future.
2. Good Governance
Good governance is the most essential part of the green economy. Because the government takes initiatives toward the green economy by creating and implementing policies, regulations, institutions, projects, and decision-making, it promotes sustainability and ensures fair distribution of resources. With good governance and a proper regulatory framework, an economy will grow and ensure a sustainable future.
3. Energy-Efficiency
Energy plays a crucial role in making a sustainable future. To build a green economy, the focus shifts from traditional electricity production to renewable energy from unlimited natural sources such as sun, wind, water, and hydro to produce clean energy. It's more convenient, suitable, and environmentally friendly than wasting non-renewable sources such as coal, fossil fuels, etc. The electricity demand is required in various sectors such as building design, transportation, industrial purpose, etc. The adoption of renewable energy can make a significant impact on green economic growth.
4. Low-Carbon Emission
The government focuses on minimizing carbon emissions and fully switching to clean energy production to address social challenges like climate change. The real reason behind climate change and CO2 emissions is using non-renewable sources like coal and fossil fuels. This wastage of limited resources affects the air quality. To deal with the social challenge, governments are now switching to renewable energy sources like sun, water, wind, and heat to produce energy instead of wasting resources. Overall, it helps reduce carbon emissions and focus on a sustainable future.
5. New Employment Opportunities
The green economy comes full of employment opportunities. As the world is switching towards sustainable development, various projects are being built in many sectors, such as renewable energy, energy, agriculture, eco-tourism, etc. It shows the growing demand for skilled workers in these sectors. It's a huge contribution to economic growth and making the world sustainable.
Find Out: What is Green Technology – A Short Guide!
India's Initiative towards Green Growth
India stands 4th in the renewable energy sector and is the fastest-growing country towards sustainable development. Here are some initiatives that the government has taken for a sustainable future:
1. National Green Hydrogen Mission
The government has taken out a budget of Rs.19,700 for the National Green Hydrogen Mission to support the green economy by reducing carbon emissions, preventing the wastage of non-renewable sources such as coal, fossil fuels, etc., and switching to renewable resources for a sustainable future.
2. Gobardhan Yojana
India has a huge potential to produce 10 thousand million cubic meters of biogas from cow dung (gobar). Around 1.5 lakh cubic meters of gas can contribute 8% of city gas distribution in the country. With the Gobardhan Scheme, around 500 new plants (200 compressed biogas plants + 300 community plants) will be built per the schemes to support the green economy.
3. PM KUSUM
The PM-KUSUM (Pradhan Mantri Kisan Urja Suraksha Evam Utthaan Mahabhiyan) scheme was started to provide energy security for farmers in India. India is committed to delivering around 40% of energy from renewable sources by 2030.
4. MISHTI
Mangrove Initiative for Shoreline Habitats & Tangible Incomes (or MISHTI) is started to plant mangroves along the coastline and on salt pan lands. It combines resources from MGNREGS, Campa fund, and various other sources.
5. PM PRANAM
Prime Minister Programme for Restoration, Awareness, Nourishment, and Amelioration of Mother Earth (PM-PRANAM) is a program that encourages the balanced use of chemical fertilizers and alternative fertilizers.
These are some initiatives taken by the government to make a sustainable future. So if you know what is green growth and know its importance then you should invest for a sustainable future.
Some Best Green Investment Opportunities
Here's the list of some best green investment options with lower risk and higher returns:
1. Renewable Energy Projects
Renewable energy is on the top list if you're looking for an investment opportunity to get higher returns, low risk, and stable income.
The renewable energy sector is rapidly growing, and now it plays a significant role in switching towards a green economy.
Some renewable energy projects are solar panels, wind turbines, thermal power plants, and hydropower projects to generate clean energy without wasting non-renewable sources. It helps to make the world sustainable.
With such rapid growth of renewable energy, the government and investors are taking initiatives to promote a sustainable future.
So if you're looking for an investment option, renewable energy is a growing sector for higher returns and long-term profitability.
However, there's a requirement for good market research and up-to-date knowledge.
At SustVest, we will help you to make informed investment decisions and get higher returns and stable passive income.
Check Out: How to invest in renewable energy?
2. Sustainable Real Estate
Sustainable real estate properties are buildings made of eco-friendly materials, including renewable energy, water conservation, and much more. It promotes sustainability and an eco-friendly environment.
Green Building is a better alternative to reducing carbon emissions and operational costs.
The demand for sustainable real estate is increasing, and investors invest in properties to get capital appreciation, stable rental income, and promote a sustainable future.
3. Green Bonds
Green Bonds are financial instruments raised by the government to raise funds for renewable projects.
As the government has taken the initiative towards a sustainable future and building various renewable projects, it creates opportunities for investors to invest in these projects and get bonds.
Government bonds will get higher returns, stable income, and long-term profitability.
Also, having green bonds increases the creditworthiness of investors.
4. Green Mutual Funds
Green mutual funds are designed explicitly for investing in green companies, and projects focused on environmental sustainability.
It's a low-risk and higher-return market where investors can diversify their portfolios and get stable income and contributions for a sustainable future.
The green mutual fund is also getting attention from various investors, which leads to a sustainable economy.
FAQs
What is the Importance of Green Investment?
Green Investment helps the economy to go green, use natural assets, lower carbon emissions, create more employment opportunities, and ensure a sustainable future.
What are the Popular Investment Options Available for Green Investors?
Some of the main green investment options are – renewable energy, green bonds, ETFs, mutual funds, and sustainable real estate.
Conclusion
Overall, Green growth meaning a great initiative towards a sustainable future. The government and investors continuously contribute to green growth projects such as renewable energy, sustainable real estate, green bonds, etc., to boost the economy. We hope this article helps you to understand what is green growth, its principles and best investment options.
If you're also planning to invest your money for higher returns and long-term profitability, investing in green growth projects like renewable energy is the best investment option with lower risk.
Get in touch with SustVest to start your investment journey and build a passive income with higher-return.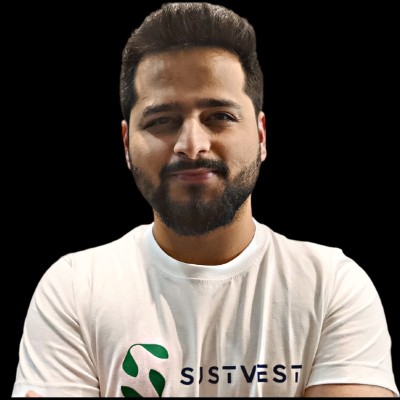 Founder of Sustvest
Hardik completed his B.Tech from BITS Pilani. Keeping the current global scenario, the growth of renewable energy in mind, and people looking for investment opportunities in mind he founded SustVest ( formerly, Solar Grid X ) in 2018. This venture led him to achieve the 'Emerging Fintech Talent of the Year in MENA region ' in October 2019.