In India, retirement is the biggest milestone that people look forward to. It's a stage where people can stop working for money, follow their passion, make their dreams come true and live a comfortable lifestyle. But to have a life like this, they have a solid investment plan that has already been built, giving these people financial independence to do anything.
With the right investment plan for your retirement, you can also enjoy a stress-free life and follow your dreams. However, setting up a retirement plan requires lots of market research, planning, and processes.
If you're also planning to invest for your retirement or your parents, we've got you covered.
At SustVest, we will provide you with complete guidance so that you can make informed investment decisions and secure your retirement.
In this article, we will explore some of the best investment plan for retirement in India so that you can find the best plan for your retirement and get your desired lifestyle.
So let's dive in!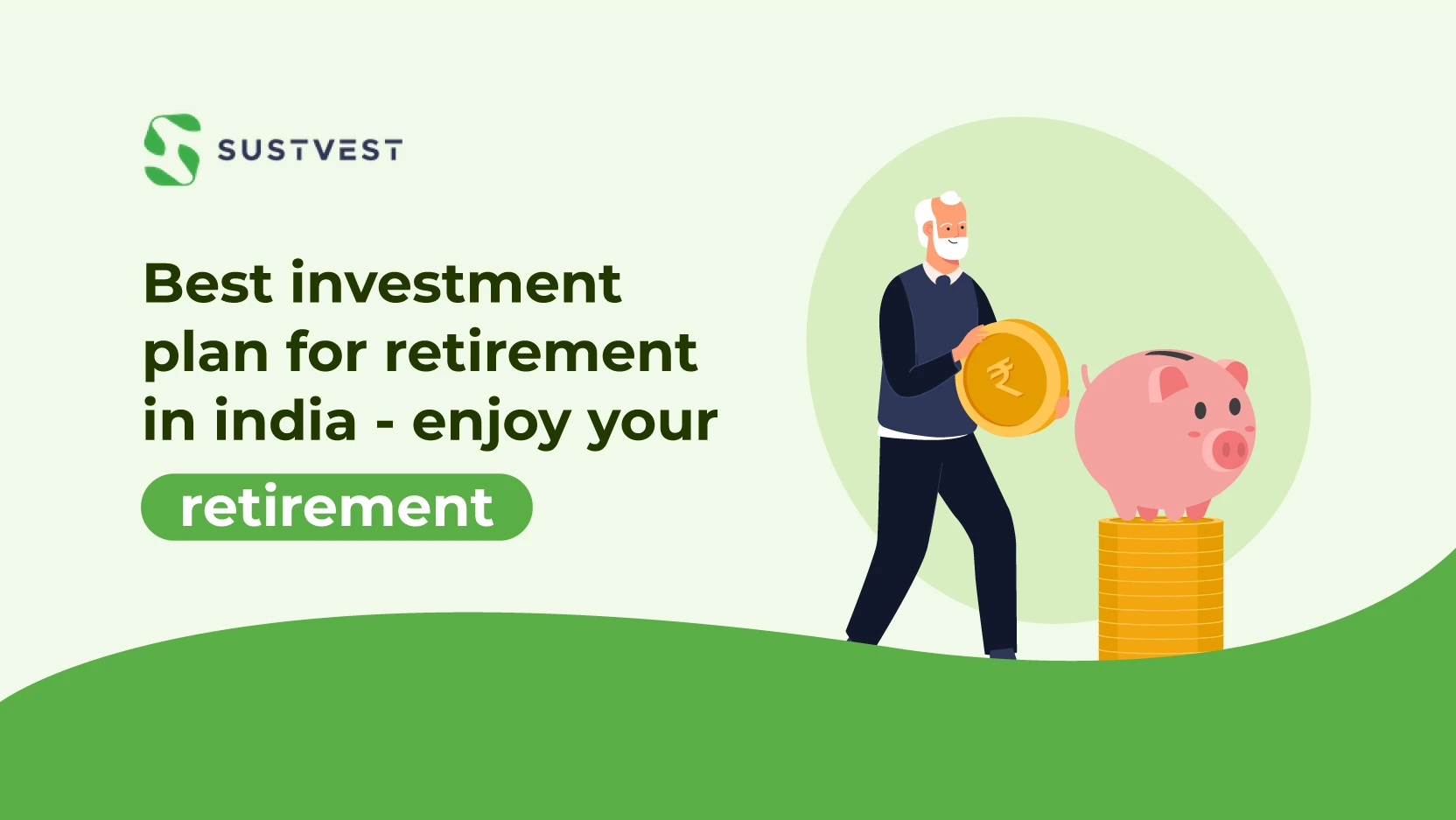 What is Retirement Planning and its importance?
Retirement planning means planning for the future with financial security. It means when you retire, how to invest for retirement? How much money you've in your bank account to enjoy a comfortable life without working for money?
Retirement planning needs careful consideration based on future expenses, inflation, and financial needs. So proper retirement planning is important to secure your future and live a life without worrying about money.
Read here to know: Best Alternative to Mutual Funds
Best Investment Plans for Retirement in India 2023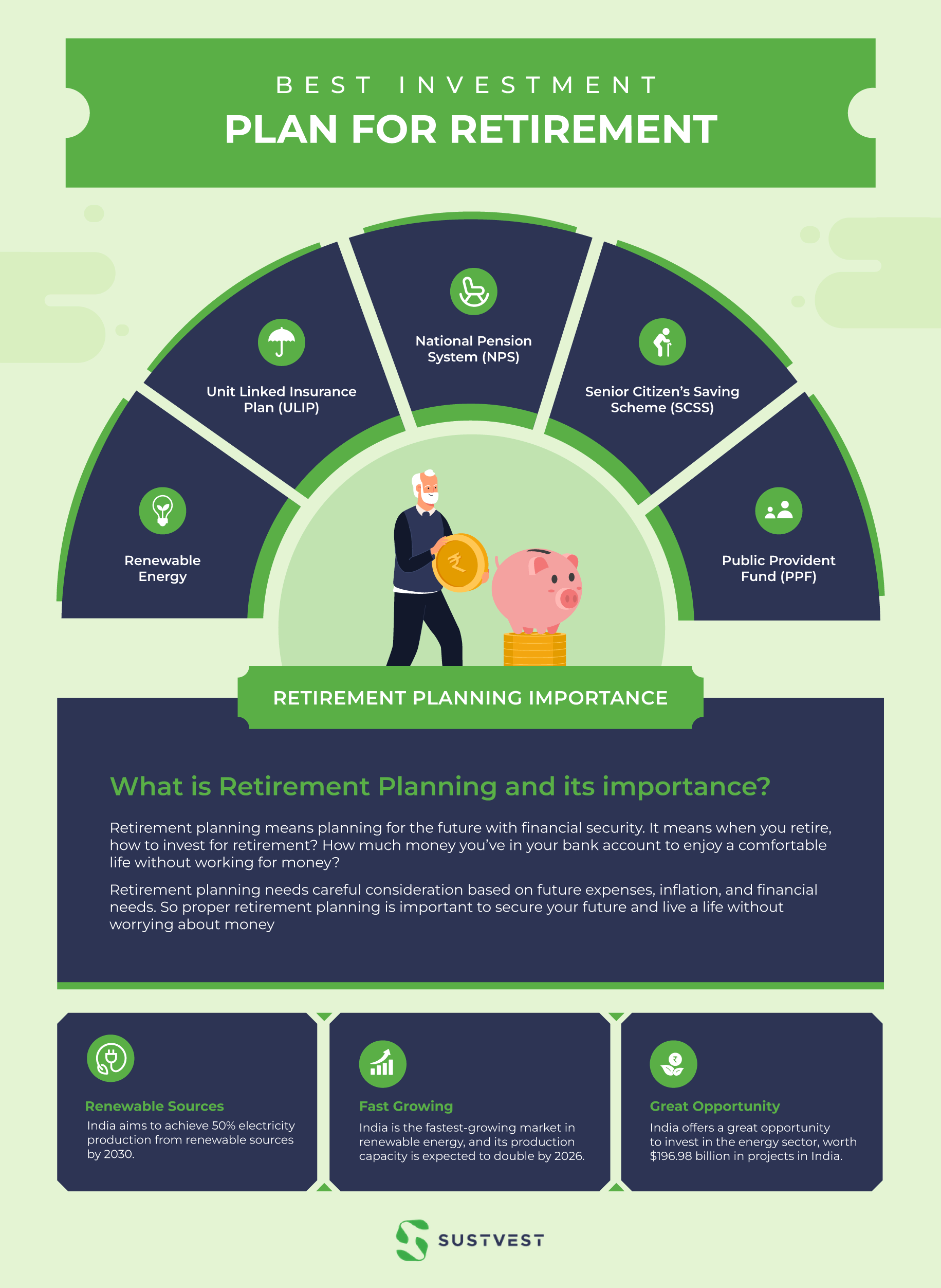 Here are some retirement planning tips and the best investment plan for retirement with lower risk and higher returns:
1. Renewable Energy
At Present, renewable energy is the fastest-growing market in India. It's a most promising investment option to generate stable income with higher returns.
As the world is shifting towards renewable energy, India ranks 4th for renewable energy production, and they're doing various renewable energy investment in India in various sectors such as solar, wind, hydro, geothermal and nuclear energy etc.
It significantly impacts the market and gives attractive returns compared to any other investment option.
As you're planning for Retirement or your parents, it's important to invest the hard-earned money in a safe place where you get lower risk and higher returns.
Here are some recent stats for the renewable energy sector in India:
India aims to achieve 50% electricity production from renewable sources by 2030.
India is the fastest-growing market in renewable energy, and its production capacity is expected to double by 2026.
India offers a great opportunity to invest in the energy sector, worth $196.98 billion in projects in India.
That's why renewable energy is a growing field with lower-risk investment options because electricity is a world need, and the government has already taken various initiatives and investment on renewable energy projects to make that shift.
So it's a completely secured and long-term investment option, and as the market is rapidly growing, the investment will also grow with higher returns in India.
However, investing in renewable energy requires good market research and analysis. So if you want the best investment plan after retirement, then get in touch with SustVest, your trusted retirement planning advisor, and start getting a stable income with higher returns in the long term.
Check out our blog on – Top 9 Fixed Income Investing Strategies In India
2. Unit Linked Insurance Plan (ULIP)
ULIP is specially designed for those who are looking for long-term investment options. It offers higher returns and allows you to build wealth in retirement. ULIP is investment-cum-insurance based product that gives investors both a combination of protection and wealth creation to get financial security with higher returns.
The best part of investing in ULIP, i.e., is that it gives investors the flexibility to switch their investment funds to different options per market conditions.
ULIP comes with a dual nature of the investment, where one portion of the premium is paid to insurance coverage, and another is allocated to various investment funds such as equity or debt.
If you're looking for an investment option where your money is secured along with a capital appreciation for a longer period, then ULIP is a viable option.
3. National Pension System (NPS)
The National Pension System (NPS) is a government-backed scheme specially designed as a retirement savings account that provides regular income to individuals during their retirement years. This scheme is mainly preferred by public, government and private sector employees to invest for their future and get pensions in their retirement years.
There are two options once you retire, you can withdraw a certain amount, and the remaining amount will be given as a monthly pension along with various tax benefits.
NPS allows you to accumulate long-term wealth with lower risk and a monthly pension. Any Indian citizen under 60 can subscribe to the NPS scheme.
4. Senior Citizen's Saving Scheme (SCSS)
The Senior Citizen's Saving Scheme (SCSS) is designed for individuals aged 60 years and above to invest their hard-earned money and get regular income with higher interest rates than traditional savings accounts.
This scheme offers an attractive but fixed interest rate, and the maximum investment limit is Rs.15 lakhs. Individuals will also get tax benefits and complete flexibility to withdraw money after five years. It gives attractive returns, beats inflation and offers tax benefits.
If you're looking for a low-risk, regular income and secured investment option for your retirement, it's the best investments for retired people.
5. Public Provident Fund (PPF)
Public Provident Fund (PPF) is the most commonly known government-backed savings scheme. It offers low-risk, guaranteed returns and long-term wealth accumulation.
This scheme is available for any individual who wants to save for their retirement and can open a PPF account with a minimal amount of Rs.500 and invest up to Rs.1.5 lakh per year for a minimum tenure of 15 years.
Any Indian citizen can invest in PPF except HUF (Hindu Undivided Family) and NRIs (Non-resident Indians).
Check Out: Does Investing in Renewable Energy Create More Jobs?
FAQs
Which is the best investment plan for retirement?
Among the best investment plan for retirement is renewable energy, which offers low-risk, stable income and long-term capital appreciation.
What is the best way to save for retirement?
You should open your retirement savings account and start saving money for retirement.
Conclusion
Overall, Retirement planning is the most crucial step that every individual should plan for their future. It helps to make their future financially secure and stress-free. However, it only happens when you invest in the right place where you can expect lower risk, higher returns and consistent income.
So if you're looking for the best investment plan for retirement, we've picked some best retirement options so you can pick as per your needs and plans.
However, you must do lots of market research before choosing the right retirement plan. It's better to let experts do this for you. At SustVest, we guide you to make informed investment decisions so that your investment gets you higher returns, stable income, and long-term profitability with lower risk. Remember, retirement planning is a 6-step process, and having a retirement planning advisor can make all the difference in achieving your retirement planning goals. Start investing wisely today in the best investment plan for retirement in India!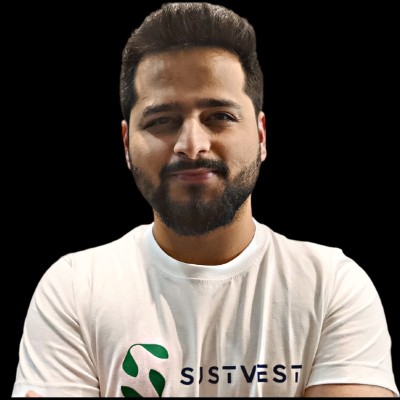 Founder of Sustvest
Hardik completed his B.Tech from BITS Pilani. Keeping the current global scenario, the growth of renewable energy in mind, and people looking for investment opportunities in mind he founded SustVest ( formerly, Solar Grid X ) in 2018. This venture led him to achieve the 'Emerging Fintech Talent of the Year in MENA region ' in October 2019.