When the after-effects of fossil fuel burning baffled the world, the role of renewable energy sources came into play. Scientists were certain about its efficacy in turning the planet green again.
Not only have they understood the memo, but they also have brought a lucrative investment opportunity and a rocket booster to the economy in terms of generating employment and fueling growth. Renewable energy sources are also more cost-effective and cleaner than fossil fuels. It is also driven by the value of having a sustainable planet.
Here in this blog, we will learn the basics of green investment In India and its examples, why not investing in this opportunity is a missed chance, and why taking action now is crucial. Read on to explore more.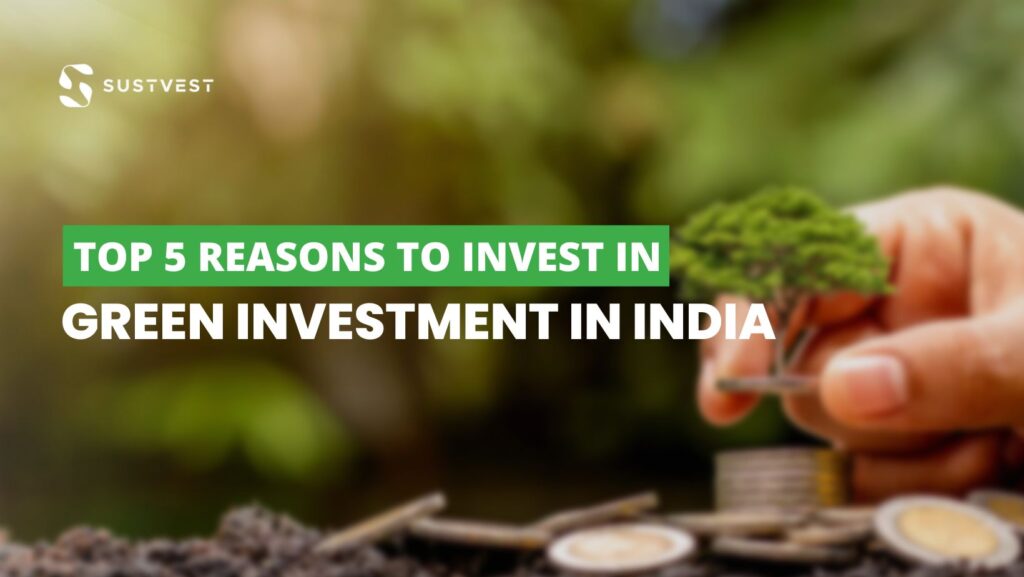 Green Investment In India: Definition, Examples, And Modes
Investing in a project or company that uses clean energy such as wind, solar or hydro with an aim to limit fossil fuel usage and support the planet in environmentally conscious practices are green investments.
Some green energy examples include companies that are involved with power generation through solar, wind, and hydro, waste management companies, electric vehicle manufacturing companies, green buildings, energy storage, biomass energy production, and sustainable agriculture companies.
You can invest with hedge funds, equity firms, or even as retail investors by holding stocks, ETFs, Mutual Funds, smallcase, and hedge funds of companies that are focused on a sustainable future free of conventional energy resources.
Some examples of instruments for green investment in India include:
Mutual Funds: Axis ESG Equity Fund, ICICI Prudential ESG Fund, Aditya Birla Sun Life, ESG Fund, SBI Magnum Equity ESG Fund, DSP Sustainability Fund, Quantum India ESG Equity Fund, Nippon India ETF Nifty 100 ESG Fund
ETF: Nippon India Green ETF, SBI-ETF Green Energy,
Smallcase: The Renewable Energy Smallcase, The Clean Energy Smallcase, The Green Energy Smallcase
Stock Market: Tata Power, Adani Power, Greenko Energy Holding,
Innovative Renewable Energy Platform To Invest In Solar Projects: SustVest
Check out our blog on The Importance Of Investment In Sustainability in Small Caps here.
5 Reasons Why Not Investing in Renewable Energy is a Missed Opportunity
Here are the reasons why you should not miss an opportunity to make a green investment in India.
It's a Futuristic Investment
India has taken over China to become the world's most populated country with 142.8 crore people. Yet 80% of energy production is by coal and oil. With the ongoing process of industrialization, development, and increasing consumption, energy demand is expected to rise.
India is putting all its effort into increasing green energy consumption. The installed Renewable energy capacity has increased from 76.37 to 167.75 GW since 2014.
Yet, India still has a long way to go to achieve its target of generating 450 GW of green energy by 2030.
By bombarding all these facts we want to remind you of the golden rule of investing: focus on sectors with a clear track record of increasing consumption and growth potential. Green energy is it.
Aside from population & consumption growth, market growth is also an important factor to consider before investing. As an investor, while evaluating a company, you often check the past growth rates to predict how they will perform in the future. In the case of renewable energy, the growth rate has been nothing but remarkable, with a whopping 386% increase in India's installed renewable energy capacity over the past 8 years.
Hence, by setting an ambitious goal of generating 450 GW of renewable energy by 2030. And with staggering growth potential in green energy, it is being touted as the next big thing in India's economy and a gold mine from an investment perspective.
Government's Support
In addition to providing subsidies for generating solar energy on a residential level, the government is also giving generous concessions to companies and factories that adopt green energy on a commercial scale.
For instance, for installing solar power plants the government is offering subsidies up to 30% for commercial and industrial entities. Additionally, there are tax rebates, reduced depreciation, and renewable energy certificates that can be converted into currency for financial rewards.
The implication of the government's decision to offer subsidies and concessions for adopting green energy on a commercial scale is that more and more entities will choose clean energy to produce power.
This decision is poised to fuel a growing trend of entities opting for clean energy as their primary power source. And also encouraging Green finance based investment in India. This will enable the government to achieve its goal of encouraging clean energy consumption, and companies will enjoy various financial benefits.
Additionally, employment in the clean energy sector is projected to grow by 1 million in the next 10 years. This will not only benefit the overall economy but also the environment.
Increasing FDI and FII
A recent report issued by the Institute for Energy Economics and Financial Analysis indicated that India is set to attract investment of a staggering $ 20 billion in green energy investment.
Let's take a look at some facts below to get a better understanding of the bigger picture of how in a few years India has become a magnet for attracting green energy
In 2020, an Indian renewables firm that generates power from wind, solar, and hydro sources received a massive investment of $980 million from Japan's Orix.
The Asian Development Bank (ADB) has announced a loan of ₹7.5 billion to SAEL for their 74.5 MW biomass energy projects.
German wind turbine leader Enercon has ambitious plans to establish India as a global export hub, with a goal of earning ₹800 crores in export revenues from the first year of operations.
India also permits 100% foreign direct investment (FDI) in renewable energy projects to make technology & capital accessible
Let's contemplate the ramification of FDI and FII in green energy.
Firstly green energy companies may enjoy higher valuations in the stock market due to their increased future potential. Secondly, higher investment in the green energy sector can lead to higher employment rates, which can make it a more reliable and stable option for employees to pursue in the coming years. And lastly, investment in the renewable energy sector will further lower the cost of renewable energy financing to customers making it more accessible
Long-term Investment & High Returns
Investing in renewable energy has many advantages, such as its limitless potential and the eventual reduction in the total investment cost. Whether investing in a startup supporting solar energy or buying stocks of a hydro energy company, lower costs, and higher profits can result in enormous profits for investors
For instance, if your 100 INR in the Green Energy Smallcase in 2021, would have become 317 INR in just two years. The Smallcase Green Energy invests in companies that produce renewable energy sources such as wind and solar, as well as other sources like biofuels. Even though the minimum investment is 70,000 INR, it can be a profitable investment option for those interested in the renewable energy sector.
If your risk appetite is low but you're eager to invest in renewable energy, we recommend starting with SustVest for just 5,000 INR and earning 15% returns annually. SustVest is a renewable energy investment platform that offers investment opportunities in solar projects, providing investors with attractive returns while contributing to a greener planet.
Increasing Fossil Fuel Prices
India's energy demand is projected to increase by almost 50% between 2019 and 2030, while petrol prices continue to soar. Additionally, inflation rose by 20% last year due to the hike in fossil fuel prices.
However, companies that have adopted green energy are receiving better perks and overall cost reductions compared to those still relying on conventional energy sources.
To put this into perspective, consider this fact: According to a report by the International Renewable Energy Agency (IRENA), India could save up to $9 billion annually by 2030 by scaling up investment in renewable energy sources such as solar and wind power.
Overall green energy is proving to be one of the highest profit-yielding opportunities and the longer you wait to invest the greater potential you missed earning a substantial return. It's wise to start minting money on renewable energy opportunities, considering the government support and favorable market conditions.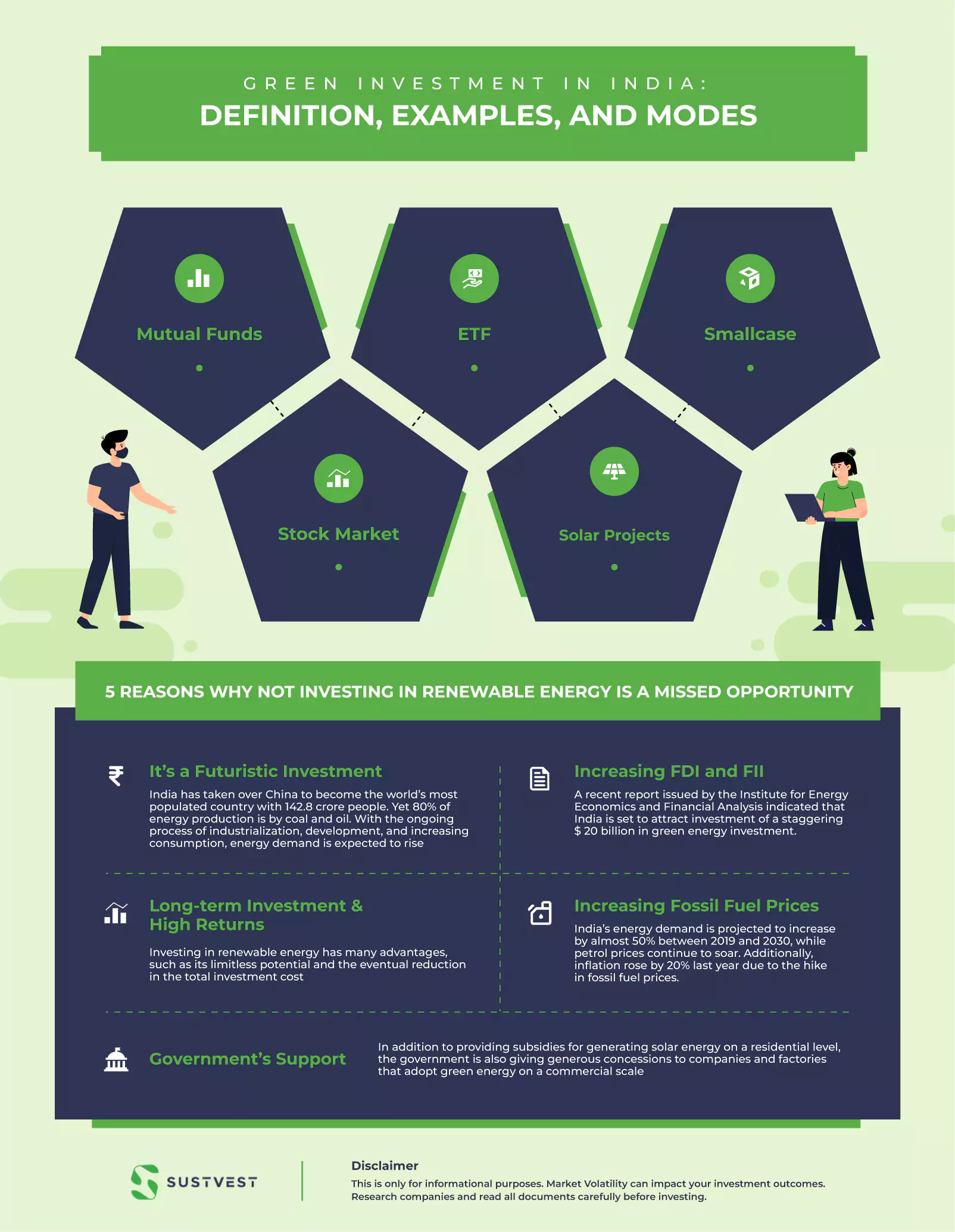 FAQs: 5 Reasons Why You Should Consider Green Investment in India
Why should I consider green investment in India?
Green investment in India provides several advantages.
It supports sustainable development and helps address environmental challenges such as climate change and pollution.
It aligns with the Indian government's emphasis on renewable energy and green initiatives, offering potential long-term growth opportunities. Additionally, green investments can diversify your investment portfolio and may provide attractive returns.
What are some prominent opportunities for green investment in India?
There are many opportunities for green investment in India across sectors. Renewable energy, particularly solar and wind power, has seen significant growth in recent years. Other areas include sustainable infrastructure projects like metro rail networks, waste management systems, electric vehicle manufacturing, energy-efficient buildings, and water conservation initiatives.
What are some of best green energy stocks?
Tata Power Solar Systems Limited: A part of the Tata Group, it is involved in the manufacturing of solar modules and systems.
Adani Green Energy Limited: Adani Group's renewable energy arm, focusing on solar and wind power projects.
Azure Power Global Limited: It is a leading independent solar power producer with a presence in various states in India.
Renew Power Limited: One of the largest independent power producers (IPP) in the renewable energy sector in India.
Suzlon Energy Limited: Known for wind energy solutions, Suzlon is one of the prominent players in the renewable energy market.
Why Green Investment In India Would Be Your Smartest Investment Decision? Why Must You Act Now
Today, green investment in India is like what gold was in the past.
Sustainable and green resources are an emerging market that is essential in the transition away from fossil fuels and toward reversing the devastating impacts of climate change.
By investing in this opportunity, not only can you benefit financially, but you can also make a positive impact on the environment and society
Acting now is crucial, as we cannot afford to make decisions that jeopardize the future of upcoming generations. Investing in renewable energy is an important first step towards addressing climate change and securing a sustainable future for ourselves and the planet
SustVest is a perfect example of a renewable energy investment platform that allows you to invest in solar financing projects and earn up to 15% returns, starting with just 5000 INR. So, don't miss out on the opportunity to profit with a purpose and contribute to a greener future.
.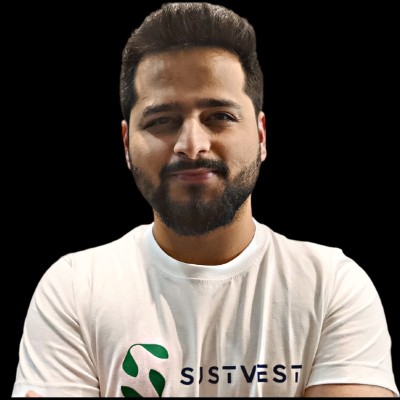 Founder of Sustvest
Hardik completed his B.Tech from BITS Pilani. Keeping the current global scenario, the growth of renewable energy in mind, and people looking for investment opportunities in mind he founded SustVest ( formerly, Solar Grid X ) in 2018. This venture led him to achieve the 'Emerging Fintech Talent of the Year in MENA region ' in October 2019.