What If? Your investment can give you and the society both a positive return. This is where impact investing comes as a great option for investors planning to impact the environment along with better returns on their investments. Nowadays, investors are looking for more than just generating profits because there are more ways to get positive returns. In impact investing, investors make meaningful investments in companies growing for social goods and financial growth.
It's a rapidly growing sector where many investors invest to get positive returns. If you're also planning to be part of social & environmental growth via impact investing but don't know how to start, don't worry. At SustVest, we make sure to guide you to make informed investments that align with your values and get positive returns.
In this article, we will explore what impact investment is, its types, how it works, its benefits, and how you can invest in it.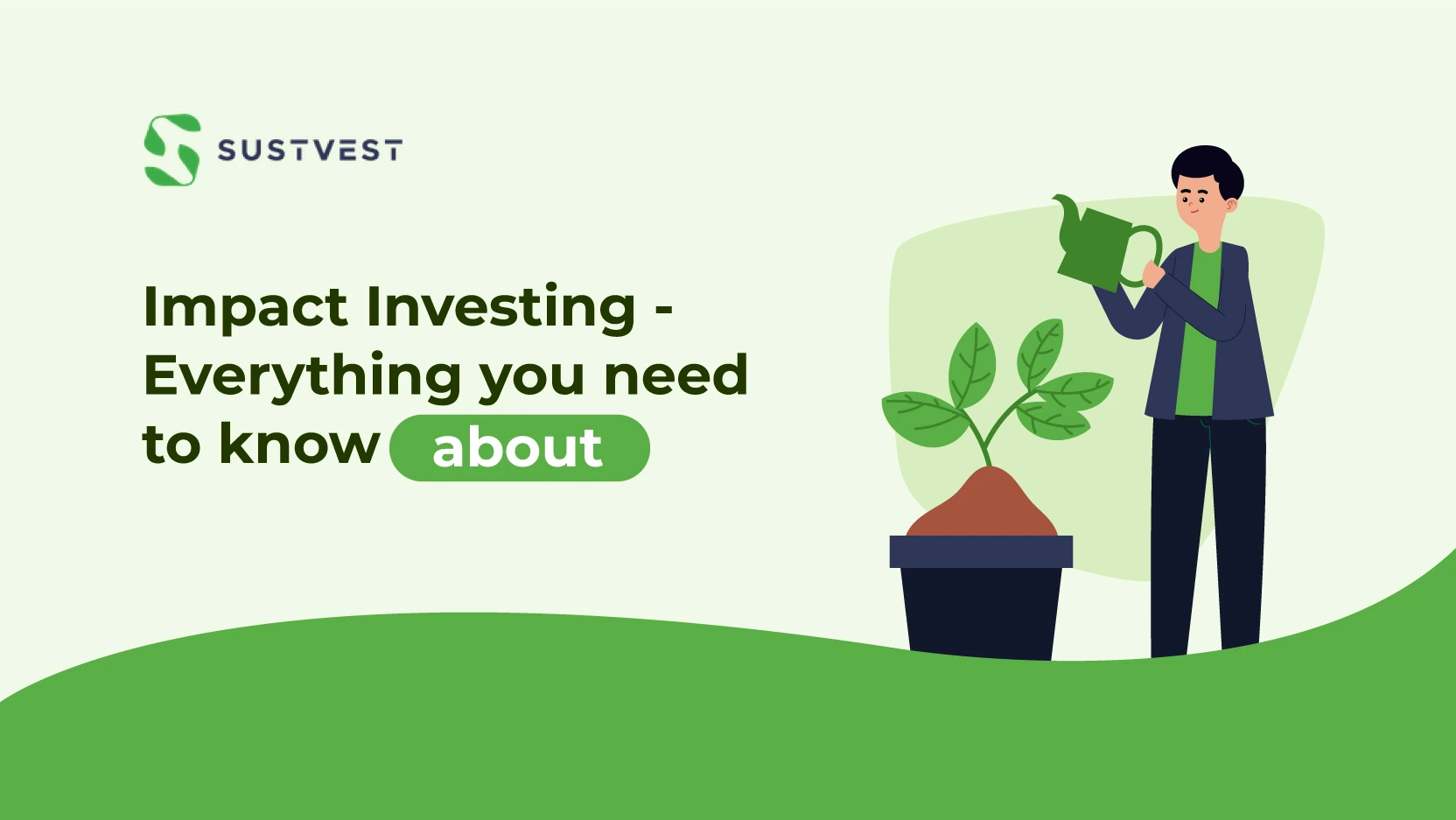 What is Impact Investing?
Impact Investing is a great investment strategy that generates both financial & social returns. In this investing strategy, investors invest in various social companies that are growing to make a social or environmental impact along with financial returns.
This investment option is suitable for both emerging and developed markets to get higher financial and environmental impact. In many sectors, impact investments are heavy, such as renewable energy, sustainable agriculture, microfinance, healthcare, and education.
In recent years, Impact investing is gaining popularity, and various young investors are investing in this field to contribute to social or environmental growth and financial returns.
Check out our article, 5 Reasons Why You Should Consider Green Investment in India here.
What are the Main Elements of Impact Investing?
Here are some key elements that play a crucial role in impact investing. It gives investors a better idea of how to approach impact investments and what to consider while making them. Let's see!
1. Intentionality
Some investors are making an impact on investing based on their intentions. Impact investing is made intentionally, where investors invest intending to generate financial returns or social growth. So they must have clear goal expectations with their investments.
2. Evidence-based Investing
Evidence-based Investing is something where investors make investments based on analyzing data & evidence to check whether the company can give financial and social returns and how it impacts the environment. So many investors read data & evidence before making their investments.
3. Impact Measurement
Investors track the overall returns, and social impact happens over time after their investments. So, investors must have clear impact metrics and how their investments impact financially and socially.
4. Investment with Return Expectations
It's an investment that generates both financial and social returns for the investors. So investors must have clear return expectations before making the investments.
These are some elements that investors should think about and clear their visions and objectives before making their impact investments. However, there's a different approach for each investor to get their desired returns, whether it's financial or Social.
Check out our blog in Future of Sustainable Investing in India here.
Types of Impact Investments
Impact Investments come in many different types and provide investors with various options for higher returns as financial and social impact. Some of the most common types of impact investments are:
Renewable Energy
Education
Agriculture
Healthcare
Let's discuss this in detail!
Renewable Energy
It is a rapidly growing sector where investors invest in sustainability and clean energy, including solar, wind, thermal, or hydropower projects. It gives higher returns to investors and increases social or environmental impact.
Education
It is all about improving the quality of education, which requires investment in schools, teachers, technologies, and more. Education remains the top-most source of higher returns for investors and has a positive social impact.
Agriculture
Agriculture investment includes food companies to increase food production, expand reach for water supply, and where environmental benefits are required.
Healthcare
It's a must-have investing sector that investors must consider for their personal and environmental profitability. It requires investing in various healthcare companies working on various serious diseases and preparing medications for emergencies.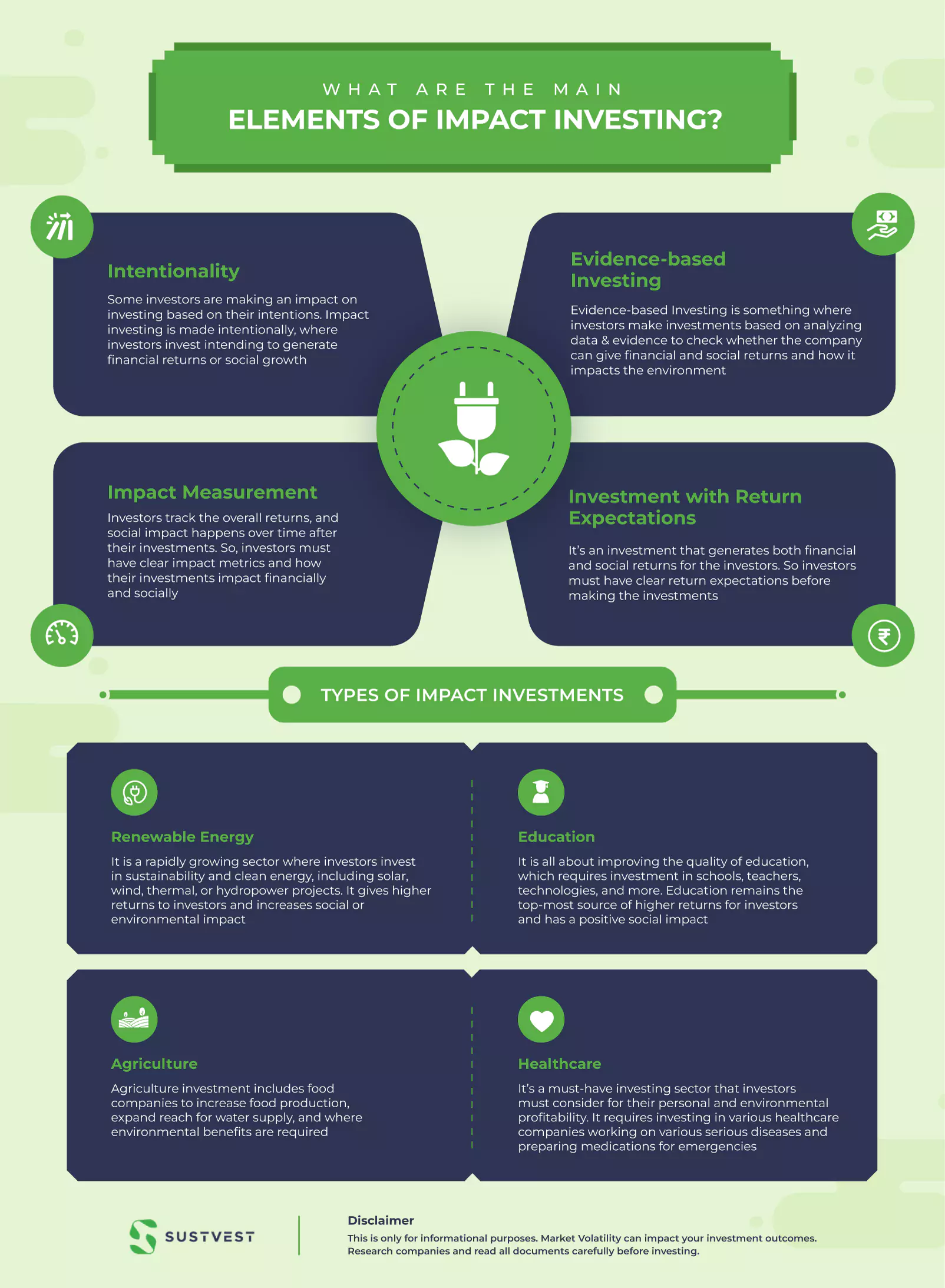 Environmental, Social and Governance (ESG) Investing
ESG is an investment framework that investors mainly use to evaluate a company's growth based on their social, environmental, and governance practices. It is mainly used to make data-driven investment decisions based on identifying opportunities and risks. Here ESG means Environmental, Social, and Governance. Let's see what factors that considered for making investments:
Environmental – Investors check the company's energy usage, waste, carbon footprint, and treatment of animals.
Social – A company's mission, vision, commitments, community (charitable donations), staff well-being, health & safety precautions.
Governance – A company's account transparency, stakeholders' involvement, conflicts, or legality of operations are considered.
These are some essential factors of ESG that investors consider before making their investments.
Socially Responsible Investing (SRI)
Socially Responsible Investing (SRI) also used ESG factors but took it further by eliminating or selecting the companies based on ethical guidelines. SRI factors differ from ESG, which can be personal values, religion, or any political beliefs considered for investment.
These two investing options are slightly different from impact investing. Impact investing is a choice of investors to make their investments for positive financial returns and social impact with the investment.
How Does Impact Investing Work?
When it comes to Impact Investing, the investments go to those businesses and organizations actively working for social goods and making a positive impact along with their financial growth. So it gives investors both personal and environmental profitability.
Impact investing is a much better option because the investments go to those entrepreneurs or businesses who understand the social needs and problems and are willing to solve them. That's how investors contribute to environmental impact and get financial returns.
What are the Benefits of Impact Investing?
Numerous benefits will convince you why you should start impact investing for a better future. Here are some key benefits:
1. Higher ROI
As the economy grows, investors are getting higher returns, and it's only possible by making impact investments because investors can invest in those businesses which are solving a social cause along with a financial focus that brings high returns financially and environmentally.
2. Contribute to Social & Environmental Change
Recently the importance of impact investing is growing rapidly, and many young investors are showing their interest in investing in social businesses & corporations to solve some major causes and invest in growth assets such as renewable energy that is the future.
3. Diversified Portfolio
Impact Investing can be a great option for investors to diversify their portfolio in various companies to get maximum ROI from their investments. Having a diversified portfolio can increase revenue streams and lower risks. So it's a safe investment option with consistent positive returns.
4. Align Values with Investments
The biggest reason investors are considering impact investing is that their investments can give a return to 3P's (People, Planet, Profit). So it's a great investment option with a win-win situation for all to grow together. Impact investing is not just an investment option; it's a message for society to grow together and strengthen the economy.
5. Balance of Risk & Rewards
Impact investing is a safer option because it's a less volatile market, and investors are investing in social businesses with fewer fluctuations and consistent growth. That's why many investors consider impact investing for safety and better returns.
Impact Investing is more than a source of higher returns and profits; it's a direction for a better world, people, and economic growth. Now investors understand the importance of investing in this field for higher social & financial returns.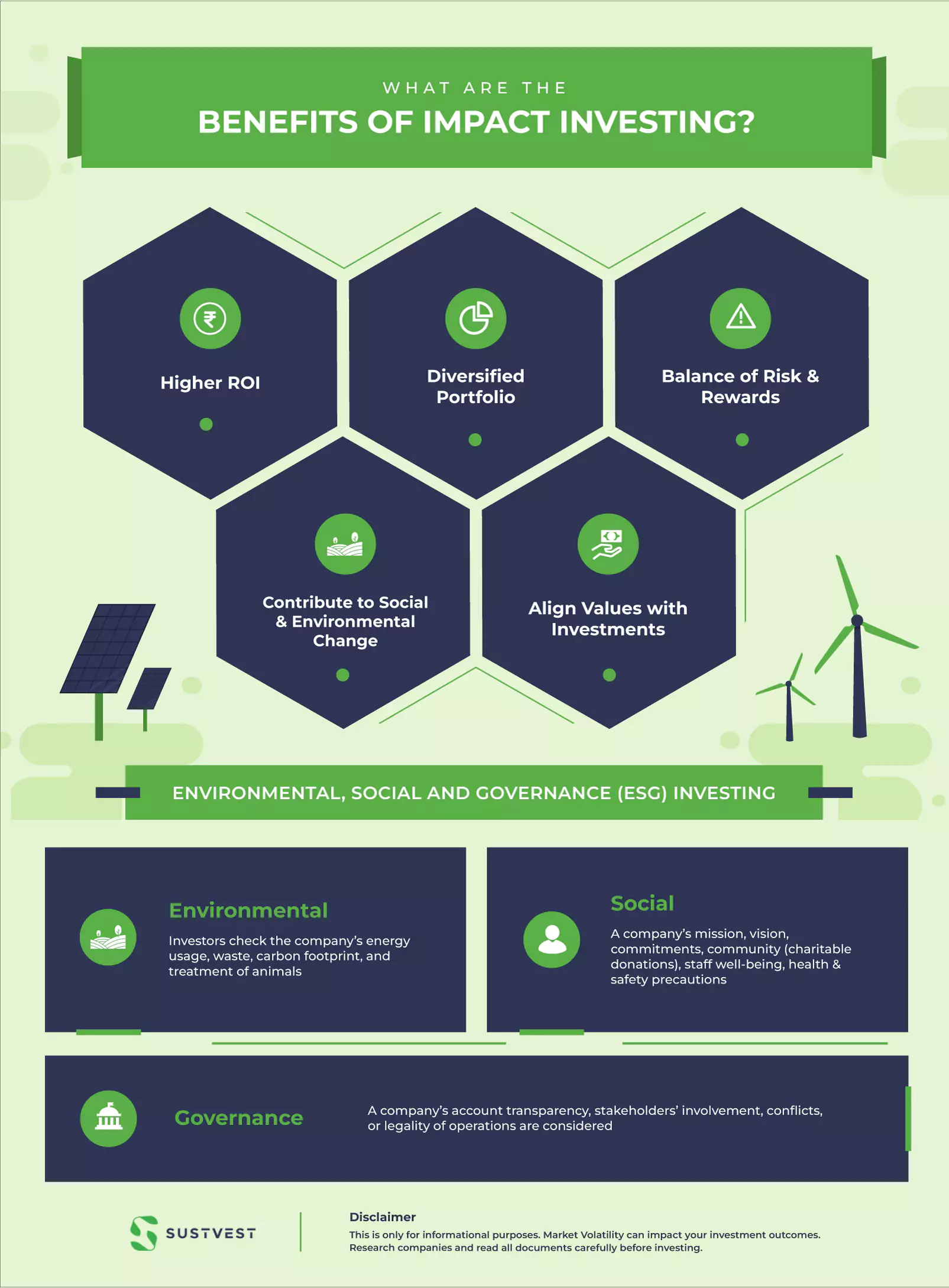 Who is Making Impact Investments?
Impact Investing is a great investment option for individual investors as well as various institutions, including:
Fund Managers
NGOs
Hedge Funds
Corporates
Individual Investors
Private Foundations
Development Finance Institutions
Diversified Financial Institutions/
Banks
Pension Funds
Insurance Companies
Family Offices
However, it's a great investment option for those who want to contribute to social impact and financial returns.
FAQs: Impact Investing – Everything you need to know about
What is the current state of impact investing in India?
Impact investing in India has been steadily growing over the past decade. The country has a vibrant impact investment ecosystem with various funds, institutions, and initiatives focused on driving positive change. The government and regulatory bodies have also taken steps to support and promote impact investments.
What are some sectors or areas of focus for impact investments in India?
Impact investments in India span a wide range of sectors, including renewable energy, healthcare, education, agriculture, clean technology, microfinance, affordable housing, and more.
Conclusion
Overall impact investment is one of investors' safest, higher financial returns and long-term social growth options. This investment option depends on the investors' values to make their investments and the intention to get returns.
If you're interested in getting higher returns, lower risks, and contributing to social growth, then impact investing is a good option. However, impact investing requires a deep understanding of growing markets and social companies, which can give you higher returns and long-term stable profitability. It's a big step that you should take with an expert's guidance.
Get in touch with SustVest and start your impact investing journey and build a strong revenue stream with long-term profitability. Now it's time to take your step towards getting higher financial and social returns.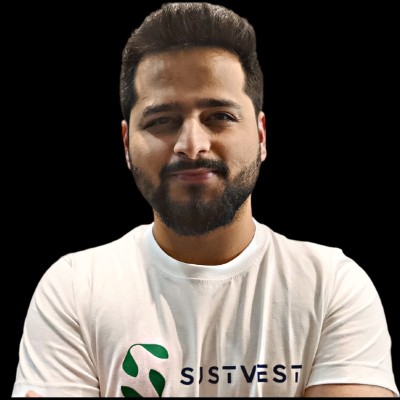 Founder of Sustvest
Hardik completed his B.Tech from BITS Pilani. Keeping the current global scenario, the growth of renewable energy in mind, and people looking for investment opportunities in mind he founded SustVest ( formerly, Solar Grid X ) in 2018. This venture led him to achieve the 'Emerging Fintech Talent of the Year in MENA region ' in October 2019.