Right now, with the renewable energy investment returns, the currents are in favour on renewable energy. India has emerged as the flag bearer of green energy production in Southern Asian Continents. It has set a massive target to achieve net zero carbon emission by 2070 and to fulfill half of its power requirement with Renewable Energy Sources (RES) by 2030.
The government is going full throttle to meet its goal. Initiatives like Solar-Wind Hybrid projects, Solar Parks and Cities, and the manufacturing of Electric Vehicles (EVs), etc., have boosted investments in this sector. Among these advancements, solar energy has emerged as the shining star, capturing the spotlight for numerous reasons. Do you know why? Let's find out.
India receives about 5,000 trillion kWh of solar energy per year. That is pure gold energy. As the fossil fuel and natural gas reserves are running out, it only makes sense to take steps to harness solar energy.
If you're intrigued by the potential of renewable energy investment returns, you won't want to miss out on exploring the "Best Renewable Energy Investment Opportunity In India" article.
Investing in green energy opens up a world of incredible benefits, and today, we will focus on the financial benefits of investing in renewable energy.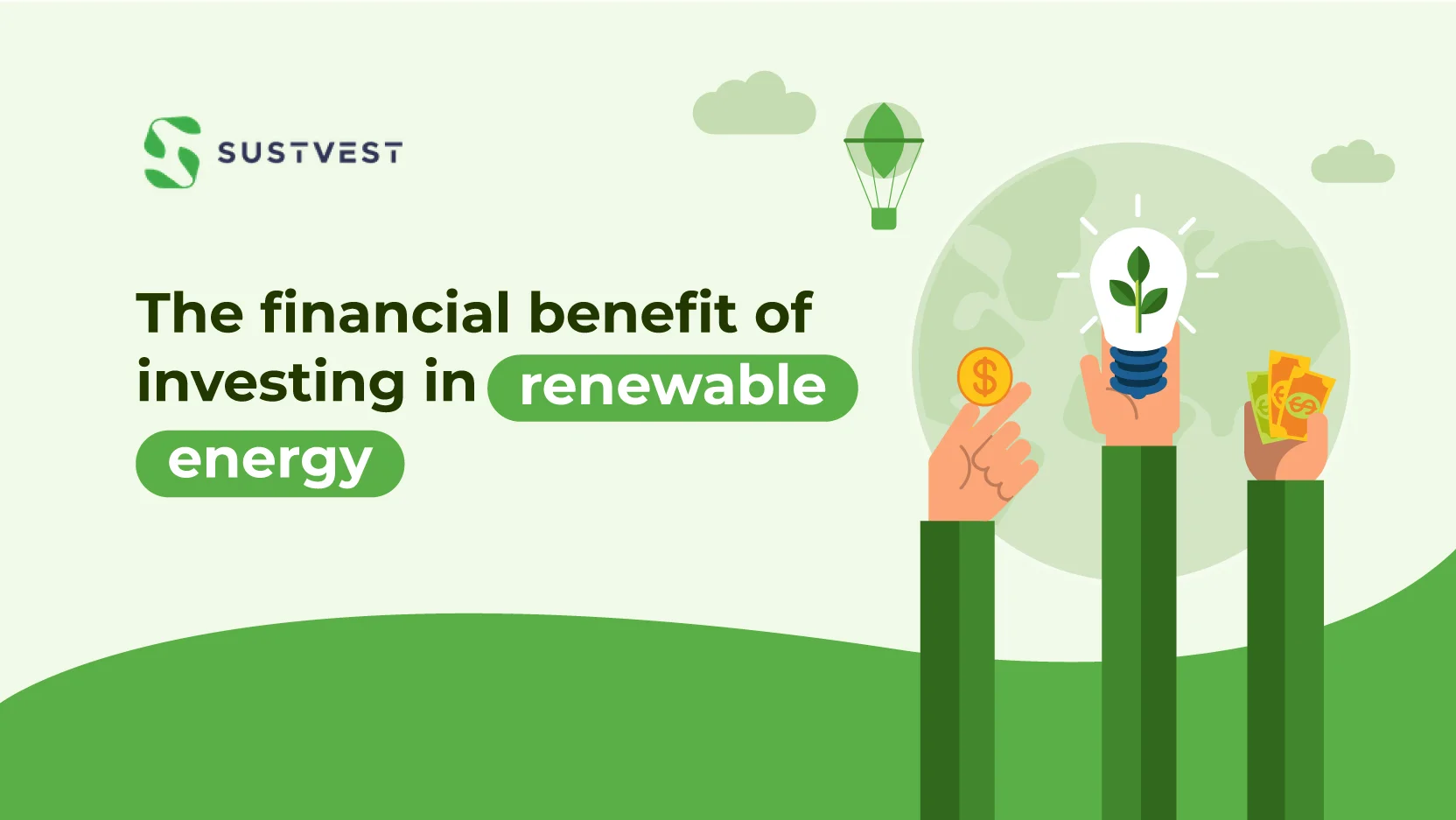 Closer Look At Renewable Energy Investment Returns
Renewable energy investments are the road to financial independence for nations, industries, and individuals alike. By supporting green energy assets, retail investors encourage the initiatives taken at the state and central levels to move towards economic sustainability.
Renewable energy investment returns are abundant, from low to zero carbon emission and reduced pollution to cheap electricity, environment friendliness, atmospheric decarbonisation, improved climatic conditions, and more. However, we will discuss how beneficial it is at the ground level of the economy to understand the monetary perks of renewable energy investment returns.
So, here are a few brownie points that potray renewable energy investment returns:
1. Independent Source of Electricity
Electricity prices are soaring high due to extreme summer heat, increasing population and a shortage of coal reserves. By installing solar panels, you can own a power generation unit. A one-time investment in solar will save you at least 30 years of electricity bills.
Imagine a quaint village in Gujarat called Modhera, where the residents have bid farewell to electricity bills altogether! The entire area is solar-powered! According to the World Economic Forum, the villagers ecstatically shared, "Earlier, our electricity bill used to go above 2000 rupees. But now, it is in minus". Quite remarkable, wouldn't you agree?
Modhera's solar-powered village achieved this groundbreaking success with a modest investment of just 9.7 million rupees, spearheaded by the central and state governments. Can you imagine how much more the villagers can save by replacing CNG with electric cooktops and induction?
2. Passive Income From Selling Electricity
Did you know Solar energy systems connected to grids offer an incredible opportunity to generate passive income? Beyond producing clean electricity and saving on energy bills, you can sell any excess power generated by your domestic solar setup to power corporations. It's like turning your rooftop into a mini power plant, with the surplus energy flowing back into the grid and putting money back into your pocket. You can actively participate in the renewable energy ecosystem by embracing solar energy. Your solar panels will contribute to a cleaner and greener future and allow you to tap into a lucrative market opportunity.
3. More Savings From Green Energy
RES is not only limited to solar. Solar is the power source for various other utilities. For example, electric vehicles save you from the cost of petrol and diesel, and when powered by solar energy, they cost nothing.
Every household pays about 5000 rupees for petrol and diesel per month. That's 60,000 rupees a year. By shifting to renewable energy, you can save up to 1 lakh rupees or more a year.
4. Long-Term Financial Gains With Green Energy Projects
Green energy is the best option to multiply your income. If you can't install solar setups, don't be disheartened. You can still earn by investing in Green Energy Funds, Green Bonds, Renewable Energy Projects, Green Stocks, etc.
The ROI for renewable energy assets has outperformed non-renewable assets in the past year, driven by surging demands for sustainable energy alternatives. With the government's support and investment-backed projects, this sector has something for all classes of investors.
Whether you're looking to start small with mutual funds, where you can invest as little as 500 rupees per month or seek a more substantial investment by participating in solar installations projects, there's a pathway for everyone to benefit from the sector's growth. We'll delve deeper into this topic later in the article, so stay tuned.
In the Indian energy sector, numerous players have emerged as industry leaders, capitalising on the renewable energy wave. Among them are notable names like TATA Power, Reliance New Energy Solar, Vector Green, REC Ltd., SB Energy, and Azure Power.
5. Fueling Growth Of Green Energy Start-Ups/Small Businesses
Behind the scenes of the thriving renewable energy industry lies a network of small-scale businesses that play a pivotal role in its success. Investments in renewable energy have pushed the development of these small industries in the form of start-ups. The government schemes like Skill India, Start-Up India, and Make in India also support these start-ups.
The rise of start-ups supporting the green energy sector has helped India to be self-reliant and decreased the import demand for parts and components, reducing the cost of renewable energy.
Some notable green energy start-ups in India include ION Energy (EVs and energy storage systems provider), SustVest (Solar Energy Solutions and EV Infra provider), Gegadyne Energy (Suparcapacitor-based battery), and Log9 Materials (Aluminium-air fuel cells for cars and homes).
6. Employment Generation
Amidst widespread layoffs and economic uncertainties, sustainable green energy companies have emerged as beacons of hope, creating job opportunities on a global scale. This remarkable outcome stems from the rapid growth of start-ups and the implementation of new renewable energy projects.
From solar installation technicians and wind turbine engineers to project managers and researchers, a wide range of roles has emerged, catering to the diverse needs of the industry. This expansion addresses the immediate challenge of unemployment and contributes to long-term economic stability and prosperity.
While the financial benefits of renewable energy investments are undoubtedly enticing, it's important to note that this is just one aspect of the broader picture. Explore the social and environmental aspects in our article, "Is Sustainability The Future Of Investing In India?" It delves into the transformative potential of sustainable investing and its influence on India's investment landscape.
Now, there are many ways by which you can be part of sustainable investment. SustVest presents a range of alternative investment options, allowing you to participate in sustainable investment opportunities and reap financial rewards. Let's explore the exciting possibilities that await you.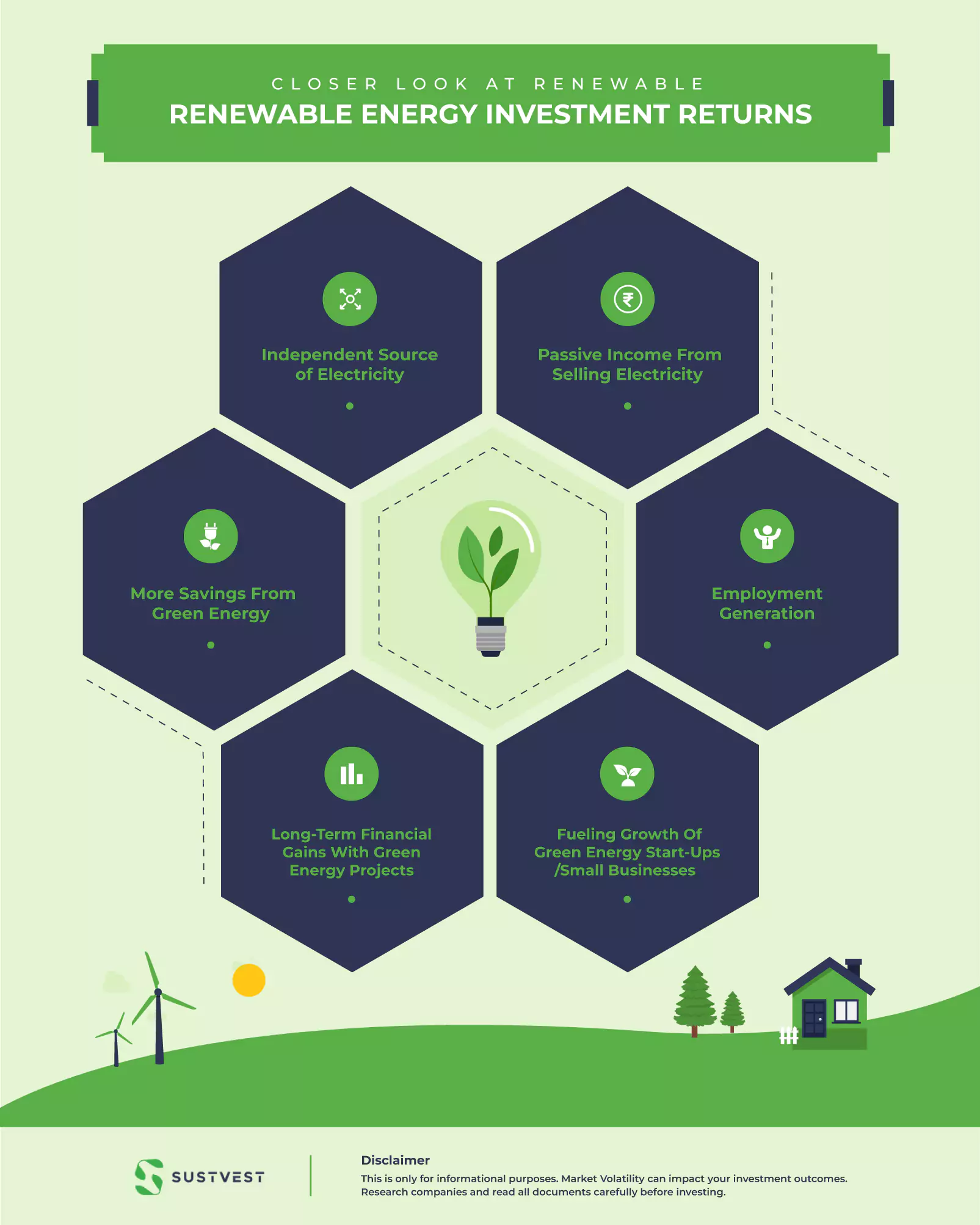 Who Are We?
At SustVest, we offer investment opportunities to our partners by providing green energy solutions in renewable energy projects. These projects include real estate projects, corporate, and residential projects. We aim to promote investments in sustainable sectors to ensure economic, environmental, and social growth altogether.
What Do Our Investors Get From Us?
We strive to provide low-risk asset-based investments beneficial to our investors and ecology. All you need is 5000 rupees to become an investor with us. As an investor, you will receive a monthly instalment based on your invested amount.
You can browse our Projects and Assets and invest as per your preference. We also provide a calculator that you can use to know your expected ROI.
What Do Our Consumers Get From Us?
As a consumer, you will get asset financing for developing a clean energy infrastructure, incorporating solar energy and EVs. From the minute of installation to its usage, we will take care of everything at zero upfront cost.
As a consumer, you can select between a Solar PPA or Solar Lease Model offered by us to get access to clean energy.
Energy Solution Provided By SustVest
SustVest caters for Solar Energy Solutions and EV solutions like charging points. We have installed Solar Rooftop Panels in housing communities, corporate offices and commercial spaces.
How To Invest In Our Projects?
Investing in our projects takes just a few minutes. Here's what you need to do:
Sign-up on our website and browse projects; select the projects after analysing the documents and expected returns
Invest 5000 rupees or more based on your capacity
Get monthly income from your asset directly in your wallet
FAQs: Renewable Energy Investment Returns: Financial Benefits
Is India investing in renewable energy?
Yes, India is investing significantly in renewable energy due to high renewable energy investment returns. With a massive opportunity worth $204.85 billion, there are 442 projects spanning 222 districts. Backed by over 100 influential promoters, the government, too, is committed to sustainable development.
Find more information in our article, "Does the Indian Government Encourage Investment In Sustainable Development?"
How should I invest in renewable energy in India?
India is shifting to renewable energy, generating more employment opportunities and financial benefits and making the environment carbon emissions-free. It's the right time to invest in the solar energy sector at such high demand for higher returns and profitability. With high renewable energy investment returns, now is the best to invest in renewable energy in India.
Discover more in "What Are The Best Solar Companies To Invest In India 2023?"
Conclusion
The financial benefits of investing in renewable energy are the primary reasons for investors to switch from non-renewable energy asset-based companies to renewable energy assets. While one can't ignore the sustainability aspect of green energy resources, we all agree that it's all happening because of the promising future of renewable energy investment returns.
Gear up to accelerate your income by investing in SustVest's projects. Let's partner up and grow a sustainable investment portfolio for a better tomorrow!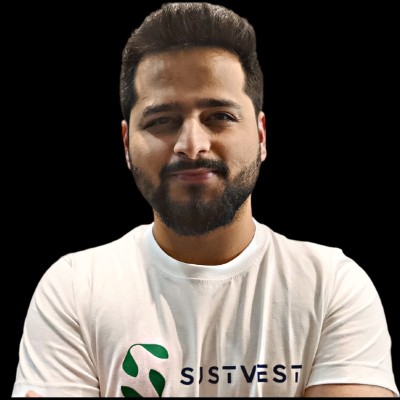 Founder of Sustvest
Hardik completed his B.Tech from BITS Pilani. Keeping the current global scenario, the growth of renewable energy in mind, and people looking for investment opportunities in mind he founded SustVest ( formerly, Solar Grid X ) in 2018. This venture led him to achieve the 'Emerging Fintech Talent of the Year in MENA region ' in October 2019.