In Investing, one of the beautiful pieces of advice Warren Buffett gave is, "Successful investing takes time, discipline, and patience."
Well! It's a long-term game to build wealth for your future, and if you want financial freedom with long-term profitability, you should start investing in long-term investment options.
However, many investors don't know the basics of investing long-term and start to panic in short-term market fluctuations.
So, if you're planning to invest for the long term, this guide will give you some amazing tips that will help you make informed investment decisions and achieve long-term profitability.
Let's dive in!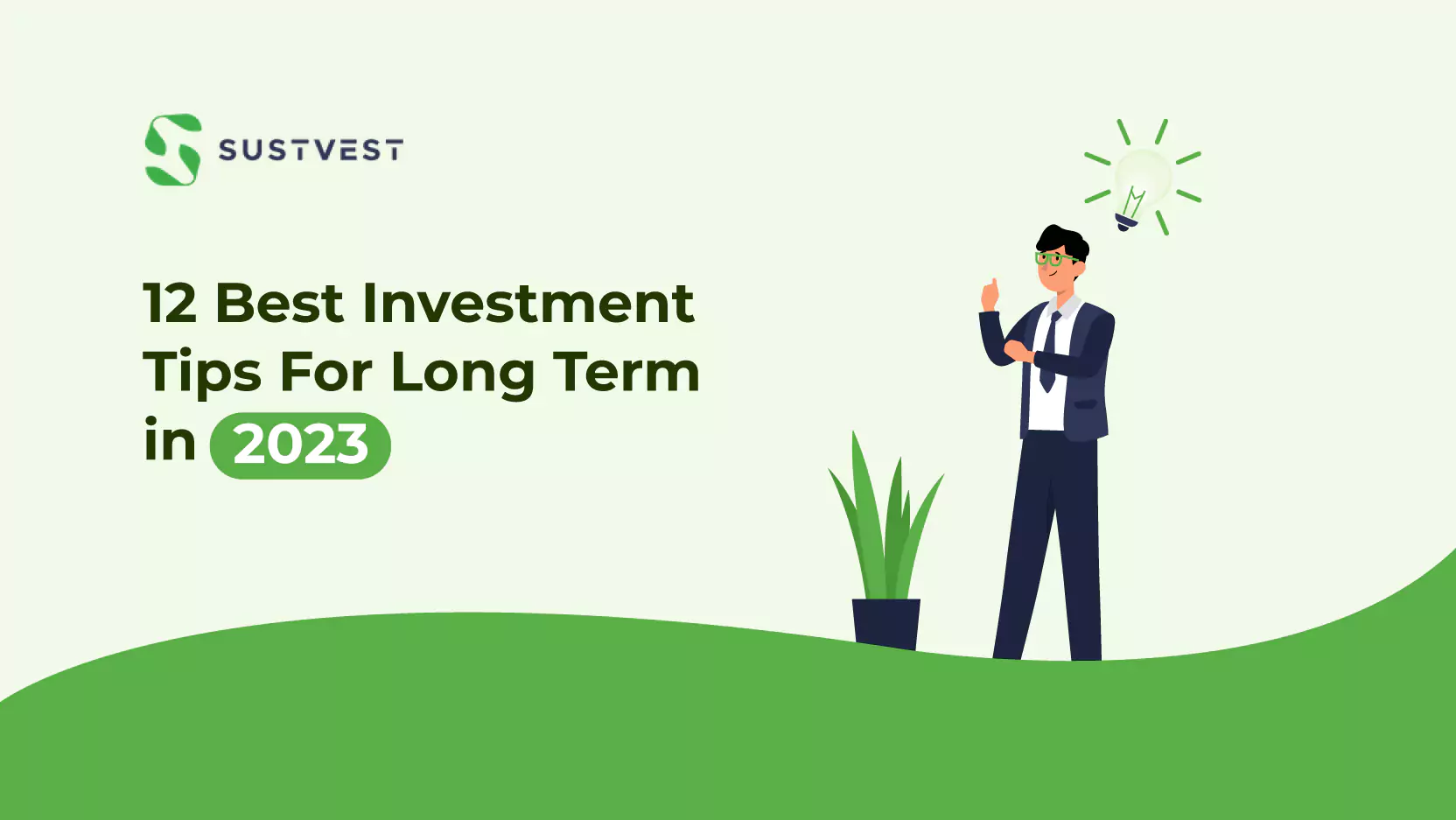 Some Best Investment Tips For Long-Term
Here's a list of the 12 best investment tips that you should consider while doing long-term investment:
1. Know Your Financial Goals
Directly jumping into the investments before clarifying your goals and objectives could make you lose money. Thus, you should first set up your required goals and objectives, timeframes to achieve them, and how much risk you can bear. This investment tip for beginners can help you achieve your long-term investment goals and objectives.
2. Start Investing Early
A long-term investment is a game of patience, discipline, and compounding. You have to start investing as early as possible, as compounding is the game of time. The more time you give to compounding, the more your money will multiply. For instance, you have 25 years to invest your money; only a SIP investment can help you make crores.
Read More: Best Option To Invest Money In India In 2023
3. Analyze each investment option on merit
People generally determine the varied investment options based on other investors' success. And here, one of the best investment tips is to analyze your investment options based on your goals and risk-bearing capacity. Because every investment option might not work for you, you would have to figure out the one that's relevant for you.
4. Always have a diversified portfolio
Diversification refers to investing your money into several options instead of only focusing on one. This is one of the best investment tips to increase your wealth with time holistically. If you diversify your portfolio, you might not get exceptional returns from any investment option but surely have a lesser associated risk. You can invest in several sectors for better long-term returns, such as the renewable energy sector. This sector is growing rapidly; you can check out SustVest for more detailed information.
Find Out: 10 Best Investment Plan With High Returns In India 2023
5. Have a strategy and stick to it
Being a long-term investor, you should figure out the best possible investment strategy and stick to it for your future. However, you should make necessary changes in your strategy with evolving times, as it will help you grow with time.
6. Focus on the Future and Keep a Long-Term Perspective
A long-term investment is one of the safest and most reliable options to increase your money with time. In this investment path, you will get various short-term or quick investment tips to distract your path, but you have to stick to your main plan and make your investments based on your long-term perspectives.
7. Don't let short-term fluctuations affect your judgment
In a long-term investment journey, you will see a lot of volatility that might affect your mind. But, you need to keep a big and clear picture in your mind about your investment plans. It will help you utilize these short-term fluctuations to make your amount bigger over time.
8. Be Concerned About Taxes but Don't Worry
Investors often get more worried about the high tax system in India and devote the maximum of their time to saving these taxes. It is required to minimize the tax liabilities, but giving your full efforts and time to it won't make it possible for you to get a brighter investment future.
9. Sell a Loser
While investing, you will find various types of investment options, and you will also invest in several of them. Some options are like "Loser," as they see a downfall for most of their time, and people sustain those investments to get returns in the future. But, you should understand that there is a limit to everything and you must stop giving your efforts after a certain point.
10. Manage your budget wisely
You might have numerous smart investment tips, but if you can not keep your investments in your budget, they will be useless at all. It is one of the best investment tips for beginners. No matter how much money you can afford, you must keep things under budget to maintain sustainable long-term growth.
11. Affordable investing
You have to keep aside a separate part of your income and invest it into various options including real estate, mutual funds, and the renewable energy sector. The amount you take for your investment should be affordable and not affect your other bills and requirements. Otherwise, future investments will affect your current bills.
12. Consider The P/E Ratio
The P/E ratio may affect the investment's ups and downs. But, successful investors don't completely rely on the P/E ratio at all. There can not be a single tool to take your investment.
Check Out: Top 9 Fixed Income Investing Strategies In India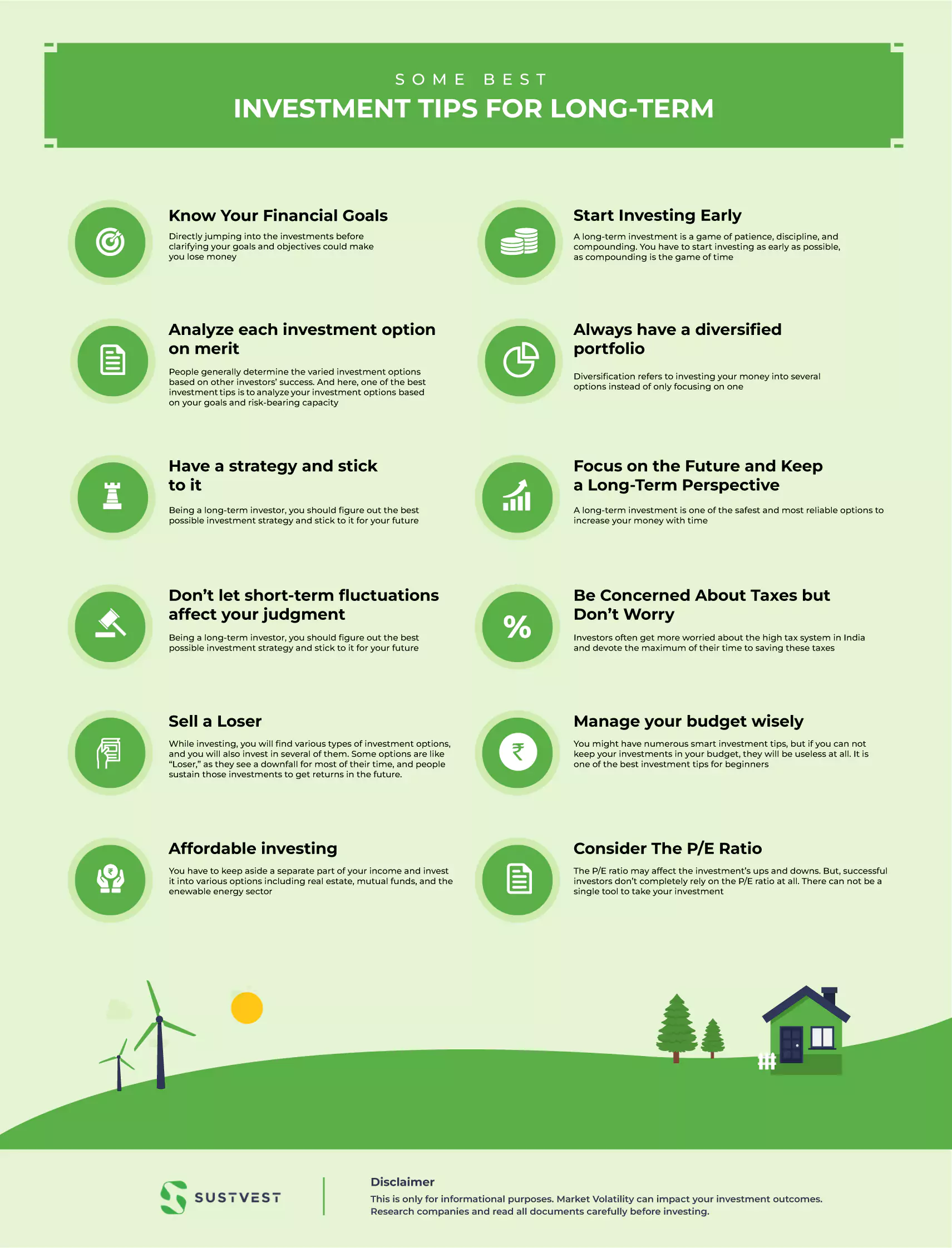 FAQs
Which is the best investment option for long-term profitability in 2023?
The most rewarding investment option for long-term profitability is renewable energy. Currently, its market is growing rapidly and gives amazing returns, and tax benefits, with stable income for investors.
What is the best time to start my investment journey?
It's a popular statement in investment, i.e., "The best time to start investing is Now." When you think you should start investing, it's time to take action. Because the earlier you start, the higher returns you'll get. To start your investment journey, you can connect with SustVest and take help from experts to make informed investment decisions and get higher returns with long-term profitability.
Why should you invest for the long term?
Starting your investment journey for the long term can give you solid returns, low market volatility, stable income, and lower risk. Overall, it's a great way to invest for your future and make long-term profitability.
Wrapping Up!
A long-term investment is a game that takes time to learn, adapt and play. But first, you need to understand the rules to play this game. Investing in long-term investment options diversifies your portfolio, creating multiple income streams and long-term capital gains. These are some money investment tips that you should follow in order to get stable returns with lower risks.
Now, if you're ready to start investing for the long-term and looking for a safer and higher-returns option, then renewable energy is worth considering options that give investors higher returns, long-term profitability, and stable income.
Get in touch with SustVest and start your long-term investment journey with informed investment decisions.